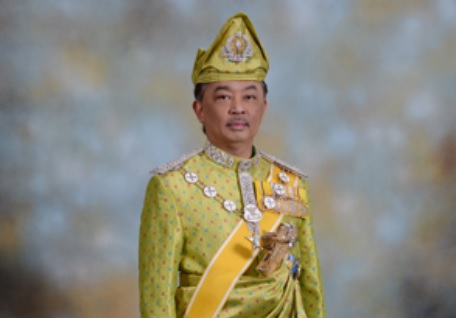 KUANTAN (Jan 12): The Regent of Pahang Tengku Abdullah Sultan Ahmad Shah, who will be proclaimed as the sixth Sultan of Pahang on Jan 15, has vast experience and holds the second longest record as Crown Prince after the Prince of Wales, Prince Charles.
Tengku Abdullah, born on July 30 1959 at Istana Mangga Tunggal, Pekan, has been the Crown Prince of Pahang for nearly 44 years after being officially appointed as the heir to the throne on July 1 1975, just a day after turning 16.
He assumed the mantle after his father Sultan Ahmad Shah officially became the fifth Sultan of Pahang on May 7 1974 following the death of his grandfather Sultan Abu Bakar two days earlier.
Prince Charles has held the title of Prince of Wales since 1958.
Tengku Abdullah, who is the fourth child and eldest son of Sultan Ahmad Shah and Tengku Afzan Tengku Muhammad, was officially proclaimed as the Tengku Makhota (Crown Prince of Pahang) on Oct 23 1977 at Istana Abu Bakar, Pekan.
This has made him well acquainted with the state's administrative affairs, especially since he was twice tasked with becoming the Regent of Pahang before it was announced that he would take over as ruler of the state by the Pahang Royal Council today.
The first time Tengku Abdullah took over his father's duties was on April 28 1979 for a five-year period when he was only 20, following Sultan Ahmad Shah's appointment as the 7th Yang di-Pertuan Agong (1979-1984).
Even at such a young age, he fulfilled the responsibilities entrusted to him, thus highlighting the leadership talent he inherited from his father.
The wisdom he showed led to Sultan Ahmad Shah once again appointing him to be the Regent of Pahang on Dec 28, 2016 when his health began to wane.
The proclamation of Tengku Abdullah as the Sultan of Pahang on Jan 15 is said to pave the way for him to be elected as the 16th Yang di-Pertuan Agong.
A special meeting of the Conference of Rulers is scheduled to be held on Jan 24 at Istana Negara to elect the new Yang di-Pertuan Agong to replace the Sultan of Kelantan Sultan Muhammad V, who stepped down on Jan 7.
Several media reports said that based on the five-year rotation of the Malay Rulers for the position of King, the next Yang di-Pertuan Agong after the Sultan of Kelantan is supposed to be the Sultan of Pahang Sultan Ahmad Shah, 88, followed by the Sultan of Johor Sultan Ibrahim Sultan Iskandar, 60, and Sultan of Perak Sultan Nazrin Shah, 62.
With this latest development, Tengku Abdullah is in line to be the next King.
Tengku Abdullah received his early education at Sekolah Rendah Ahmad, Pekan before moving to Sekolah Rendah Saint Thomas, Kuantan. He attended Sekolah Menengah St Thomas, Kuantan for his high school education before furthering his studies overseas.
He made his teachers and friends feel at ease with his simple and humble attitude and he was also well-known for excelling in studies and sports.
After attending (advance school) in Aldenham School, Elstree Hertfordshire from 1975 to 1978, he did his foundation at the Davies College, London for a year in 1978.
He furthered his studies in Foreign Affairs and Diplomacy at Queen Elizabeth College, Oxford University in 1981, which clearly helped hone his personality to be a future leader.
While in London, he pursued military studies and training at the Royal Military Academy, Sandhurst from 1979 to 1980 and was accredited as second lieutenant by Queen Elizabeth II.
Tengku Abdullah has been a big fan of sports since he was a child and is very active in games like hockey, football and sepak takraw. Based on his interest and ability, he was always chosen to represent his school, district and state in football.
It was due to his experience in sports that Tengku Abdullah was elected as Football Association of Malaysia (FAM) president from 2013 to 2017. He is still an executive committee member of world governing body FIFA. He was appointed to the post in 2015 to fill the Asian quota.
On March 6, 1986, the then 27-year-old Tengku Abdullah married Tunku Hajah Azizah Aminah Maimunah Iskandariah Sultan Iskandar.
The couple has four princes and five princesses. They are Tengku Amir Nasser, Tengku Puteri Iman Afzan, Tengku Puteri Ilisha Ameera, Tengku Panglima Besar Pahang Tengku Hassanal Ibrahim Alam Shah, Tengku Puteri Ilyana, Tengku Muhammad Iskandar Ri'ayatuddin Shah, Tengku Ahmad Ismail Muadzam Shah, Tengku Puteri Afzan Aminah Hafizatullah and Tengku Puteri Jihan Azizah 'Athiyatullah.