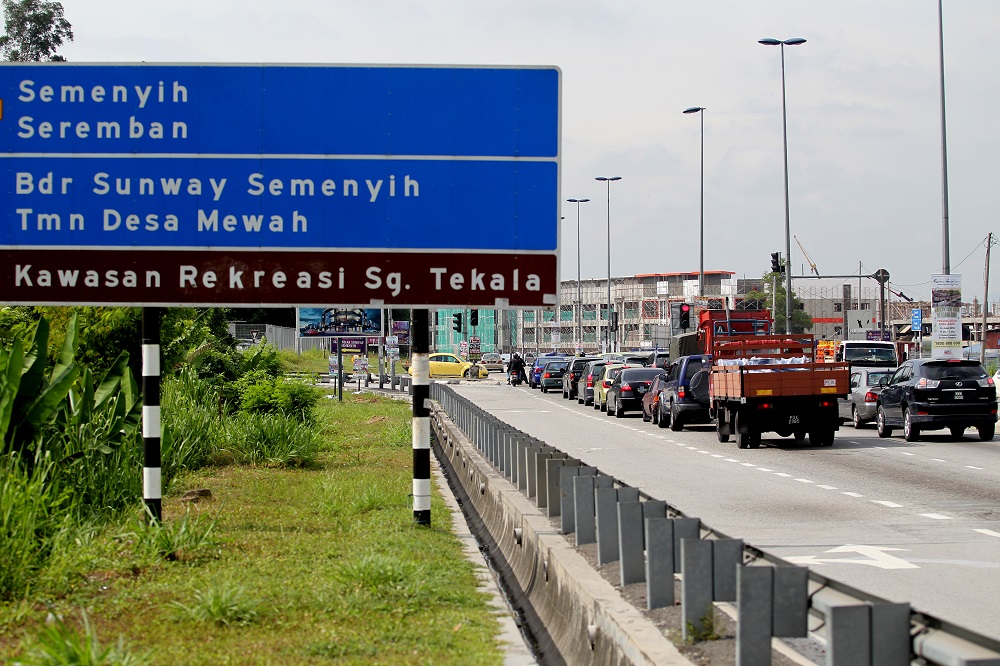 SEMENYIH (Feb 22): Leaving the house at 6.30am or earlier has been the norm for residents living in this small town and working in Putrajaya and Kuala Lumpur.
In spite of the traffic congestion, Semenyih (pictured) located some 26 km from Putrajaya and 36 km from Kuala Lumpur, had been a popular choice for house buyers as property prices here are much lower as compared to properties in those two areas.
For example, a property website has listed the price of a double storey terraced houses here with area of between 1,000 and 2,000 sq ft as below RM400,000 while a similar house in Kuala Lumpur is priced at RM600,000 or RM500,000 and above in Putrajaya.
A civil servant, Noruddin Mat Ali, 37, who lives at Taman Tasik Kesuma here and works in Putrajaya, said due to the traffic congestion, it takes him about an hour to travel to and from work.
"I have to leave before 6.30am to avoid being caught in the traffic jam especially at the Sungai Ramal area on the Kajang Silk Highway as those heading for Putrajaya will be plying this route," he said when met by Bernama here.
According to the administrative assistant, one of the reasons many still prefer to drive to work was because of the inefficient public transport system in Semenyih.
"There is no direct public bus transport to Putrajaya as the people here will need to take the bus to Kajang before taking another bus to Putrajaya.This is time-consuming and most often they may not reach their work place in time," he said.
*Owning my first home is so easy with the FundMyHome+DepositKu scheme'
*FundMyHome+DepositKu scheme launched to ease homeownership among B40 first-time homebuyers
*Rehda lauds government and private sector initiatives to help B40 own a home
Meanwhile, an information technology engineer who only wants to be known as Mohd Radzi, 40, who works with a private company in Kuala Lumpur said it takes him over an hour to travel to and from work and this too would depend on the weather conditions.
"Although it is more expensive, I prefer using the Kajang-Seremban (KEKAS) Highway to save travelling time and to avoid traffic congestion on the other routes," he said.
When asked on the traffic congestion problem, State Local Government, Public Transport and New Village Development Committee chairman Ng Sze Han said he was aware of the difficulties faced by road users in Semenyih adding that the committee was trying to resolve the problem especially on the public transportation system.
"To improve on the transportation system the state government has conducted a comprehensive study and we are working closely with the Transport Ministry to address this issue," he said.
Meanwhile State Housing and Urban Living Committee chairman, Haniza Talha said to solve the problem, the state government through the local authorities would ensure that before housing projects were approved, the housing developers must build alternative routes to avoid congestion and to cope with the population growth in the area
"In Semenyih there are two property developers involved in large-scale housing projects and the state government is aware those working in Putrajaya, Cyberjaya and Kuala Lumpur will be buying their houses here," she said.
As such the two companies have constructed the Eco Hill link road as an alternative route for easy access to the Lekas Highway ​​without having to pass through Semenyih town.