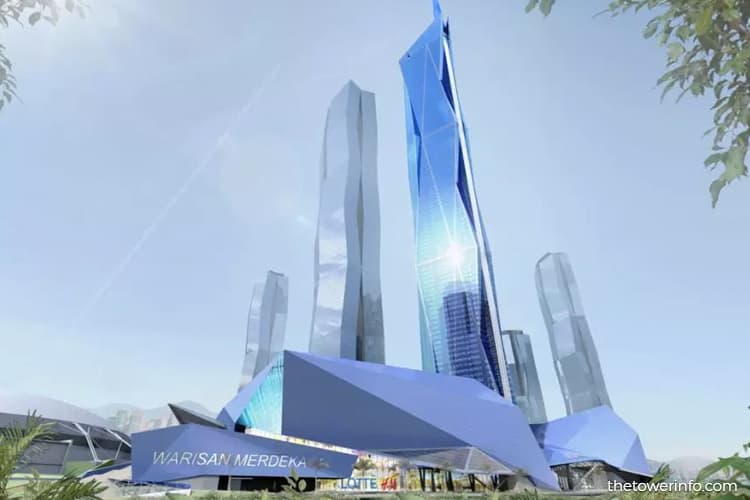 KUALA LUMPUR (May 20): The construction of Permodalan Nasional Bhd's (PNB) Menara Warisan Merdeka is on track for completion by early 2021.
The three phases of development includes the iconic Merdeka PNB118, a 630-meter tower, which is set to be the tallest building in Southeast Asia when completed.
It will house PNB group of companies, a retail mall, residential apartments and condominiums, as well as a commercial building.
President and group chief executive officer Datuk Abdul Rahman Ahmad said the construction of the 118-storey PNB118 Tower is underway at the 61th floor.
"We expect 78 per cent of the building to be completed by year-end. The cost is within budget and we are not affected by the ringgit fluctuation as we have locked the cost with the contractor as it was a fixed-price contract," he told reporters after the breaking of Ramadan fast here recently.
As for the existing PNB office building, he said PNB still has no plan on the 40-year-old building as it needs refurbishment.
"Once we've move to the new building, we will look at what we need to do with the building, make plans in order for it to generate income," he said.
As part of its corporate social responsibility drive during Ramadan, PNB recently held the breaking of fast for over 150 children from four orphanages from Selangor.
The orphanages are Pertubuhan Kebajikan Ukhuwah Anak Yatim Islam dan Miskin Daerah Sabak Bernam, Sungai Besar; Pertubuhan Anak Yatim Miskin Daerah Kuala Langat, Banting; Rumah Siti Kadijah Anak-Anak Yatim Puteri, Klang; and Persatuan Jagaan Pertubuhan Pengurusan Agama Anak-Anak Yatim Sekendi, Sabak Bernam.
At the event, PNB presented "duit raya" of RM100 each to the children along with basis essentials, comprising a backpack and towel, besides a donation of RM10,000 to each of the orphanages.
"We hope the contribution would bring joy to the children and help ease their financial burden, as well as ensure their welfare, in addition to providing necessities for the four orphanages.
"We had also advised the children to persevere to excel in their studies and strive to do their best, despite their adversity," Abdul Rahman said.