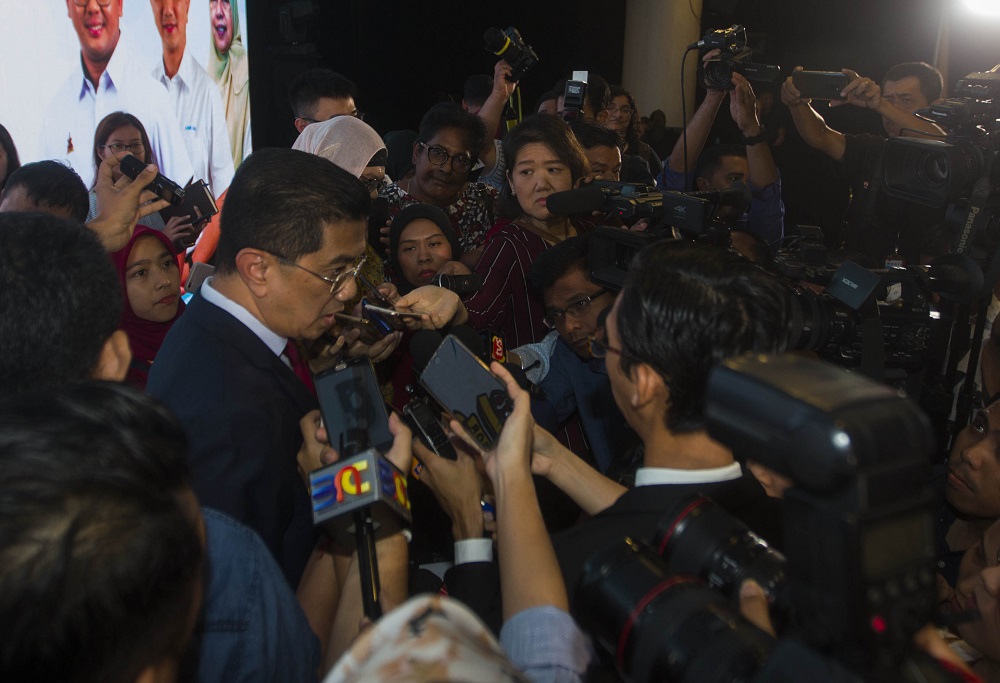 SHAH ALAM (June 19): Economic Affairs Minister Datuk Seri Mohamed Azmin Ali said that he was convinced that the mastermind and those involved in spreading the controversial sex video implicating him are members of his own party, PKR.
"I am convinced. I am convinced," he stressed.
Mohamed Azmin, who is PKR deputy president, said he strongly believed that the spreading of the video was part of certain persons' political agenda to curb his advancement and tarnish his reputation in the government and also in politics.
"I believe that the public will be able to see the mastermind. Let the police investigate. I think it's not fair for anyone to make a statement that will affect the investigation," he told reporters yesterday.
Mohamed Azmin said that he would give priority to giving full cooperation to the police to investigate the spread of the video.
When asked about calls for him to take the sumpah laknat (swearing in the face of divine retribution) to deny his involvement in the sex video scandal, the minister said his next course of action would depend on his lawyers' advice.
"That is why I lodged the qazaf (false accusation) report. There are certain processes for making sumpah laknat and we should let it take its course.," he said.
When asked about an Australian media report which stated that the video was not digitally altered, Mohamed Azmin repeated that it was not fair for any quarters to make a statement as the case was being investigated based on the report made.
Mohamed Azmin's lawyer, N Surendran said Mohamed Azmin had given his statement to the police on Monday.
"There are obvious signs of an organised and systematic attempt to discredit and bring down the minister with this false and malicious attack. The perpetrators had access to leaked personal data of party members, sophisticated means and a clear political agenda," Surendran said in a statement on Tuesday.
On this matter, Minister in the Prime Minister's Department Datuk Liew Vui Keong said the government is studying the possibility of making intrusion of privacy a criminal offence, alongside the proposed anti-stalking law,
"We all have our privacy whether you like it or not. We all want to make sure our privacy is protected and cannot be intruded upon", he told reporters in Putrajaya yesterday.
"This is the time for us to look at this because there are also a lot of offences we have seen lately, such as between girlfriend and boyfriend where the boy took a photo of the girl and exposed it on social media to threaten that girl.
Earlier this year, Liew had proposed legislation to make stalking, peeping or prying upon another person a criminal offence.
The fate of Haziq Abdullah Abdul Aziz as senior private secretary to the deputy primary industries minister has not been decided yet following his suspension over the sex video scandal, said ministry secretary-general Datuk Dr Tan Yew Chong.
Tan confirmed that Haziq had replied to the show-cause letter issued to him on June 12 but declined to say whether the ministry or Deputy Primary Industries Minister Datuk Seri Shamsul Iskandar Mohd Akin would decide on the matter.
"Wait for the deputy minister, who is away in Paris on official duty," he told reporters at the ministry's Hari Raya Aidilfitri gathering here yesterday.