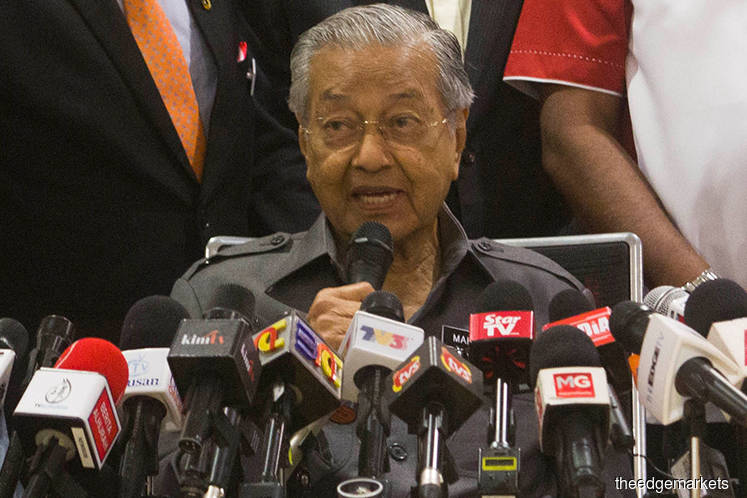 KUALA LUMPUR (June 24): Tun Dr Mahathir Mohamad has refuted the allegation that the civil forfeiture suits filed against 41 individuals and entities including several Umno state liaison committee members were an effort by the government to bankrupt the party.
The Prime Minister said if this was the motive, the government could have done that much earlier.
"(Instead) We have allowed Najib quite free, although he is charged he is going around being 'Bossku'," he told the media when met after delivering his keynote address during the opening ceremony of the 2019 Asia Oil and Gas Conference, here, today.
Also present during the opening ceremony were Economic Affairs Minister Datuk Seri Mohamed Azmin Ali and Domestic Trade and Consumer Affairs Minister Datuk Seri Saifuddin Nasution Ismail.
Last Friday, Malaysia Anti Corruption Commission had announced that the commission had filed civil forfeiture applications against 41 people and entities to recover RM270 million allegedly taken from 1Malaysia Development Bhd (1MDB).
The list includes Umno Selangor liaison committee, Umno Pahang liaison committee, Umno Kedah liaison committee, Umno Johor liaison committee and Umno Sabah liaison committee.
Some Umno leaders had claimed that the move was the Pakatan Harapan government's plan to get rid of the party and did not rule out the possibility of creating another Umno if the existing one is dissolved.
On this, Dr Mahathir who is also PH Chairman said he did not mind if the party had plans to create new one, but whatever wrong doings committed previously had to be faced according to the law.
"What happened previously was that Umno had taken money which was stolen to be given to the divisions, the money that they had stolen must be repaid, not to Umno but the government.
"That is why the government's money stolen by Najib (Datuk Seri Najib Tun Razak), we found that the money from Najib was given to the divisions and the Umno divisions subsequently spent the money, stolen money," he said.
On Mohamed Azmin, who was implicated in a sex video scandal, Dr Mahathir reiterated that there was no necessity for the PKR Deputy President to resign from his ministerial post.
"There is no necessity (to resign) simply because people in another country do this (resign after an issue). I know in one country if a plane crashes in an air field, the minister of transport resigns or throw himself out of a train, but it is not our way," he said.
He also expressed his confidence that the video was a deliberate attempt to affect the future of Azmin.
"I don't think he is so stupid as to do that and get caught, I think somebody is out to bring him down…now with the miracle in electronic, you can show a lot of picture which may or not be true," he added.