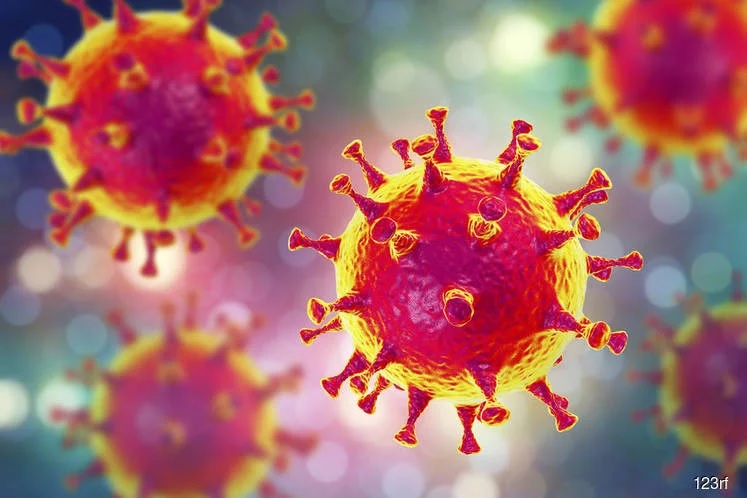 KUALA LUMPUR (April 10): Although Malaysia's Covid-19 positive cases have passed the 4,000 mark, it recorded an encouraging recovery rate this week, with the highest daily number of recoveries (236) reported on Monday (April 6).
Yesterday, 121 patients were discharged, bringing the total number of recovered cases to 1,608 and the recovery rate to 38% of the total Covid-19 cases (4,228 as of yesterday).
Yesterday, Health director-general Datuk Dr Noor Hisham Abdullah said at his daily media briefing that the number of recovered cases has outnumbered new cases.
Yesterday, 109 new cases were reported against 121 discharged and on Wednesday, 156 new cases were reported against 166 discharged.
As of yesterday, total deaths stood at 67. According to Noor Hisham, Malaysia's Covid-19 fatality rate was still relatively low at 1.58%.
One of the two patients who died yesterday was a Malaysian woman aged 23 – the youngest so far to succumb to the disease in Malaysia. She had a history of thyroid illness and was treated at the Sarawak General Hospital. She also had a history of close contact with two Covid-19 positive cases.
The total number of patients in the intensive care unit as of yesterday stood at 72, with 43 of them requiring ventilatory aid.
Noor Hisham also said that as of yesterday, the Ministry of Health (MOH) has detected 416 Covid-19 positive cases, including two deaths, among non-Malaysians. The two people who succumbed to the disease were Pakistani citizens.
Out of the 416 cases, 51 are from Indonesia; 37 India; 31 Myanmar; 29 Pakistan; and 27 the Philippines.
CRITICAL PERIOD, STRINGENT ACTION
Malaysia is currently well into the second phase of the Movement Control Order (April 1-14), which is deemed a critical period to determine whether Malaysia has succeeded in breaking the chain of infection. The first phase of the MCO was from March 18 to 31.
Prime Minister Tan Sri Muhyiddin Yassin, who was briefed by MOH officials this morning on the Covid-19 situation in Malaysia, is expected to announce at 4pm today whether any further extension of the MCO is required.
The government has introduced stringent measures to curb the spread of Covid-19. Starting April 3, Malaysians returning home from overseas are whisked off to a special centre to be quarantined for 14 days. To date, a total of 9,720 individuals are under quarantine at 143 centres, including 24 hotels.
A few Covid-19 hotspots have also been slapped with an Enhanced Movement Control Order (EMCO), the latest being Malayan Mansion and Selangor Mansion at Jalan Masjid India, here. On Tuesday, the two eight-story residential flats and business premises on the ground floors were placed under EMCO after 15 cases of Covid-19 were detected there.
The two buildings are located within 500m of City One Plaza at Jalan Munshi Abdullah which was placed under EMCO on March 31.
The first two areas to be issued an EMCO are Simpang Renggam in Johor and Batu 21 to Batu 24 Sungai Lui in Hulu Langat, Selangor.
The EMCO in Simpang Renggam was scheduled to be lifted today but has since been extended to April 14.
RED ZONES
As of yesterday, the number of areas declared red zones reached 24, with the latest being Kuantan which recorded 43 positive cases. An area is declared a red zone after it records more than 41 Covid-19 positive cases.
On Wednesday, the National Crisis Preparedness and Response Centre announced that Sepang in Selangor and Kota Samarahan in Sarawak have been declared red zones after recording 46 and 42 cases respectively.
Other areas declared as red zones are Jasin, Putrajaya, Rembau, Lembah Pantai, Hulu Langat, Petaling, Kuching, Kluang, Seremban, Johor Baharu, Kepong, Klang, Gombak, Titiwangsa, Kinta, Kota Bharu, Tawau, Lower Perak, Jerantut, Batu Pahat and Cheras.
GLOBAL SITUATION
The Covid-19 pandemic, which the United Nations has described as the toughest test since the Second World War, continues to spread like wildfire and claim more and more lives worldwide.
According to CoronaTracker (which cites various agencies including the World Health Organisation as its sources), the virus has infected 1,604,718 people worldwide and caused 95,735 deaths at the time of writing this article.
The United States: Total cases 468, 887 and total deaths 16,697. The US continues to record substantial numbers of new cases on a daily basis. The infection, first detected on Jan 20, has now spread to all 50 states.
Spain: 153,322 cases and 15,447 deaths. A curfew has been imposed since March 14.
Italy: 143,626 cases and 18,279 deaths.
Germany: 118,235 cases and 2,607 cases.
China, where the disease originated, did not report any big increase in new cases. The total number of cases now stands at 81,907, compared with 81,620 last week. Total deaths now stand at 3,336, compared to 3,322 last week.
In Wuhan, the epicentre of the Covid-19 outbreak in China late last year, the lockdown order was finally lifted after 77 days.
According to media reports, thousands of people made their way out of Wuhan to other parts of China, presumably to return to work or visit their families.
However, only those who have obtained a clean bill of health are allowed to leave Wuhan.
Other nations that have reported a substantial number of Covid-19 cases include:
France 117,749 (12,210 deaths), Iran 66,220 (4,110), United Kingdom 65,077 (7,978), Turkey 42,282 (812), Belgium 24,983 (2,523), Switzerland 24,051 (948), Holland 21,782 (2,396), Canada 20,765 (509), Brazil 18,176 (957), Portugal 13,956 (409), Austria 13,220 (295), South Korea 10,450 (208), Russia 10,131 (76), Israel 9,968 (86), Sweden 9,141 (793), India 6,725 (227), Ireland 6,574 (263) and Australia 6,152 (53).
Covid-19 BACKGROUND
According to the WHO website, its China country office was informed of cases of pneumonia detected in Wuhan on Dec 31, 2019. On Jan 7, the Chinese authorities confirmed that the novel coronavirus can be transmitted from human to human.
Coronaviruses are a large family of viruses that cause illnesses ranging from the common cold to more severe diseases such as Severe Acute Respiratory Syndrome (SARS) and Middle East Respiratory Syndrome (MERS-COV).
A study of the virus' genetic sequence suggested similarities to that seen in snakes and bats. China health officials identified the Huanan Seafood Market in Wuhan as the source of the transmission of the coronavirus.
On Feb 11, WHO announced the official name of the virus, Covid-19, which is an acronym for coronavirus 2019 – CO stands for corona, VI for virus and D for disease.
On Jan 30, WHO declared the coronavirus outbreak as a global emergency. By then, it had spread to 18 countries and caused 170 deaths. On March 11, Covid-19 was declared a pandemic by WHO.
Stay calm. Stay at home. Keep updated on the latest news at www.EdgeProp.my. #stayathome #flattenthecurve
Click here to see residential properties for sale in Kuala Lumpur.