With Woodlands Regional Centre poised to be the largest economic hub in the northern part of Singapore, coupled with the fact that the population is bigger than in other estates, being located at Woods Square brings greater convenience,"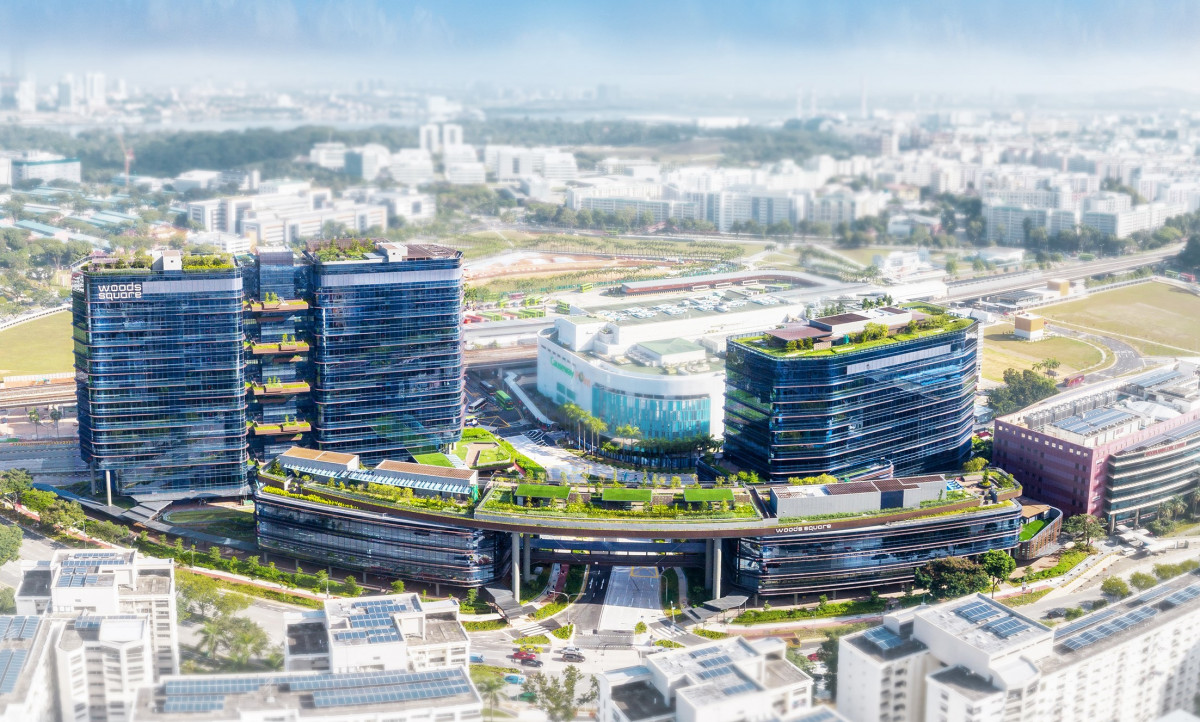 Companies aiming to capture a bigger pool of clients and customers in the northern part of Singapore are setting up shop at Woods Square, located in the vibrant Woodlands centre and close to Johor, Malaysia.
An integrated commercial development with retail, F&B and a childcare centre, Woods Square sits squarely in the heart of Woodlands Regional Centre. Under the Northern Gateway blueprint in Singapore's Urban Redevelopment Authority (URA)'s Master Plan 2019, the region promises to be a new transformative hive of commercial activities including a new agri-tech hub.
Key tenants
Anchor tenants at Woods Square include Qiren Organisation (SP — Qiren, an authorised representative of AIA Singapore, Reg. No. 201106386R), Anytime Fitness, Far East Organization, Superland Pre-School and The Write Connection.
Qiren Organisation be taking up approximately 36,000 sq ft of space spread over 1½ floors at Woods Square for its latest satellite office which it has named Woods Valley.
The insurance giant views Woods Square as an attractive location given its centrality within Woodlands Regional Centre, and proximity to Yishun and Sembawang in the North, as well as Punggol and Sengkang in the Northeast region. This enables representatives of AIA Singapore to reach out and serve a larger pool of customers.
With Woodlands Regional Centre poised to be the largest economic hub in the northern part of Singapore, coupled with the fact that the population is bigger than in other estates, being located at Woods Square brings greater convenience, says Qiren Organisation.
"Having office, retail and other amenities, including a childcare centre within an integrated development, enables us to engage in direct outreach marketing activities with our key customer segments, and to achieve our objective of being the insurance provider for families," adds Qiren Organisation. "Our commitment has always been to ensure that people and their families are adequately protected."
Far East Organization, Singapore's largest private property developer, is another major occupier at Woods Square, taking up about 73,200 sq ft of space spread over three floors within Tower 2. The space will feature modern workplace facilities such as open collaborative areas that encourage creativity and teamwork and an on-site café.
Woods Square will see Far East Organization's satellite operations housed under one roof for the first time. "This is the first time that our satellite offices are located within one location. Coupled with our digital transformational undertaking, it will drive better collaboration and improve our efficiency, which in turn, will enhance our ability to support and serve our customers better. In addition, as a value-add to our Woods Square owners and tenants, we have also carved out a range of meeting facilities for them to access for a nominal fee," says Cheryl Huan, Far East Organization's Chief Operating Officer for the Sales and Leasing Group.
Superland Pre-School will be setting up an infant and childcare centre that can accommodate up to 100 children between the ages of two months and six years at Woods Square. "Woodlands is a new target market for our pre-school," says a company spokesperson. "We chose Woods Square for its excellent location and its positioning as a major hub in the North."
Woods Square's connectivity to Woodlands MRT Station and Bus Interchange allows Superland to tap a new and growing catchment area. "Being right in the centre of such an important hub will definitely increase the demand for our services," adds the company spokesperson.
"Overall, it would help us to provide an even better level of service to our customers."
Anytime Fitness will be another occupier at Woods Square. "We are very excited to be part of this bustling neighbourhood and to have the opportunity to influence a healthy lifestyle through fitness and wellness in the Woodlands community," says a company spokesperson. As a leading brand in the industry, Anytime Fitness provides members with a safe, clean and fun environment for them to workout 24/7.
"Our gyms are designed to be convenient, affordable and accessible so that members continue to be motivated in their lifelong fitness journey," adds the company spokesperson.
These established companies see the potential of Woodlands as the next growth hub, especially with the launch of 2,110 Build-To-Order (BTO) flats in August by the Housing & Development Board.
Catering to the needs of residents and the office population, Woods Square has a wide range of retail and F&B outlets such as Eu Yang San TCM Clinic, Fun Toast, Glance Optical, Ji De Chi Dessert, Saizeriya, Sanook Kitchen, and Swee Heng 1989 Classic.
Connectivity
Connecting key locations in both Singapore and Johor Bahru, the Woodlands Regional Centre is expected to serve as the strategic domestic centre for the Northern Agri-Tech and Food Corridor. The centre will bring together various elements to form a larger ecosystem that comprises the future Agri-Food Innovation Park replete with modern high-tech farms, and the Senoko Food Zone that will cater to the food-related industry and businesses.
Woods Square has sheltered access to the Woodlands MRT Station, which is positioned as the intersection of the North-South Line (NSL) and Thomson-East Coast Line (TEL).
Scheduled to be fully operational by 2024, the TEL will provide a faster commute from the North to the Central Business District and Orchard Road.
For those who drive, Woods Square is accessible to major expressways such as the Seletar Expressway, Bukit Timah Expressway and the new North-South Corridor, which eases traffic flows and cuts travel time to the city by half an hour.
Commuters travelling in and out of Johor, Malaysia, can also seamlessly do so with the completion of the Johor Bahru-Singapore Rapid Transit System (RTS). It was announced on July 2020 that the RTS Link will be an LRT line, and the RTS station is just 1 MRT stop away from Woods Square.
When the project is completed in 2026, it will connect Bukit Chagar in Johor Bahru to Woodlands North MRT station in Singapore, and is expected to serve about 10,000 passengers per hour each way to help ease traffic congestion on the Causeway.
Only Grade A-like offices in the North
In all, there are four towers in Woods Square – Tower 1 & 2 and SOLO 1 & 2. The 365 office units in Tower 1, with floor-to-floor heights of 4.2m, are for sale. Tower 2 is set aside for lease with Far East Organization as an anchor tenant. Currently, 62% of the 208 office units launched for sale have been sold.
Flexible office spaces range from 549 to 9,849 sq ft which can be amalgamated up to 20,000 sq ft. In the wake of Covid-19 safety management measures, they are ideal for satellite offices and business continuity plans.
To address the growing appeal for smaller and compact office spaces, Woods Square also offers Small Office Loft Office (SOLO) units for sale. There are 101 such strata-titled SOLO units with sizes ranging from 495 to 1,800 sq ft, and 5m floor-to floor height with furniture platform provided.
Many have witnessed the respective success of Tampines and Jurong regional centres in the Eastern and Western part of Singapore, where the once-residential towns were transformed into thriving centres of commerce.
As the next regional centre developed by URA, Woodlands, with the added advantage of proximity to Malaysia, looks set to follow in the footsteps of its successful predecessors.
Prices start from S$1.04 million for a 560 sq ft office unit and S$1.43 million for a 721 sq ft SOLO unit. Buyers and sellers of commercial property enjoy exemption for additional buyer's stamp duty (ABSD) or seller's stamp duty (SSD) which is a good bonus for companies looking to purchase their own office space and investors. There is currently a 4% per annum rental guarantee for three years for selected units, a good consideration for investors who want to enjoy guaranteed rental for a locked in period.
The office spaces are also available for lease.
Brought to you by
Far East Orchard Ltd, Far East Organization & Sekisui House Ltd
To make an appointment to view the office units or for a personalised virtual tour from the comfort of your home: call +65 65348000 or WhatsApp +65 97122344.
Please refer to www.fareast.com.sg/woodssquare for more information.
Interested in this project?
Drop your details if you'd like a sales consultant to contact you.
In this Series
Learn how banks are transforming

Video: Innovation at work

Video: The new digital bank

Video: The new digital bank

Video: The new digital bank
Video: Innovation at work