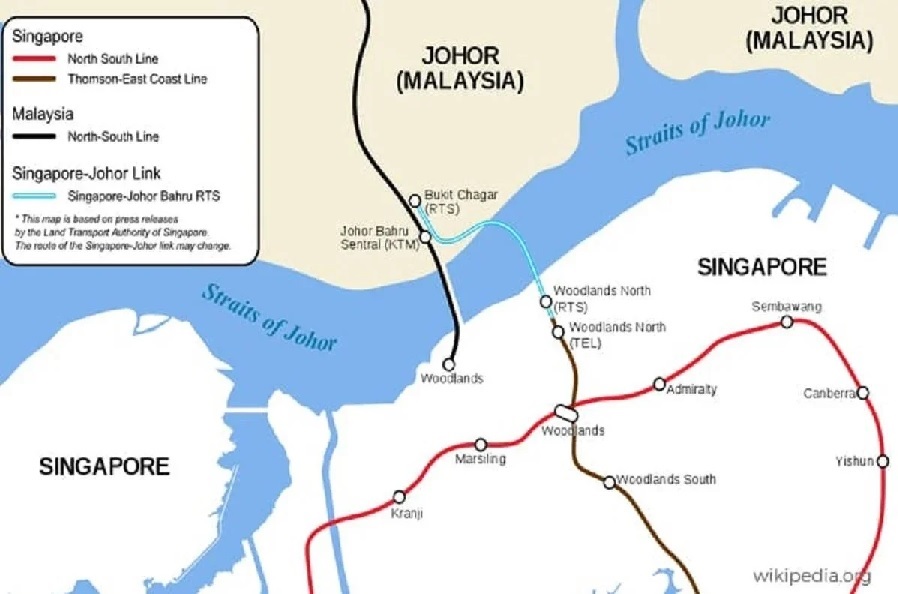 ISKANDAR PUTERI (Dec 3): The public infrastructure project for Rapid Transit System (RTS) between Johor Bahru and Singapore will benefit 323 Johor Bumiputera contractors who are directly involved in the construction.
This is because the Malaysia Rapid Transit System Sdn Bhd (MRTS), a wholly-owned subsidiary of Mass Rapid Transit Corporation Sdn Bhd (MRT Corp), has allocated 40% of the project's overall public infrastructure construction to be implemented by the Johor Centre for Construction Development (JCCD) contractors.
Menteri Besar Datuk Ir Hasni Mohammad said the construction works included site preparation, building drainage system and develop station buildings.
He said all these efforts would be implemented through a Memorandum of Understanding (MoU) that was signed by MRTS and JCCD yesterday.
"This collaboration involves a project value of RM800 million, of which the distribution of work covers a value of RM58 million to 167 JCCD contractors class G1 and G2, RM187 million to 109 contractors class G3 and G4, and RM150 million to 23 G5 and G6 contractors.
"The remaining value is for G7 contractors who are not necessarily from JCCD but will also involve contractors from other States because the scope of work requires specialised expertise," he told reporters after witnessing the MoU signing ceremony held virtually in Kota Iskandar here.
Also present were the State Public Works, Transportation and Infrastructure Committee chairman Mohd Solihan Badri, JCCD chief executive officer (CEO) Ekmaludin Ishak, MRT Corp CEO Datuk Mohd Zarif Hashim and RTS project director Zulkifli Mohamed.
Hasni said the collaboration would also help Johor Bumiputera contractors to improve their capabilities in the rail construction industry.
He said this is important because the State would have other rail projects in the future including the Kuala Lumpur-Johor Bahru High Speed Rail (HSR) and the Gemas-Johor Bahru Electrified Double-Tracking.
"We also hope that this cooperation will be the impetus and catalyst to the culture of using public transport system in Johor," he said.
Meanwhile, Mohd Zarif described the collaboration as the beginning of a move to help Johor Bumiputera contractors build track records and gain experience as the company intends to involve them in various other projects throughout the country, including in Kuala Lumpur.
The RM3.7 billion RTS project connecting Bukit Chagar, Johor Bahru and Woodlands in Singapore has a four-kilometre (km) alignment, of which 2.7km is on the Malaysian side and the other 1.3km in Singapore.
The first phase of the project is expected to begin in January next year and is to be completed by the end of 2024 with the full opening scheduled at the end of 2026.
Get the latest news @ www.EdgeProp.my