Transforming the skyline, Cham­bers Kuala Lumpur offers opulent comfort and bespoke conveniences packaged in an elegant and con­temporary setting. Surrounded by ample amenities, facilities and other attractions, the luxe Chambers Kuala Lumpur truly of­fers the best of city living."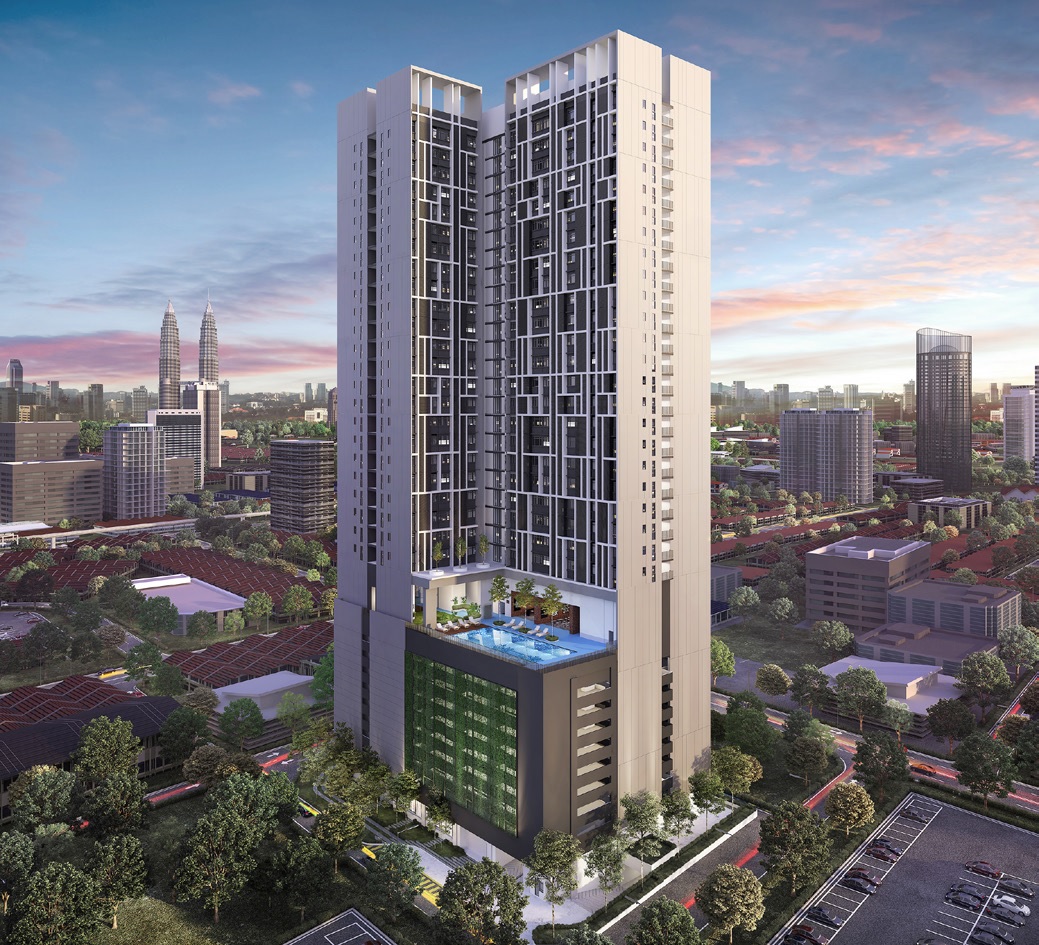 Inevitably, after conquering the development land­scape in Negeri Sembilan and then Kluang in Johor, Matrix Concepts would look towards the dynamic Klang Valley to develop its brand, stay competitive and further prove its mettle.
Given the dearth of large plots within the city centre, which has in turn persuaded many established developers to build new townships further afield within the Greater Klang Valley Corridor, Matrix Concepts has adopted a dif­ferent yet interesting business and strategy for its foray into the central region.
The company acquired several parcels of land in prime locations in the Klang Valley with the first being a 1.05- acre freehold parcel in downtown Kuala Lumpur. Locat­ed in Jalan Ipoh Kechil, off Jalan Putra, Chambers Kuala Lumpur was conceptualised for young urban dwellers. The development offers 509 serviced apartment units and four retail lots within a 33-storey single-block condominium.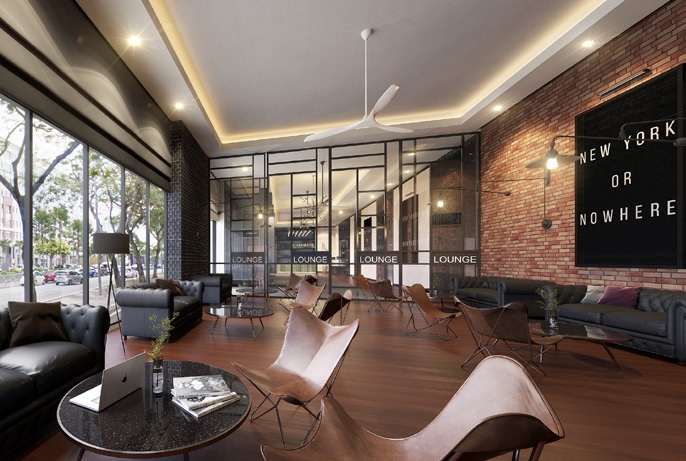 Residing in the lap of luxury
Touted as "a different kind of dwelling", the RM319.8 mil­lion Chambers is a high-end serviced condominium which promises to be the star of its neighbourhood. Launched in August 2018, its location marries the best of two worlds – tucked away from the hustle and bustle of the city centre and its attendant traffic woes, yet within reach of Kuala Lumpur's prime amenities, shopping malls and popular attractions.
To begin with, there's a Light Rail Transit (LRT) sta­tion conveniently located a mere 210 metres away whilst Sunway Putra Mall is only 350 metres down the road. The iconic World Trade Centre Kuala Lumpur (formerly known as Putra World Trade Centre), meanwhile, is about 650 metres away and the renowned KPJ Tawakkal KL Spe­cialist Hospital is just within a five-minute drive. In short, Chambers boasts an address close to many transportation options and countless services including easy access to prominent corporate offices, healthcare centres, educa­tion institutions, shopping malls, recreational facilities, as well as plentiful dining and nightlife options.
Commensurate with its status as a premier serviced apartment, Chambers offers an impressive range of facilities and residents will be spoilt for choice in ways to relax and unwind from their daily stresses. The facility deck, which is located on the ground floor of the podium, comprises a trio of swimming, shallow and wading pools, gymnasium, games room, children's playground, lounge and a function room as well as a designated barbecue and hammock area.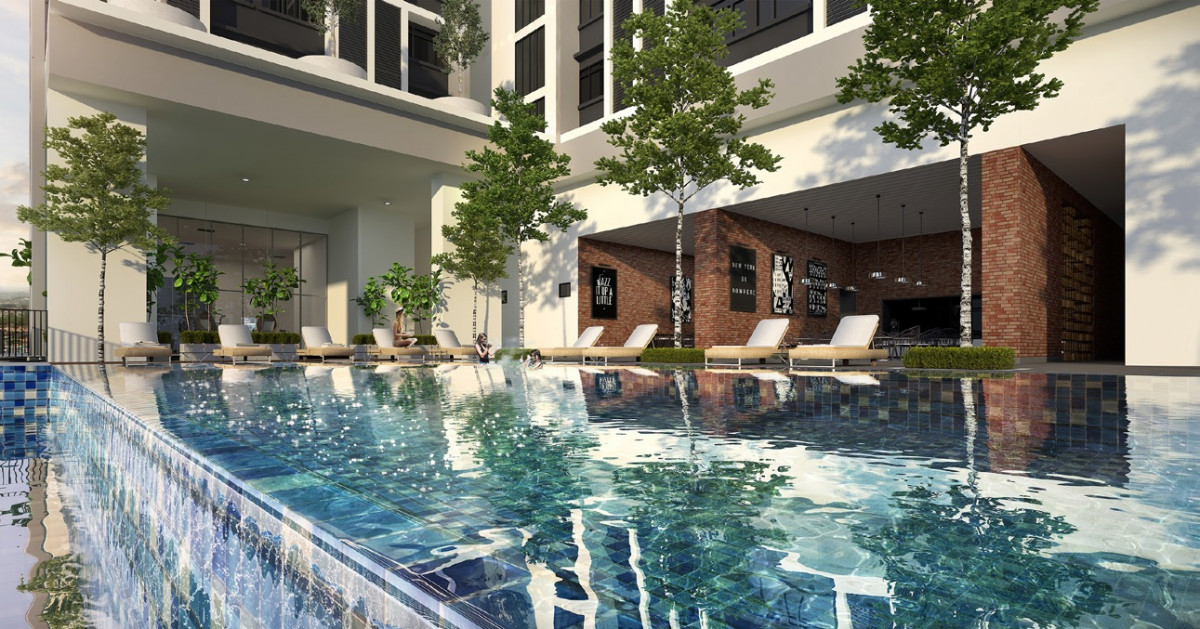 Investors are also presented with three hassle-free investment packages – either easy entry price, key flex­ibility or premium services. The easy entry price offers a fully furnished option to make moving in a breeze. The key flexibility option, meanwhile, allows the opportunity to convert the unit into a dual-key unit, thus allowing the own­er either to occupy one room while renting out the other, or to rent out the twin rooms separately to generate additional income.
The premium services, which requires sign-up with an appointed operator, shall comprise a leasing, housekeeping and con­cierge provision. Under the leasing service, the appointed operator will facilitate short-and medium-term rentals, Airbnb rentals, advertisements and corporate sales, and most importantly, manage tenants on behalf of the owner. The housekeeping services cover laundry, cleaning and maintenance of units while the concierge service offers an automated check-in kiosk, a frontdesk receptionist, transportation arrangement services and even, event planning.
Scheduled to be completed in 2Q2022, the development has already seen a take-up rate of 85%, with the vast majority of investors straddling the 30–39 age group, followed by those aged between 40 and 49.
Laid out to optimise functionality and ver­satility, the stylish and modern units come in three design types. The first option – studio – provides a maximum built-up area of 454 sq ft. The next option, which features two bedrooms, has a built-up area of 653 sq ft, whilst the most spacious variant measuring 908 sq ft features a single bedroom with flexibility to convert the living room into another second studio unit. All the units come partially furnished with kitchen cabinets and select­ed electrical appliances, subject to certain terms and conditions.
Transforming the skyline, Cham­bers Kuala Lumpur offers opulent comfort and bespoke conveniences packaged in an elegant and con­temporary setting. Surrounded by ample amenities, facilities and other attractions, the luxe Chambers Kuala Lumpur truly of­fers the best of city living.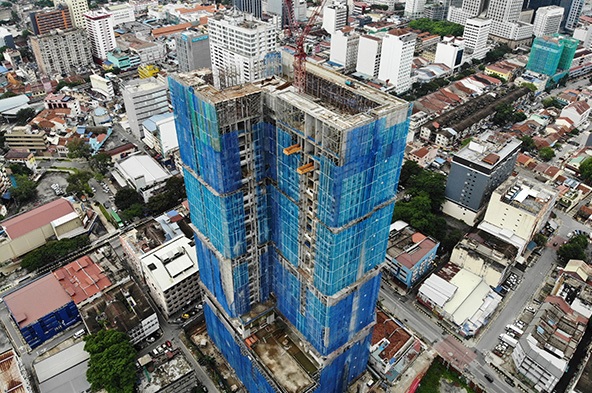 Forthcoming in the Central Region
Other upcoming developments by Matrix Con­cepts are condominium projects in Cheras, Puchong and Damansara Perdana.
The Cheras project will be sited on a 5.2- acre leasehold plot in Pandan Perdana. The proposed development will enjoy excellent connectivity via the Sungai Besi Highway, Kuala Lumpur Middle Ring Road 2 (MRR2) and Jalan Loke Yew, along with accessibility through the Mass Rapid Transit (MRT) station at Taman Midah and the LRT station at Maluri.
As it is located in a mature neighbour­hood, the development will be surrounded by ample amenities including a vast selection of shopping preferences such as the Lotus Extra Cheras, Eko Cheras Mall, Sunway Ve­locity Mall, Ikea Cheras and the many com­mercial centres in the vicinity.
At an estimated gross development value (GDV) of RM420 million, the condominium will comprise twin 30-storey towers on top of a 6-storey podium carpark. The high-rise towers will feature a total of 778 units with built-ups ranging from 750 sq ft to 1,350 sq ft, ideal for first-time homebuyers and up­graders. As expected, the condominium will come well equipped with lifestyle facilities including a 40m lap pool, Jacuzzi, sunken yoga deck, farm kitchen, herb garden, fit­ness garden, jungle deck, bicycle park and a multi-purpose court.
The condominium in Puchong is envi­sioned to be a modern and contemporary addition to its matured surroundings. Con­veniently located in the pulse of Puchong business centre and within a walking dis­tance to SetiaWalk, the condominium will enjoy the surrounding amenities and con­veniences such as IOI Mall Puchong, Lotus, Bandar Puteri Business Hub and Puchong Jaya Commercial Centre.
Its strategic location ensures good con­nectivity by way of the Damansara-Puchong Expressway (LDP), Shah Alam Expressway (KESAS), Bukit Jalil Highway, Kajang SILK Highway and the South Klang Valley Ex­pressway (SKVE). Also, located just a few minutes away is the LRT station at Pusat Bandar Puchong.
Set for construction on a leasehold site measuring 5.76 acres, the condominium with a projected GDV of RM480 million will comprise twin 36-storey towers on top of a 4-storey podium carpark. There will be 1,076 residential units up for grabs with built-ups ranging from 600 sq ft to 1,065 sq ft and featuring layouts of between two to four bedrooms.
Similarly, this development will also place emphasis on lifestyle facilities including a 50m lap pool, Jacuzzi, spa garden, hydro massage bed, herb garden, mini vegetable farm, outdoor fitness amenities, yoga deck and a gymnasium.
As Matrix Concepts embarks on these upcoming developments, it is already hard at work to secure new land banks, expand its portfolio and whet our appetites with dazzling new products!
Click here for more information of Chambers Kuala Lumpur!
Interested in this project?
Drop your details if you'd like a sales consultant to contact you.
In this Series
Learn how banks are transforming

Video: Innovation at work

Video: The new digital bank

Video: The new digital bank

Video: The new digital bank
Video: Innovation at work