Whether it's residential, commercial or industrial, co-create tomorrow and beyond with EcoWorld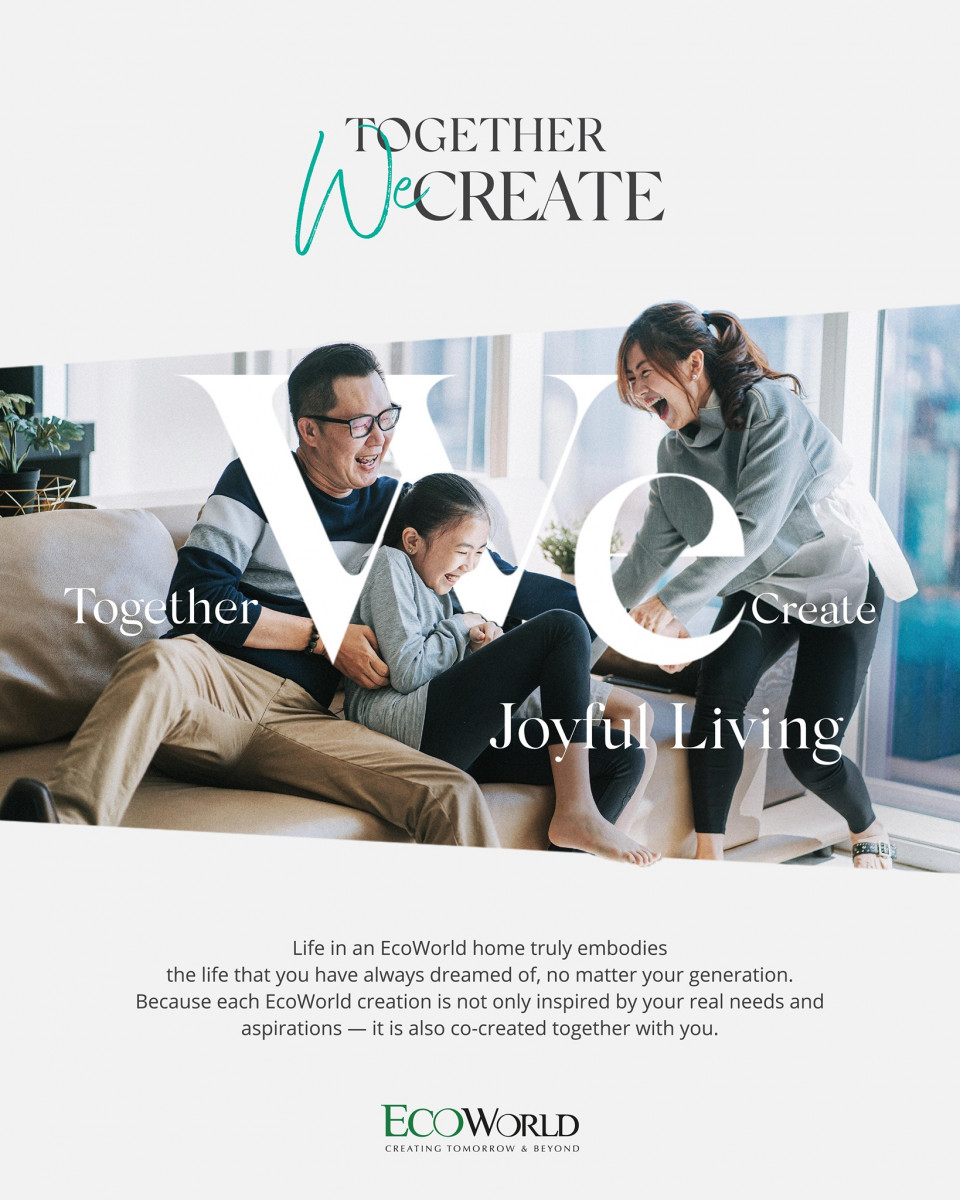 With home loan interest rates at record lows plus a slew of government initiatives and campaigns to help alleviate household financial burdens, the dream of owning a home now doesn't seem that unattainable after all.
Still, buying a house is a costly affair and hence, it is more important than ever to plan carefully and meticulously in landing one that suits your family's lifestyle for the long haul.
Oftentimes though, what you find in the market is wanting in terms of your particular needs. For instance, the new normal has resulted in changed lifestyles and ways you utilise spaces at home. You need a home that is flexible enough to stand the test of time and weather any uncertainties that may come along.
Where can you find such a product?
Having kept its ear to the ground, Eco World Development Group Bhd (EcoWorld), has handed this empowerment to its buyers and based its projects on input from them. In its latest campaign – Together We Create – EcoWorld's customers are valued as partners where their voice is given a concrete form in its newly built residential and commercial constructions. The result of the collective effort ensures buyers obtain the best value from their properties.
The co-creation process does not end upon getting the keys to the house. As a winner of EdgeProp Malaysia's Responsible Developer: Building Sustainable Development Award 2021, customers can rest assured that EcoWorld remains committed to providing impeccable after-sales services.
Within its signature sustainable, green innovations which are conceptualised to cultivate thriving communities, EcoWorld offers a series of designs curated for families of different demographics.
Tailored to your needs and wants
Besides affordability and flexibility, EcoWorld has identified market trends and placed itself in customers' shoes. Subsequently, it has developed products to plug the gaps in the market for first-time homebuyers and young families.
EcoWorld launched another revolutionary concept of affordable hybrid landed living at Eco Grandeur in the Klang Valley and Eco Horizon in Penang. Co-home is a hybrid single floor living concept, where you can choose to purchase either an upper floor unit or a ground floor. Like a duplex of sorts, it fits the profile of multigenerational families who want to stay close to each other but with a degree of privacy.
Meanwhile, ErgoHomes consists of terraced houses with a twist – each unit is designed to be a corner unit owing to its unique placement. Inspired by the concept of ergonomics, ErgoHomes at Hazelton @ Eco Forest in Semenyih, Selangor has been conceived with comfort and space in mind, without breaking the bank.
Alternatively, EcoWorld's collection of Garden Homes is an innovative home unit where you can enjoy both indoor and outdoor living lifestyles. Garden Homes at Eco Grandeur has a 5-feet* side garden that can be transformed into a mini zen garden or relaxation spot and Garden Homes at Eco Botanic has a 10-feet* lifestyle porch with stunning views of both front and back gardens can be converted into an indoor WFH space, entertainment area, kids play area, or even an outdoor BBQ and dining area! Not to forget a 20-feet* or 30-feet* Backlane Garden where kids can enjoy the outdoors without the presence of cars and other vehicles in this car-free zone.
Garden Homes are now available at Eco Grandeur @ Klang Valley and Eco Botanic @ Iskandar Malaysia. Contact Eco Grandeur's Sales Representative or Eco Botanic's Sales Representative for more details.
Eco Horizon's Semi-D and Bungalow homes come with a flexible layout that allows the maximisation of spaces for the usage of big families and guests. Enjoy both indoor and outdoor living lifestyle with a private greenery area and a beautiful and spacious backlane garden. Aside from having exclusive clubhouse facilities, all of Eco Horizon's residential precincts are gated and guarded with security and 360-degree CCTV. Get to know more about these Semi-D and Bungalow homes located in the serene neighbourhood of Eco Horizon by contacting Eco Horizon's Sales Representative.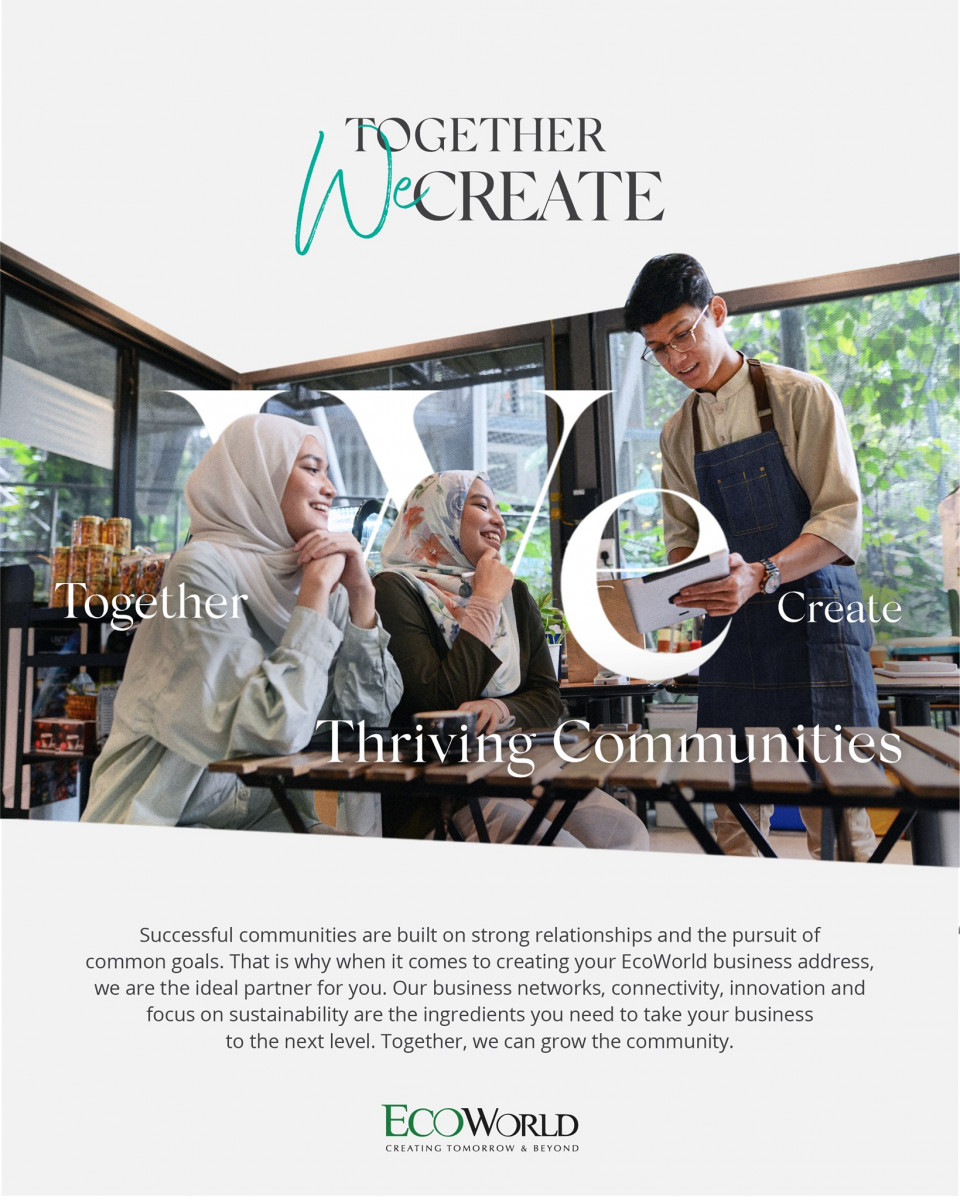 Together we create thriving communities
Taking different forms but with the same versatility, EcoWorld's commercial developments can elevate your business to new heights with the benefits of enhanced networks, connectivity, innovation and focus on sustainability. Multi-functional and practical layouts are available to suit a myriad of business specifications.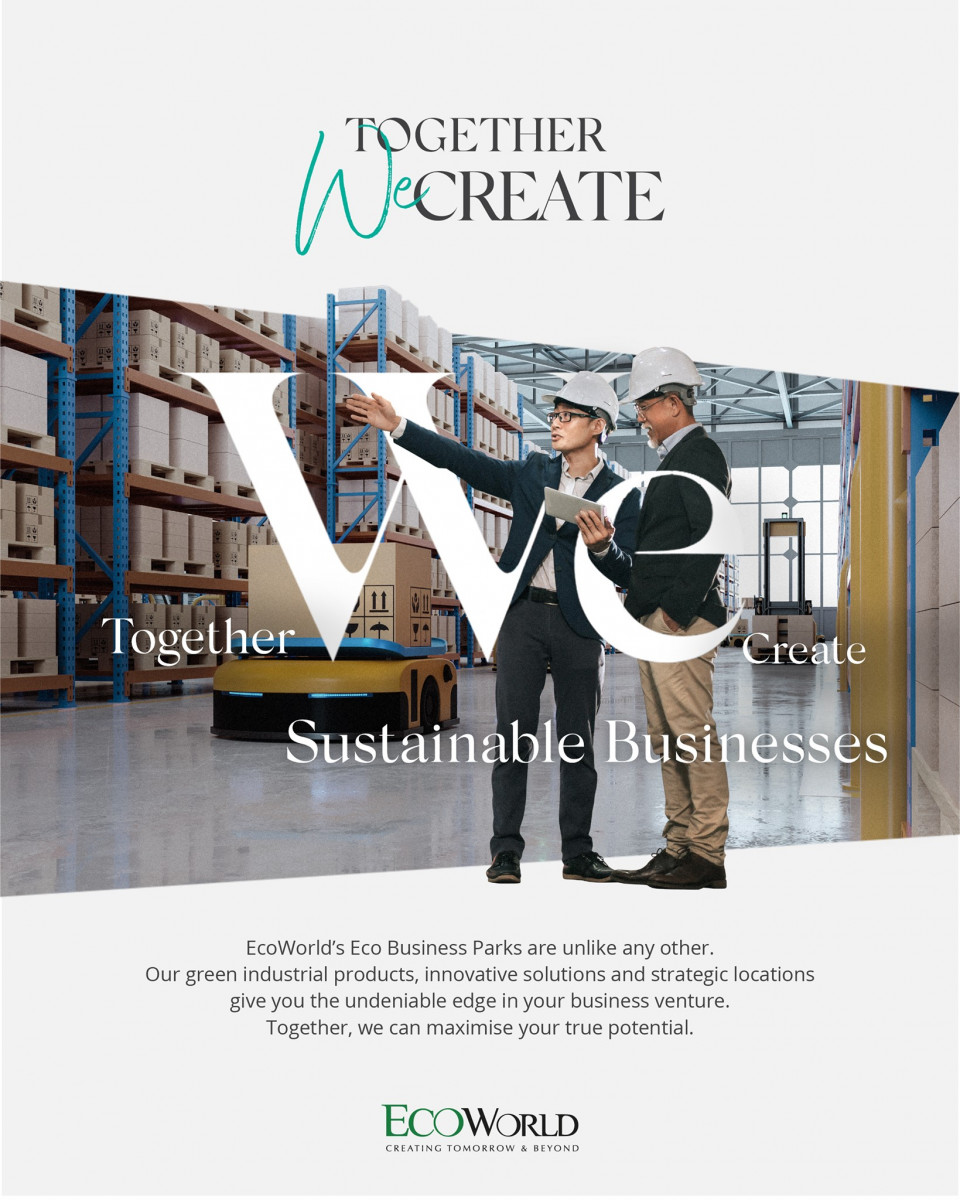 Together we create sustainable businesses
With the ever-growing townships, young entrepreneurs and business owners are creating their paths at EcoWorld's business parks. When it comes to industrialists, EcoWorld's elite Eco Business Park (EBP) team is made up of professionals that are well-versed and experienced in providing one-stop business solutions.
Aside from having high-speed broadband and telecommunications infrastructure, EBP is also a low-carbon footprint project that was designed to achieve cross-ventilation and natural daylight optimisation that saves electricity costs.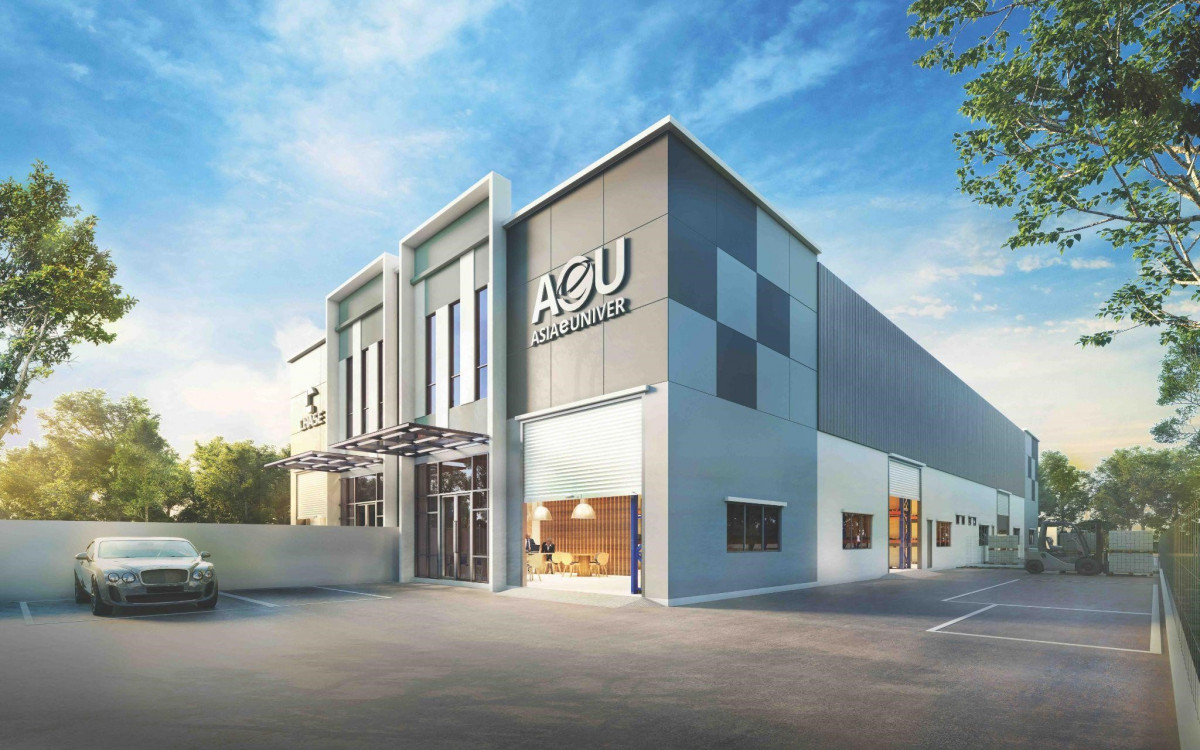 Eco Business Park 1 is a unified industrial hub in Tebrau that was established to provide a flexi space concept for businesses with a whole floor loading of 10kN/m2, making it suitable for corporate offices, retails, showrooms, warehouses and more. Each unit comes with energy-efficient skylight that helps to reduce the usage of artificial lighting while lowering the cost of maintenance. Eco Business Park 1 is also designed to allow owners to expand the mezzanine floor for future developments. Learn more about EBP by contacting Eco Business Park 1's Sales Representative.
Innovative and exciting products
EcoWorld is a Malaysian public-listed property developer with a total of 20 ongoing projects in the Klang Valley, Iskandar Malaysia, Johor and Penang. The group also has presence in the UK and Australia.
It is known for a wide range of property portfolios from conventional townships that offer innovative home concepts to exciting commercial products. In fact, the ECB are among the largest green and clean business park developments in the country.
The EcoWorld brand emphasises the pursuit of better, greater ways to complete people's living experience, in line with its vision – Creating Tomorrow & Beyond.
Looking for a Dream Home Package? Or Business Launchpad Package? Click here to find out more about EcoWorld's latest offers.
*Terms & conditions apply.
Interested in this project?
Drop your details if you'd like a sales consultant to contact you.
In this Series
Learn how banks are transforming

Video: Innovation at work

Video: The new digital bank

Video: The new digital bank

Video: The new digital bank
Video: Innovation at work