The main concerns for property purchasers are the interest rates, their affordability and the application status.
Not too long ago, the only way to get poultry is to tread the wet floors of the morning market, perhaps prod the bird to ensure freshness, banter with Mr Fowl Seller for extra gizzards and hand over cash before lugging back the chickens to our kitchens.
Thanks to technological advancement, today, with just a few simple clicks, we can get not just stove provisions, but anything from a shaver to a refrigerator – sent right to our doorsteps. Indeed, many of our tasks have become simpler and speedier through the internet revolution. Even those who were initially hesitant about armchair shopping have joined the club when Covid-19 effected social-distancing.
Correspondingly, in the real estate arena, many developers have also accelerated their digitalisation track. Now, homebuyers can walk through a show unit virtually before signing on the dotted line digitally.
However, there remains a missing gap in the property buying experience, where the mortgage procurement is still very much a tedious ordeal involving much physical running about.
Painful process
Yes, though there are many websites offering help, such as property listings and lending interest rate comparisons, you still have to weave in and out of the World Wide Web to identify the best match, contact the respective property agents, scour the market for loan packages, fill in pages of forms and do the submission.
Then comes the waiting-for-approval, which may take up to days. If you are eventually rejected, you have to either repeat the lengthy process with another bank or appeal to the same bank. This may involve seeking a joint applicant or more documentation for proof of additional income. This is followed by more waiting – often with little or no visibility on the progress, unless you call the bank.
In short, though the world has moved forward to ride-hailing apps, the mortgage loan process is generally still stuck in the wave-down-a-taxi-from-the-roadside era (read: daunting, time-consuming and frustrating).
Set to be a game-changer
As one of the leading banks in Malaysia, Malayan Banking Bhd has initiated a solution to these issues through its newly launched Maybank Home²u. The system is the latest addition to its MAE app, which features a host of services ranging from banking transactions to e-wallet, expenses tracker and even food delivery.
As a major local bank which has kept its ear to the ground, Maybank has noticed a gap in the market, where there is an immense inefficiency in customers' property buying experience. Typically, house owners-to-be are required to visit multiple parties including walking into various bank branches to check their eligibilities.
The main concerns for property purchasers are the interest rates, their affordability and the application status. In the current market, it is not easy for consumers to obtain this information. They have to engage many parties and jump through many hoops to obtain it.
Furthermore, the current social-distancing restrictions and fear of the recent spike of Covid-19 cases have exacerbated these issues and could delay or prevent customers from purchasing a home.
In contrast, Maybank Home²u is a fully digital platform that can provide customers with a hassle-free process when it comes to home financing.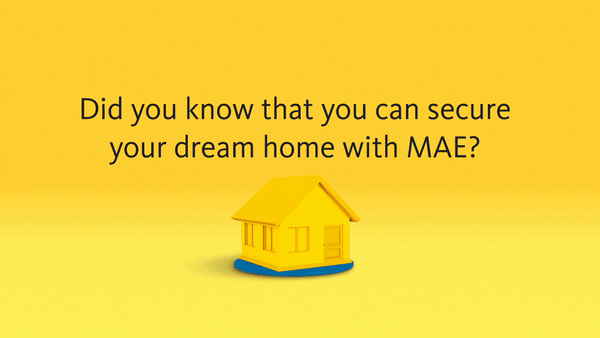 Virtual property mall featuring reputable developments
Designed to make the property buying experience as easy as ordering char kuey teow online, Maybank Home²u even offers a virtual real estate mall at your fingertips, where you can browse for your desired dwellings.
Currently, there are 76 housing projects featured in the Maybank Home²u marketplace. Focusing on the Klang Valley for now and soon expanding nationwide, they are products of more than 20 developers, namely EcoWorld, IJM Land, Sime Darby Property and S P Setia.
Customers can anticipate more in the weeks to come as Maybank targets to offer 100 housing project options by reputable developers by the year-end.
Alternatively, if you are interested in other properties not listed in the app, including from the secondary market, you can still use the app to apply for your loan.
Once you have identified the right asset, you can proceed to the next step with just another click, which is to check your eligibility for mortgage. The app will then show you the exact interest rate that is personalised according to your eligibility.
Check your credit eligibility instantly
Although there are loan calculators on several websites to help you compute the amount you can potentially borrow, it is only an indicative amount, because the exact computation for loan eligibility is subject to your creditworthiness, not to mention that interest rates vary from bank to bank. This means you may eventually still be rejected.
In contrast, Maybank Home²u shows you within seconds the exact figure you can borrow, with your CCRIS (Central Credit Reference Information System) score already taken into account. You will immediately see your monthly instalment amount based on your tenure selection. This saves you from any second-guessing about your affordability level, so that you can proceed with making the down payment for your dream house with confidence.
The cherry on the cake is, all these can be done without any document submission.
If your requested loan amount is out of your affordability range, you will also get an instant recommendation for Plan B, where Maybank dedicated consultants will attend to you to offer further assistance.
Approval within 10 seconds
For existing Maybank customers, you get the benefit of skipping the tedious form-filling part, because it will be pre-filled for you.
For customers whose salaries are deposited in Maybank, you will even enjoy the privilege of instant approval for your application, with the Letter of Offer ready within one hour! Yes, Maybank Home²u has made it possible to shorten a process that typically takes up to weeks to just a few minutes.
The app offers both conventional and Islamic financing options such as MaxiHome, My First Home Scheme and Commodity Murabahah Home Financing-i.
Assistance at your fingertips
Should your application require more time for approval, you can easily track the progress anytime anywhere under the Application Status feature in the app.
Best of all, if you need to inquire about anything, you can reach out to a (human, not AI) consultant who has already been assigned to you from the first stage of your application. All you need to do is tap the app to chat or speak to your dedicated consultant, who is ready to assist you every step of the way. This includes sharing documents securely within the app and any other queries regarding your home financing application all the way to loan disbursement.
Minimal friction, maximum efficiency
So, whether you are a first-time homebuyer, an upgrader or an investor, you can minimise friction and maximise efficiency in your home-owning journey through Maybank Home²u.
All you need to do is download the MAE app and launch Maybank Home²u under the "More" section to get started.
For more information, log on to:
https://www.maybank2u.com.my/home2u-mae
FB: https://www.facebook.com/Maybank
IG: https://www.instagram.com/mymaybank/
Interested in this product?
Drop your details if you'd like a sales consultant to contact you.
In this Series
Learn how banks are transforming

Video: Innovation at work

Video: The new digital bank

Video: The new digital bank

Video: The new digital bank
Video: Innovation at work