With only 300 units of landed homes spread across 30.27 acres of land, Residensi Aurora comprises 2- and 3-storey terrace units, with sizes ranging from 2,227 to 3,796 sq ft.
Location is said to be the main deciding factor in a property purchase. While this remains true, it is not the only factor, especially when it comes to a home for our beloved family. Other vital elements are security, peace and tranquillity.
Residensi Aurora, a prestigious development by the Selangor State Development Corporation (PKNS), offers the combination of the trifecta – location, design and a distinctive developer.
Strategically located in Cyberjaya, the low-density development caters to homebuyers who are looking for world-class standards with space, sophistication and simplicity.
Committed to providing a beautiful living experience for its buyers, PKNS is offering a relaxing and comfortable lifestyle coupled with a modern and contemporary touch with integrated smart technology to provide unprecedented levels of leisure, comfort and security.
The exclusive project, with a total gross development value of RM420 million, is designed for luxury and comfort, where residents can also enjoy a spacious and serene park within the neighbourhood.
With only 300 units of landed homes spread across 30.27 acres of land, Residensi Aurora comprises 2- and 3-storey terrace units, with sizes ranging from 2,227 to 3,796 sq ft.
Offering four types of homes, Type Diamond are 3-storey homes with 6 bedrooms and 6 bathrooms within a built-up of 3,796 sq ft; Types Emerald, Ruby and Pearl are 5-bedroom and 5-bathroom 2-storey homes with built-ups of 2,596 sq ft, 2,550 sq ft, and 2,227sq ft respectively.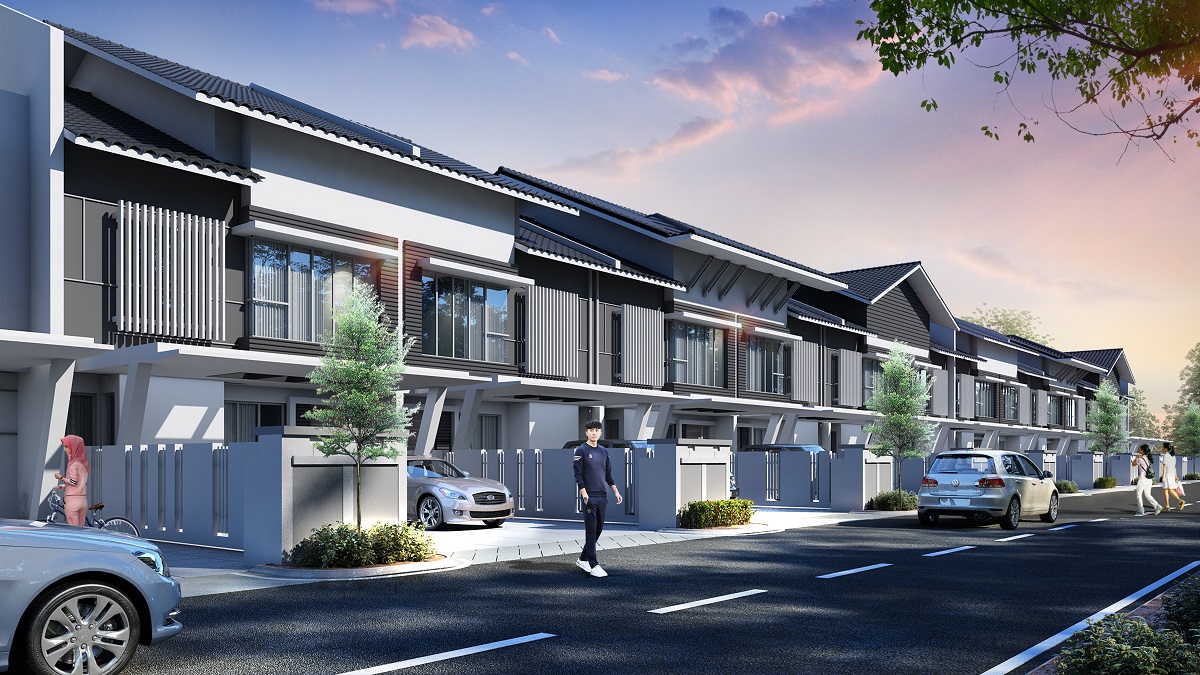 Priced from RM950,000 to RM1,537,000, PKNS is offering an exclusive package for prospective buyers, on a first-come-first-serve basis. Buyers can expect discounts on the unit prices and fee waivers for the SPA legal and the memorandum of transfer (MOT). Other documentation incentives up to RM20,000 and smart home features worth up to RM15,000 will also be complementary.
Flexible and versatile
With its open-space concept to allow natural ventilation and lighting, Residensi Aurora provides the perfect space for quality family time, whether during mealtimes or an evening of fun.
Residensi Aurora features the open-plan design, which allows you the space and flexibility to craft your dream home without carrying out major renovations. As an additional perk, triple-storey units come with a balcony each, which is perfect for watching the sunset or enjoying the breeze.
In addition, the open space and versatile modern design of floor-to-ceiling sliding glass windows also facilitate natural light and ventilation to keep the home well-lit and breezy without unnecessary electricity expenses.
The tasteful and spacious design is perfect for a balanced family life of work and play, and can comfortably accommodate large multi-generational families.
Easily accessible
Residensi Aurora is strategically located in the rapidly developing Selangor Cyber Valley @ Cyberjaya, with localities such as Putrajaya and Puchong within its proximity.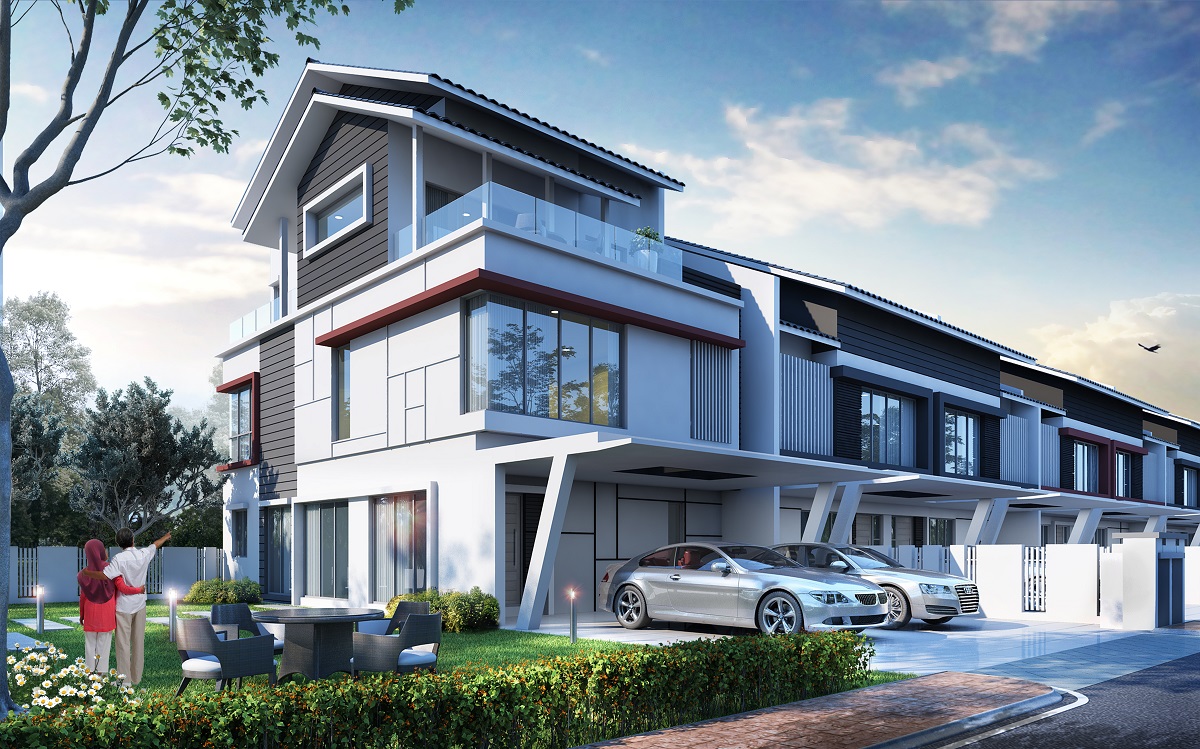 The project is accessible via North–South Expressway Central Link (ELITE) and Maju Expressway (MEX), which connect the Selangor Cyber Valley to major highways such as the North-South Expressway (NSE) and the Federal Highway.
It is located 12km from Putrajaya, 26km from KLIA, 28km from Shah Alam city, and 35km from Kuala Lumpur city centre.
Public transportation is conveniently available by bus and KLIA Express in Putrajaya Sentral, which is only a short drive away. The upcoming Cyberjaya Mass Rapid Transit (MRT) station on Putrajaya Line will further increase the value of the project.
Homeowners need not worry about the amenities and facilities as they are aplenty in the vicinity of Residensi Aurora. Nearby leisure destinations include DPulze Shopping Centre and Centrus Mall, as well as Cyberjaya Lake Gardens, where you can have a picnic.
There are sufficient clinics close to the project and Putrajaya Hospital is only 12km away. In future, it will be even more convenient once the Cyberjaya Hospital is completed, as it is located only 1.5km away.
Families with children will find a wide range of options for schools and educational institutions within the vicinity, from primary all the way to tertiary. Nearby international schools include ELC International school and Brainy Bunch International School. There are seven universities within proximity, including Multimedia University, MAHSA University and Limkokwing University of Creative Technology.
Smart, safe and secure
As part of the Multimedia Super Corridor, homes in Cyberjaya are of course, technologically up to date, and Residensi Aurora is no different.
Apart from being a gated-and-guarded neighbourhood, every home in Residensi Aurora is equipped with smart features for added security. The smart home system comes with CCTVs that would alert nearby police or fire stations. The CCTVs can be easily monitored with a simple click on a mobile app.
The smart home technology is linked to your home systems and appliances, with features like a security keypad for the main door and motion sensors to further safeguard your family, providing a safe haven for you and your family while reducing energy consumption and costs.
Residensi Aurora homes are ready for buyers to move in as the Certificate of Completion and Compliance has been issued. To learn more about Residensi Aurora, please call 03-5022 0187 or visit www.pkns.gov.my for more information.
Interested in this project?
Drop your details if you'd like a sales consultant to contact you.
In this Series
Learn how banks are transforming

Video: Innovation at work

Video: The new digital bank

Video: The new digital bank

Video: The new digital bank
Video: Innovation at work