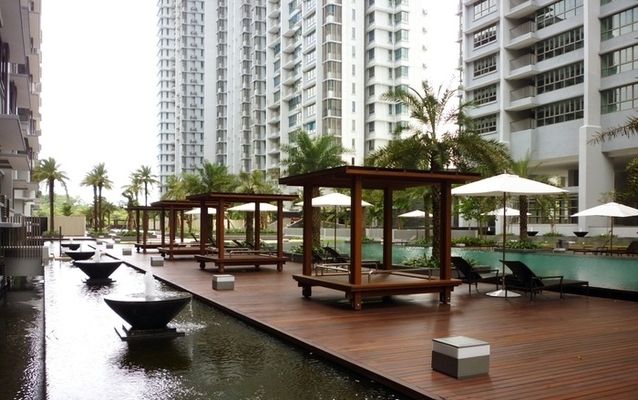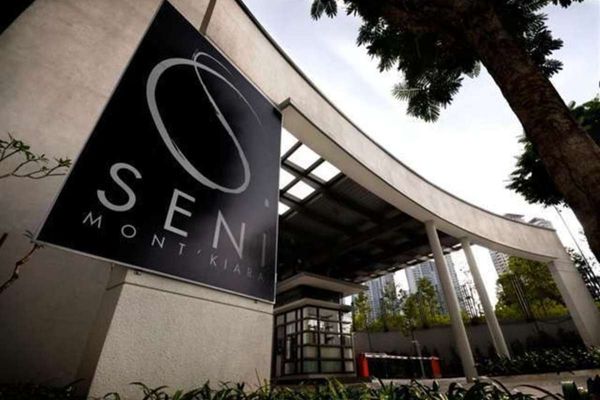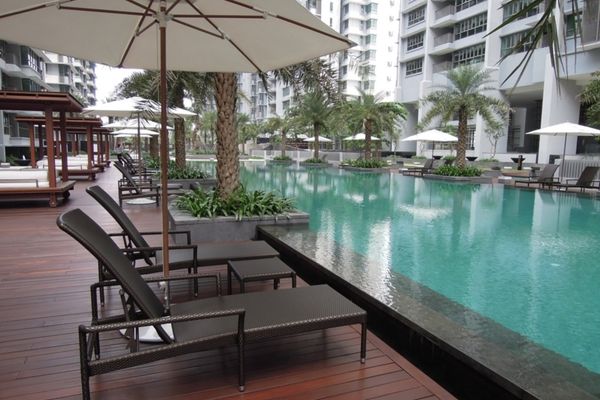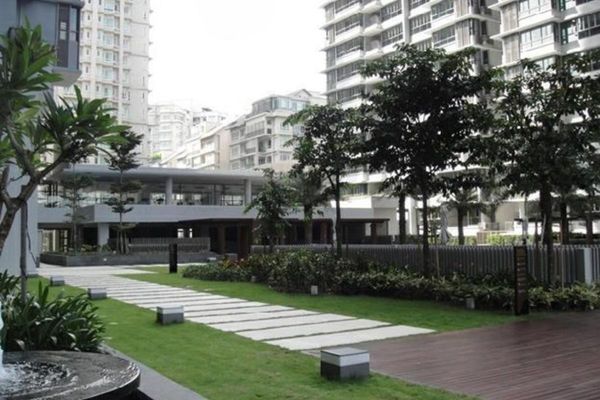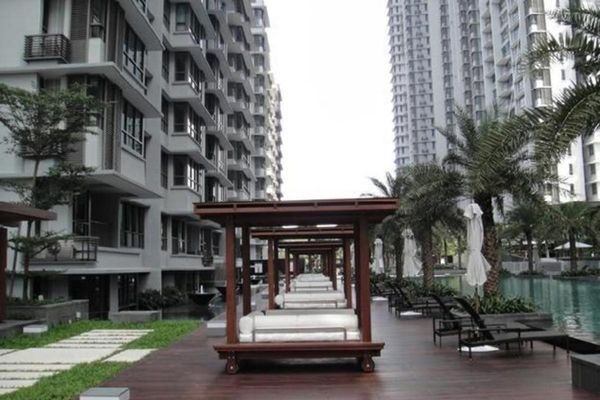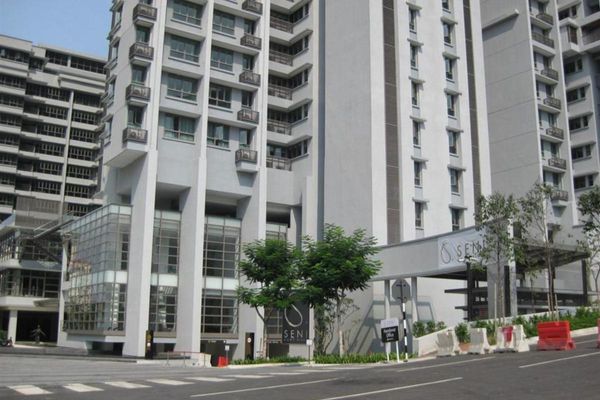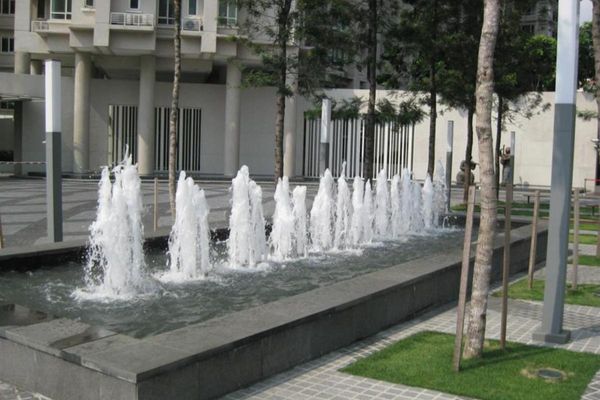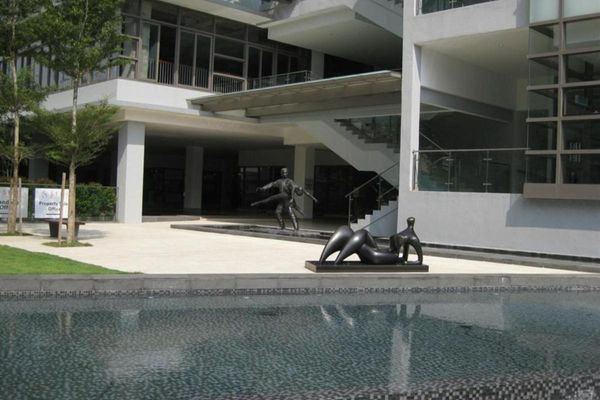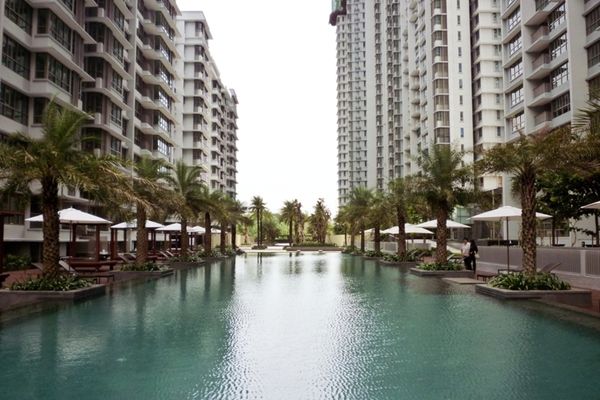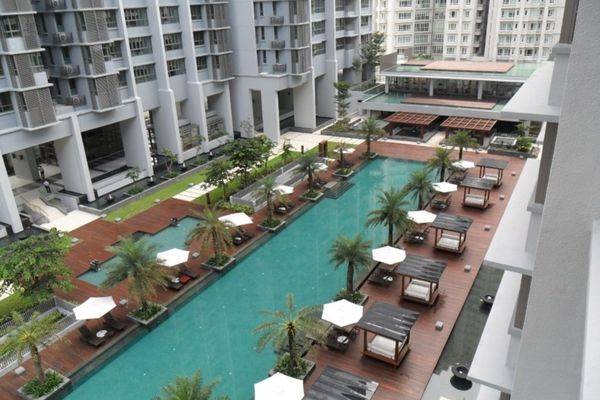 Seni Mont Kiara
Jalan Changkat Duta Kiara, Mont Kiara, Kuala Lumpur
About this project
Seni Mont Kiara, a collaborative luxury condominium project under the i-Zen development series between Ireka Group, via Aseana Properties Ltd's unit Amatir Resources, and CapitaLand Financial. Living up to its namesake, the selling points here are a unique 2,000 sq ft art gallery and an exquisite five-acre Karl Princic designer landscaping based on an island concept.
Incidentally, the blocks are named after famous artists: Picasso, Van Gogh, Dali and Monet. Comprising two 40-storey towers and two 12-storey low-rises, it has a total of 2,000 parking bays. An elegant sculptured garden lends a touch of grandeur to its facility-rich podium. Units here boast expansive layouts with six design types. Targeted at the upmarket segment, each unit is served by a private life and one dedicated service lift. The units also originally came fitted with kitchen cabinets, appliances, wardrobes, fully-fitted bathrooms and water heaters.
Being strategically situated in an established and well-structured township, Seni Mont Kiara has excellent connections via networks of highways and prime roads including Sprint Highway, New Klang Valley Expressway (NKVE), Penchala Link, Kerinchi Link, Jalan Duta, Duta-Ulu Kelang Expressway (DUKE) and Federal Highway. For convenient commuting, Rapid KL buses and city taxi services frequent the area.
The advantage of being situated within Mont Kiara is the wide variety of amenities and modern conveniences. Residents just have to drive down to neighbourhood malls such as Solaris Mont Kiara, Solaris Dutamas (Publika Shopping Gallery), Hartamas Shopping Centre and 1 Mont Kiara. It also near business activities such as banks, retail shops, clinics and restaurants. More eateries, retail and leisure are easily available in the adjacent Bangsar and Damansara Heights, which lie within a 5-minute drive from Mont Kiara. The neighbourhood is served by three international schools, namely the Mont Kiara International School, Garden International School and French International School KL. For recreational and sports activities, there are KLGC and KGPA golf clubs, Bukit Kiara Equestrian Club, Royal Selangor Club and the 470-acre Bukit Kiara Public Park located within close proximity.
April 2021 Update: Seni Mont Kiara is a Winner for EdgeProp Malaysia Best Managed & Sustainable Property Awards 2021: 10 Years and Above Multiple-owned Strata Residential (Silver)
As a luxury condominium in the expat enclave of Mont'Kiara, Kuala Lumpur, Seni Mont'Kiara (Seni MK) certainly pulls no punches when it comes to lifestyle facilities.
The highlight of its three-acre recreational plaza is two Olympic-sized swimming pools set within an island-concept design by renowned landscape architect Karl Princic. Other facilities include tennis and squash courts, gym, a tai chi/yoga platform, Jacuzzi and a resort-style pool deck.
Developed by Amatir Resources, the 8.83-acre project comprises two 40-storey towers and two 12-storey blocks housing a total of 605 units. Each unit comes with its own private lift lobby. In line with the art-themed concept of the project, the four residential towers are named after painters Picasso, Van Gogh, Dali and Monet.
Since its completion in Aug 2010, the condominium has remained popular among expat tenants and homeowners looking for exclusivity. As of Nov 2020, occupancy is at 90%, of which 41% are tenants. The average collection rate of service charges is around 97%.
Such impressive figures would not have been achieved without the necessary upkeep especially when it boasts premium lifestyle facilities. At EdgeProp Malaysia's Best Managed & Sustainable Property Awards 2021, Seni MK has emerged as the Silver winner in the 10 Years and Above Multiple-owned Strata Residential category.
Appointed as the property manager of Seni MK about seven years ago, Henry Butcher Malaysia (Mont Kiara) Sdn Bhd (HBMK) has taken several improvement initiatives since 2018 to retain the high-quality living standards at the condominium.
These include upgrades to the guardhouse, CCTV system and the installation of electric vehicle charging points. Besides that, an unused area in the condominium was transformed into an indoor activity area.
"We realised that Seni MK did not offer a lot of space for children as we could see them running around the hallway. This was worrying as it might pose a danger for themselves and to others as well," says Shereen Abdullah, chairlady of the Management Corporation (MC).
She explains that the upgrades were taken to meet the needs of residents in keeping with the times and to remain attractive to tenants.
To achieve more sustainable energy usage and spending, timers were implemented for air-conditioning in certain areas while conventional lights in the facility rooms were replaced by LED lights. An internal maintenance crew was also set up to attend to minor repairs instead of having to hire external service providers.
All the fundamentals of property management have been applied at Seni MK such as daily morning briefings and inspection walkabouts around the development to ensure that all facilities are functional for the residents.
"After a few years, the new feel was gone. So it boils down to maintenance and so, whatever needs to be improved, we have to do it," says Shereen.
Launched at an average RM741 psf, unit prices here have risen to around an average RM799 psf as of 3Q2020.
Managing director of HBMK Low Hon Keong says Seni MK's residents are well-informed residents who are exposed to high quality living standards. Meeting their expectations forms the management team's biggest challenge besides keeping the facilities in pristine condition.
"This is a matured and high-end neighbourhood where each resident knows his or her rights. When they have queries, they would expect a fast response. So you have to equip yourself with a lot of knowledge and be on your toes," says Low, adding that the HBMK team is on standby 24/7 to accommodate any request by residents. This also means maintaining efficient communication with residents.
The decade-old condominium's building manager Jacky Ling shares that managing Seni MK is not only about managing the building or the MC members. "It is also about managing the residents."
With 600-over units, sub-comittees have been created to take charge of specific areas. A system has then been developed among the MC and sub-comittees towards effective communication and efficient work.
Good communication is even more pertinent during the Covid-19 pandemic and [in the beginning] the management team had to experiment with various means of communication to make sure all relevant information was delivered to residents without any confusion.
"During times of crisis such as the current pandemic, the right information is crucial," stresses Low.
The property management mobile application JagaApp, which has been implemented at Seni MK since 2018, has proved even more useful during the pandemic as it has provided a seamless registration process for visitors to the condominium. It also allows residents to book facilities, lodge complaints, access application forms and check notices uploaded by the management.
"We want to move with the times and if something is good, we will adopt it so that the attractiveness of Seni MK will always be there," Shereen says.
She and the HBMK team concur that the way forward for Seni MK is to keep on modernising and improving the condominium where necessary. One major project they are currently looking into is the repainting of the entire condominium.
Find out more about Seni Mont Kiara from the Done Deals here:
DONE DEAL: Unit at SENI Mont'Kiara Rented for RM12,800 (December 2019) by Kevin Teh
DONE DEAL: Unit at SENI Mont'Kiara Sold for RM2.2M (August 2019) by James Lai
DONE DEAL: Unit at Seni Mont'Kiara Rented for RM8,250 (August 2019) by Kevin Teh
Property Type
Condominium/Apartment
Built up
2099 sqft - 38115 sqft
Transacted Price
RM 1,000,000 - RM 8,000,000
Asking Price (Sale)
RM 1,680,000 - RM 8,500,000
Asking Price (Rent)
RM 6,500 - RM 12,000
Maintenance Fee
RM 0.25 psf
Developer name
Amatir Resources
Location

Past Transactions
| Transaction Date | Address | Building Type | Floors | Lot Size | Price Psf | Price |
| --- | --- | --- | --- | --- | --- | --- |
Check out all transactions.
Historical Monthly Price Range & Volume
Profitability
Profitable Transactions (Limited to 5 Total of 35 Transactions)
| Bought On | Sold On | Area (sqft) | Sale Price (RM sqft) | Buy Price(RM sqft) | Profit (RM) | Growth (%) |
| --- | --- | --- | --- | --- | --- | --- |
| 10 Nov 09 | 02 Dec 21 | 3,401 ft² | 720 | 683 | 127,970 | 0.4 |
| 17 Aug 11 | 11 Dec 20 | 2,336 ft² | 701 | 667 | 73,000 | 0.5 |
| 09 Nov 16 | 07 Dec 20 | 2,896 ft² | 874 | 846 | 80,000 | 0.8 |
| 29 Feb 12 | 03 Dec 20 | 2,896 ft² | 829 | 740 | 249,560 | 1.3 |
| 20 Mar 19 | 02 Dec 20 | 3,541 ft² | 926 | 623 | 1,080,000 | 26.4 |
Note: Transactions with the same address are matched. Profitability of each round-trip transaction is based only on the change in asset price and does not take into account transaction costs and the effect of financing. Unit numbers are not disclosed. In addition, there are 30 more profitable transactions.
Unprofitable Transactions (Limited to 5 Total of 24 Transactions)
| Bought On | Sold On | Area (sqft) | Sale Price (RM sqft) | Buy Price(RM sqft) | Profit (RM) | Growth (%) |
| --- | --- | --- | --- | --- | --- | --- |
| 29 Nov 16 | 15 Mar 21 | 3,714 ft² | 700 | 727 | -100000 | - |
| 17 Sep 15 | 08 Feb 21 | 3,531 ft² | 637 | 792 | -547390 | -4 |
| 08 Jan 18 | 15 Jun 20 | 3,412 ft² | 762 | 762 | - | - |
| 05 Oct 18 | 11 Feb 20 | 2,411 ft² | 821 | 871 | -120000 | -4.3 |
| 14 Dec 16 | 26 Nov 19 | 4,446 ft² | 495 | 495 | - | - |
Note: Transactions with the same address are matched. Profitability of each round-trip transaction is based only on the change in asset price and does not take into account transaction costs and the effect of financing. Unit numbers are not disclosed. In addition, there are 19 more unprofitable transactions
Affordability
Down Payment (10%)

RM 0

Loan Amount (%)

RM 0

Tenure Years

0 Years

Interest Rate

0%
Loan Amount 90%
Down Payment 10%
Monthly Installment
RM 0±
Mortgage Provided by Hong Leong Bank
Maintenance Fees
RM 0 ±
RM 0 psf (0 sq ft)
Total Monthly Expenses
RM 0±
Disclaimer
The Analytics are provided "AS IS" and we do not warranty as to its accuracy. We are not responsible or liable for any claims, damages, losses, expenses, costs or liabilities whatsoever. Please seek professional advice before relying on the Analytics. The Analytics are based on the data available at the date of publication and may be subject to further revision as and when more data is made available to us. We reserve the rights to modify, alter, delete or withdraw the Analytics at any time without notice to you. All news, information, contents and other material displayed on the Website and Services including the Postings are for your general information purpose only and are no substitute for independent research and/or verifications and should not be regarded as a substitute for professional, legal, financial or real estate advice.