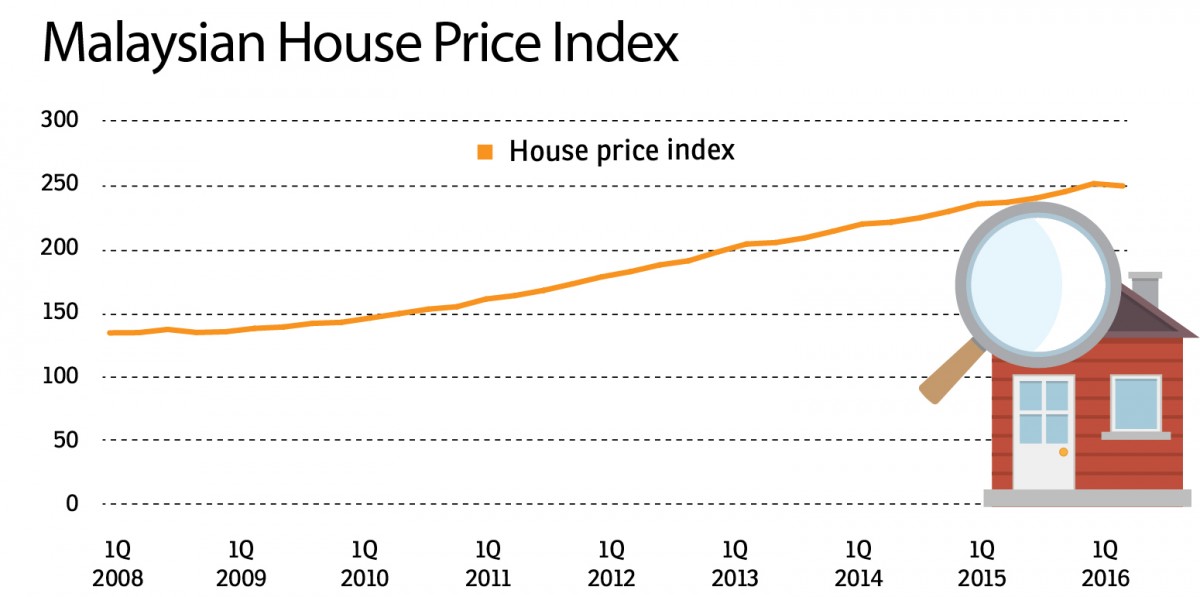 "House prices will never go down" is probably what we hear whenever we are told to invest in a residential property. And property developers have enforced that time and again, citing the rising cost of construction and strong demand from a growing population.
However, the latest data from the Valuation and Property Services Department's Property Market Report 2016 showed that the Malaysian House Price Index (HPI) had in the fourth quarter of 2016 (4Q2016) stood at 243.3 points, down by 1.8 points, or 0.7%, against 3Q2016.
This is the first quarterly decline since 4Q2008, when the HPI contracted by 2.4 points, or 1.83%, to 129 points from 131.4 points in 3Q2008. Since then, the index has been reflecting an escalation in prices, until now.
The report stated that the quarterly dip in 4Q2016 was attributed to the downtrend in prices experienced in most states, with the HPI in these states seeing negative growth of between 0.1% and 3.2%. Other states that have recorded a dip in the HPI include Penang (-3.2%), Sarawak (-1.9%), Sabah (-1.4%), Kuala Lumpur (-1.4%), Pahang (-1.2%), Perak (-0.9%), Kelantan (-0.5%), Selangor (-0.2%), Kedah (-0.1%) and Perlis (-0.1%).
Only three states — Johor (0.9%), Negeri Sembilan (0.9%) and Terengganu (1.8%) — recorded positive growth. Price movement in Melaka was unchanged.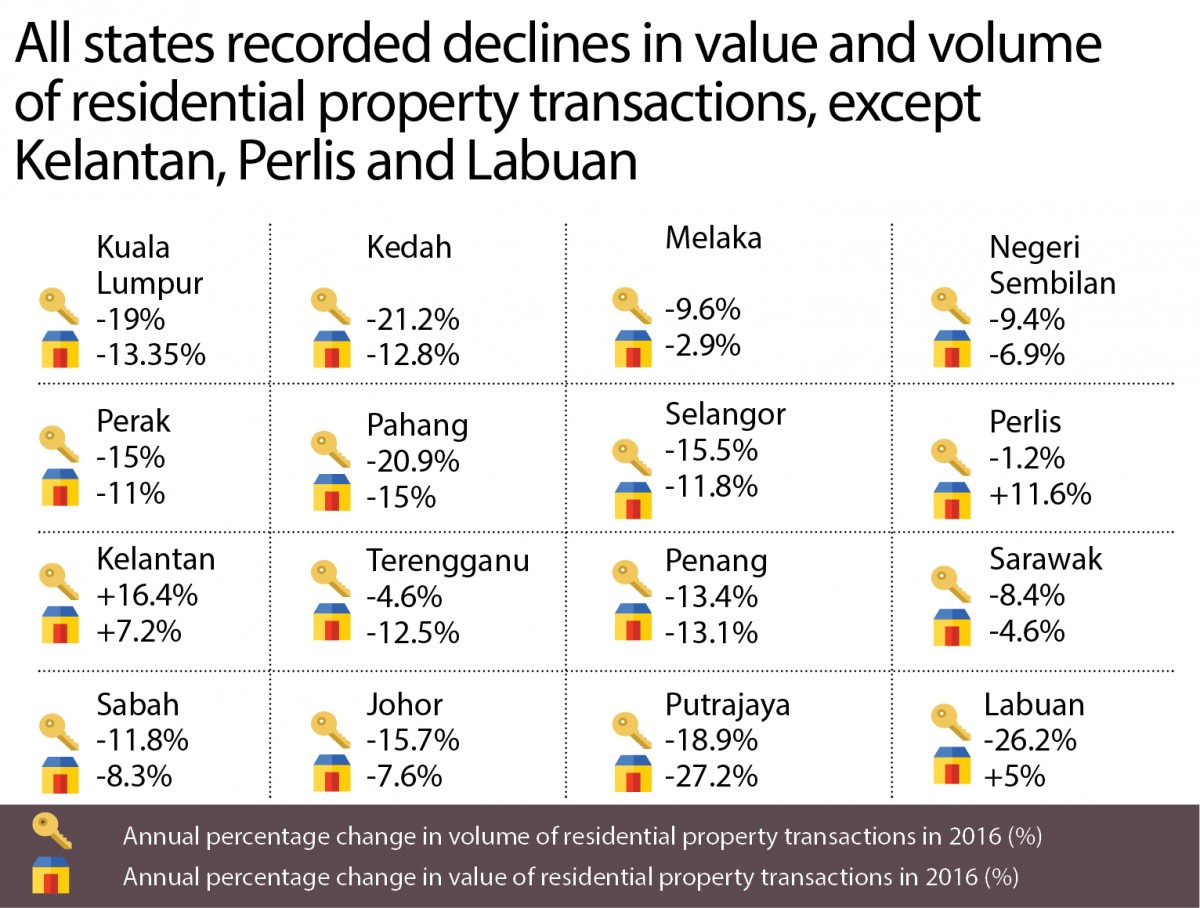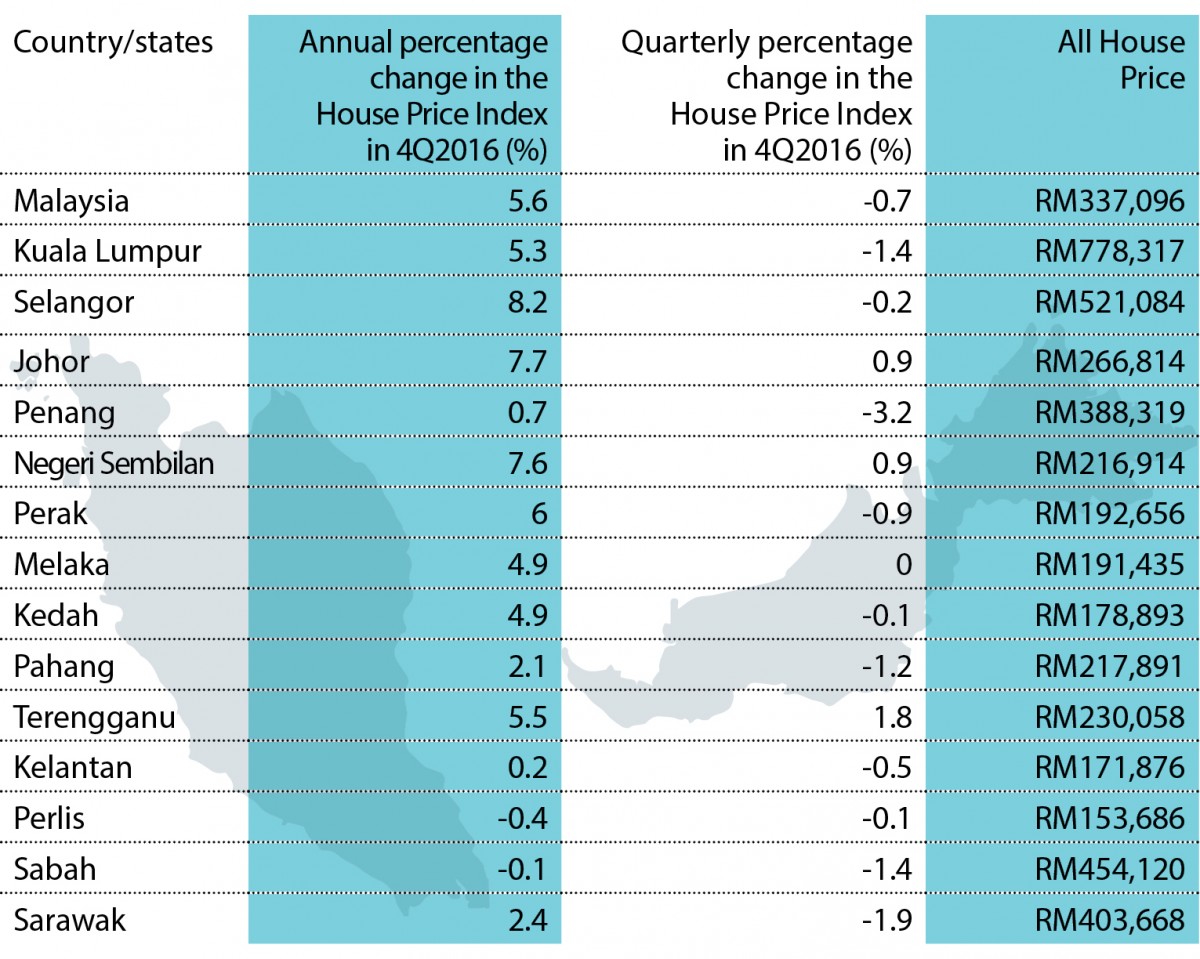 Henry Butcher (M) Sdn Bhd chief operating officer Tang Chee Meng says the quarterly drop in 4Q2016 does not surprise him, considering the current soft market.
"When the HPI records a decline, it means prices have registered a drop, so one can conclude that on the whole, prices have declined in 4Q2016 from the previous quarter, which is clearly a manifestation of the soft market condition," he tells TheEdgeProperty.com.
He adds that the price dip could also be attributed to the lower net prices of some new property projects due to discounts via rebates, freebies and interest-free easy payment schemes offered by developers, although their official prices may not have dropped.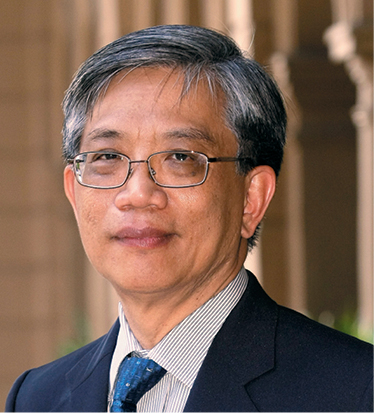 Looking ahead, Tang says it remains to be seen whether the drop in 4Q2016 is just a temporary blip or the start of a downtrend over the next few quarters. "My personal view is that the HPI will recover in 1Q2017 but will remain fairly flat through the year."
However, Metro Homes Sdn Bhd director See Kok Loong thinks the HPI will continue to see gradual downtrend due to the soft market condition, which has also seen property owners lowering their asking prices.
"The increase in stamp duty for real estate transactions priced above RM1 million from 3% to 4% starting January 2018 and the impact of the goods and services tax (GST) as well as the China government's curbs on capital outflows are expected to have an impact on the market," he says.
See adds that there have been slightly more buying enquiries recently but for high-end properties, most people are still taking a "wait-and-see" stance as they believe the next general election will happen soon.
"Therefore, we believe that the high-end segment will remain soft until after the election, whereas affordable properties will continue to perform well," he continues.
Is the worst over?
Nevertheless, to MIDF Research analyst Alan Lim, the market seems to be looking up and the drop in the HPI in the last quarter is only temporary. His confidence lies in the 5.6% growth recorded in the Malaysian economy in 1Q2017 — the fastest growth recorded in two years — against the 4.1% recorded in the same quarter last year.
"As the economy improves, income levels and visibility tend to be higher. Hence, we expect consumers to have higher confidence in buying property," he says, adding that the rise in consumer confidence is expected to boost property sales and help sustain overall property prices going forward.
MIDF Research's report on May 11 noted that the HPI grew by 5.6% y-o-y to 243.3 points in 4Q2016, although the growth was slower than the five-year average growth of 9.1%.
"There is some decline q-o-q but we think this should be temporary as the Malaysian economy has picked up. The outlook for property price growth is better in Greater KL (Selangor and KL) due to the urbanisation factor," read the report.
The report also pointed out that the 1Q2017 consumer sentiment index (CSI), which improved to 76.6 points from 4Q2016's 69.8 points and 1Q2016's 72.9 points, suggests that the demand outlook for property among the potential buyers has improved and this should translate into better sales in 2017 as consumers are generally more optimistic and have indicated their cautiously ambitious spending plans.
House prices in Johor trend upwards
Despite the drop in transaction value and volume of residential property, house prices in Johor continue to rise.
The state recorded 26,186 residential property transactions in 2016, down by 15.69% from the previous year. The value of transactions also fell by 7.6% to RM8.58 billion from the previous year. The HPI for Johor grew 7.7% y-o-y in 4Q2016 and 0.9% q-o-q.
Metro Homes' See opines that the increase in Johor house prices could be due to newly completed projects that were transacted at a higher price. However, Tang points out that the marginal rise in the HPI cannot be taken as an indication of a hot market for Johor, in view of the declines in both volume and value of residential transactions in the state last year.
He notes that all states registered declines in volume and value of residential property transactions in 2016, with the exception of Kelantan, which interestingly recorded a 16.4% increase in volume of transactions and a 7.2% increase in value of transactions.
"Perlis, which recorded a marginal 1.2% drop in volume of transactions, actually registered an 11.6% increase in the value of transactions," he adds.
Residential property market yet to bottom
Going forward, Tang says the residential market in all states will remain soft in 2017. He thinks the market has yet to bottom and the soft market conditions will persist for the rest of this year and possibly the first half of next year. He says the decline in the volume and value of residential property transactions only just started in 2013 and 2015, respectively.
According to the National Property Information Centre's data, the number of residential property transactions in 2013 was 59,210, down 8.06% from the 64,402 in the previous year, although the value was up 7.19% to RM16.22 billion in 2013.
The number of residential property transactions in 2015 was 59,490, an increase of 1.23% while the value of the transactions dropped 11.34% to RM10.35 billion.
"The outlook for the overall residential property market will remain soft in 2017 with continued declines in both volume as well as value of transactions, but prices are not expected to dip significantly," Tang says.
According to the Property Market Report 2016, the volume of residential property transactions in Malaysia dropped by 16.61% last year to 49,608 transactions from 59,490 transactions in the previous year. Total transactions value in 2016 was down 9.51% to RM32.97 billion from RM36.46 billion in 2015.
This story first appeared in TheEdgeProperty.com pullout on June 23, 2017. Download TheEdgeProperty.com pullout here for free.