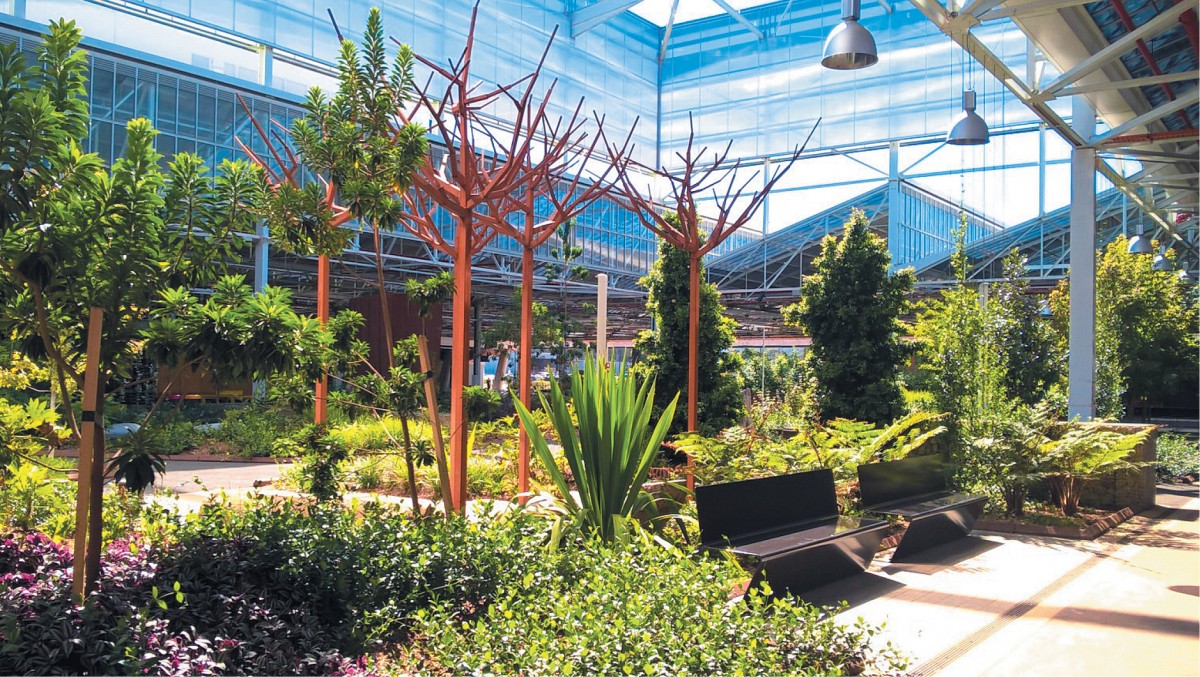 Warnings on the diminishing resources on Earth due to overexploitation and pollution are nothing new. "The Earth system is under increasing threat: climate, biodiversity, ocean health, deforestation, the water cycle, the nitrogen cycle and the carbon cycle," Stockholm Resilience Centre executive director Johan Rockström said in the World Wildlife Fund's Living Planet Report 2016.
These threats are not just harming the biodiversity of the planet — which has shown a persistent downward trend since 1970 — but also billions of human lives that are at stake. A report by the State of Global Air initiative stated that as of 2015, air pollution is the leading cause of death on the planet and 92% of the world's population live in areas where the air is unhealthy.
Though counter-measures seem to be lagging behind the rapid downward spiral of the environment crisis, a few prime movers have taken it seriously enough to initiate change by building eco township developments. Even in Malaysia, the country's leading property developers are making great strides in building sustainable living environments in their property developments. But there is still much to be done and we can certainly learn from the efforts undertaken globally.
Here are five green townships from around the world that demonstrate how the people, governments and the real estate industry can create sustainable cities and towns for present and future generations.
Tonsley in Adelaide, Australia
Tonsley is Australia's first innovation district sitting on a 61ha site in Adelaide. It is the first mixed-use development to be awarded a 6-star Green Star-Communities certification under the Green Building Council of Australia's PILOT rating tool in the country.
According to the official website of Tonsley, 70% of the site has been allocated for high-value industrial and commercial businesses; 18% for 850 apartments and townhouses; 10% for educational facilities; and the remaining 2% for retail businesses.
Built on the former Mitsubishi Motors plant site, which included an 11ha Main Assembly Building (MAB), Tonsley is being developed with an investment of A$253 million (RM864.39 million) from the South Australian Government and an estimated A$1 billion (RM3.42 billion) from the private sector. The South Australian Government acquired the site in 2010 and became the master developer of Tonsley.
Launched in 2013, Tonsley is set to transform into a high-tech hub to create 6,300 jobs, and to house 1,200 residents and 10,000 students per year when it is fully completed by 2025, according to the government of City of Marion.
Tonsley has adopted various sustainability features, which helped the development clinch the 6-star Green Star-Communities certification, including connected walking and cycling paths for easy access to public transport, as well as communications infrastructure providing connected technology and a basis for a Smart Grid Energy system to further reduce ongoing energy costs and demonstrate a reduction in carbon emissions.
The most prominent feature is the adaptive re-use of the MAB as a mixed-use precinct with four urban forests inside the building. Solar panels are installed on the roof of the MAB to produce sustainable energy for tenants and communications infrastructure.
The move has prevented the loss of approximately 90,000 tonnes of carbon emissions embodied in its original construction. Its rejuvenation has avoided carbon emissions of a scale equivalent to taking 25,000 average cars off the road for one year.
Integrated Industrial Township in Greater Noida, India

The Integrated Industrial Township is a flagship project for Delhi Mumbai Industrial Corridor.
Located approximately 35km from Noida City, the 302.63ha township is a joint-venture development between the central and state governments of India to create a sustainable and smart community.
With a total investment of around Rs33,031.4 crore (RM22.04 billion), the township is planned to generate a built-up space of around 6 million sq m, according to a journal by Sarvajanik College of Engineering and Technology.
It will comprise 50.8% industrial area, 11.1% residential area, 6.3% commercial area, and the remainder will be green zones, water bodies, roads, utilities and existing structure.
The project is poised to be a catalyst for fuelling the growth of industrial development in the region by attracting skilled human resource to the industrial township and generating direct industrial employment for about 58,000 workers.
The Integrated Industrial Township adopts a model of a sustainable township with quality infrastructure that promotes a live-work-learn-play environment within the development.
The key planning and infrastructure strategies for the township include energy generation and management, water collection, waste management, urban culture and public space, as well as transport planning and mobility management.
The sustainability objective of the township includes low carbon emissions; allocating 32% of land for transportation, utilities and green or open spaces; reusing treated waste water for non-potable water demand; and utilising the construction waste generated during the township development for filling of roads and embankments.
Mumbai-based developer Shapoorji Pallonji Group was awarded the project on Jan 9, 2016, to be completed within two years. The developer began construction on March 11 last year and the work is expected to be completed by this year-end, according to The Times of India.
Oslo, Norway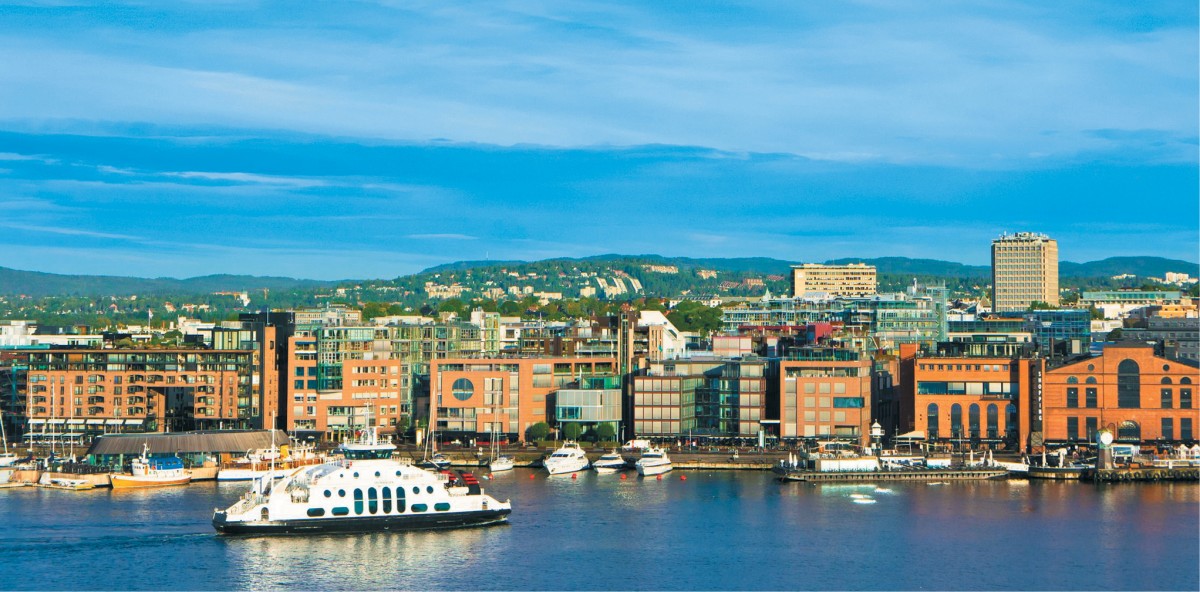 Oslo, measuring 454 sq km, is the capital city of Norway. The city is surrounded by the Marka Forest, a nationally protected area, and the Oslo Fjord, both connected by a number of waterways.
Oslo's approach to conserving its natural areas and restoring its network of waterways is just one of the many reasons it won the European Green Capital Award for 2019.
The award is an initiative taken by the Association of Estonian cities and 15 European cities to recognise cities that are leading the way in environment-friendly urban living. Since 2010, the award has annually selected one European city, which fulfils three key objectives, as the European Green Capital of the year.
Oslo will officially become the European Green Capital at the handover ceremony in 2019, where Nijmegen, the winner for 2018, will pass on the title.
The European Green Capital Award jury was particularly impressed by the holistic approach demonstrated by Oslo, covering its biodiversity to public transport, social integration and citizen health, accompanied by the theme "City for everyone, putting people first".
The city was commended for working systematically to re-open its waterways, with 3,000 waterways re-opened so far. The jury also appreciated Oslo's active approach to connecting with its citizens particularly with the use of technology and innovation such as text message invitations to public consultations and politician "speed-dating". Oslo's objective to address common challenges such as reclaiming space for citizens instead of cars was also lauded.
Going forward, the city aims to cut emissions by 50% (from 1990) by 2020 and to be carbon neutral by 2050.
It has also introduced a range of integrated measures to achieve these ambitious targets — for example, by promoting zero-emissions transport. The city has become the "Electric Vehicle Capital of the World" with 30% of all vehicles now sold in the city being electric.
In 2016, the city introduced a "Climate Budget", an initiative consisting of 42 separate measures across three sectors: energy and the built environment, transport, and resources. Carbon dioxide emissions are now being counted the same way a financial budget would account for funding. The unique "Climate Budget" is one of the main initiatives that Oslo is driving to reach its goal of 50% emissions reduction.
Sino-Singapore Tianjin Eco-city in Tianjin, China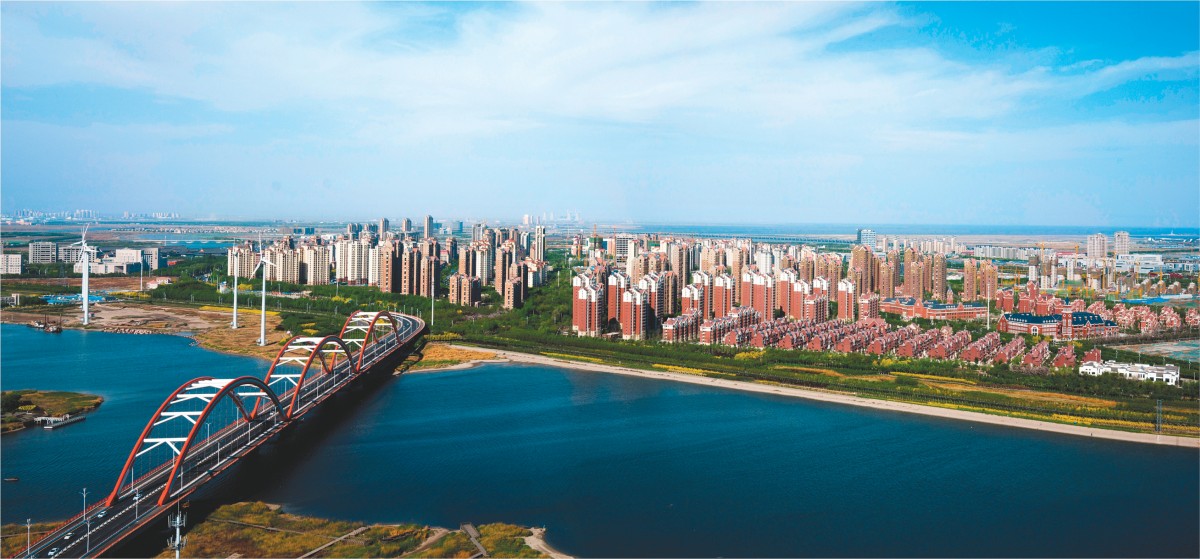 Sino-Singapore Tianjin Eco-city (SSTEC) is a 30-sq-km green township built on a former wasteland in Tianjin, China, developed by the China and Singapore governments.
Located 40 km from Tianjin city centre and 150 km from Beijing city centre, the site was once a wasteland comprising mainly salt pans, barren land and polluted water-bodies, including a 2.6-sq-km wastewater pond.
According to the SSTEC official website, the Chinese government specified that it should be developed on the non-arable land with the aim of creating a practical model of a sustainable city for future urbanisation efforts in China and other countries.
SSTEC entails building a township with eco-friendly features such as 100% green buildings, renewable energy and green transport. It states 22 quantitative and four qualitative key performance indicators (KPIs) to guide its planning and development.
The KPIs include the proportion of energy utilised in the eco-city, which will be in the form of renewable energy, such as solar and geothermal energy should be at least 20% by 2020; air quality in the city should meet at least China's National Ambient Air Quality Grade II Standard for at least 310 days; and water from all taps should be potable.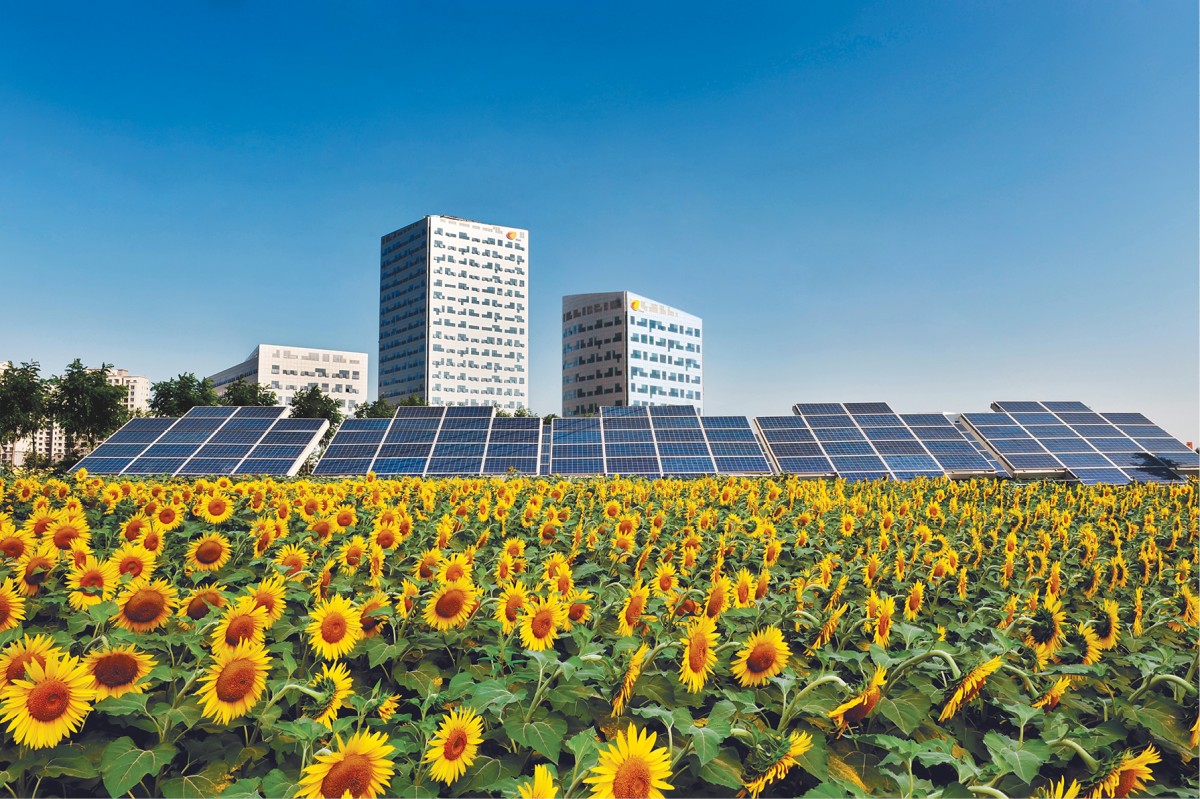 With an estimated cost of RMB50 billion (RM31.83 billion), the township consists of various property developments including residential homes, a commercial area and a business park, according to previous news reports.
Broken ground in 2008, the township will take 10 to 15 years to be fully developed and to house 350,000 residents when completed.
SSTEC is now home to 70,000 people. Over 27,000 units or 90% of its apartments have been sold, according to The Straits Times report in June 2017, quoting Tay Lim Heng, CEO of Sino-Singapore Tianjin Eco-City Investment and Development Co Ltd — the master developer of the township.
There are currently 14 schools with over 7,500 students, and three community centres, two commercial complexes, restaurants, a hospital, a 5-star hotel and a budget hotel that are located within a 15-minute walk from residential projects.
As of June 2017, there are 4,966 registered companies with a total registered capital of RMB212.2 billion operating out of three completed business parks there.
Masdar City in Abu Dhabi, United Arab Emirates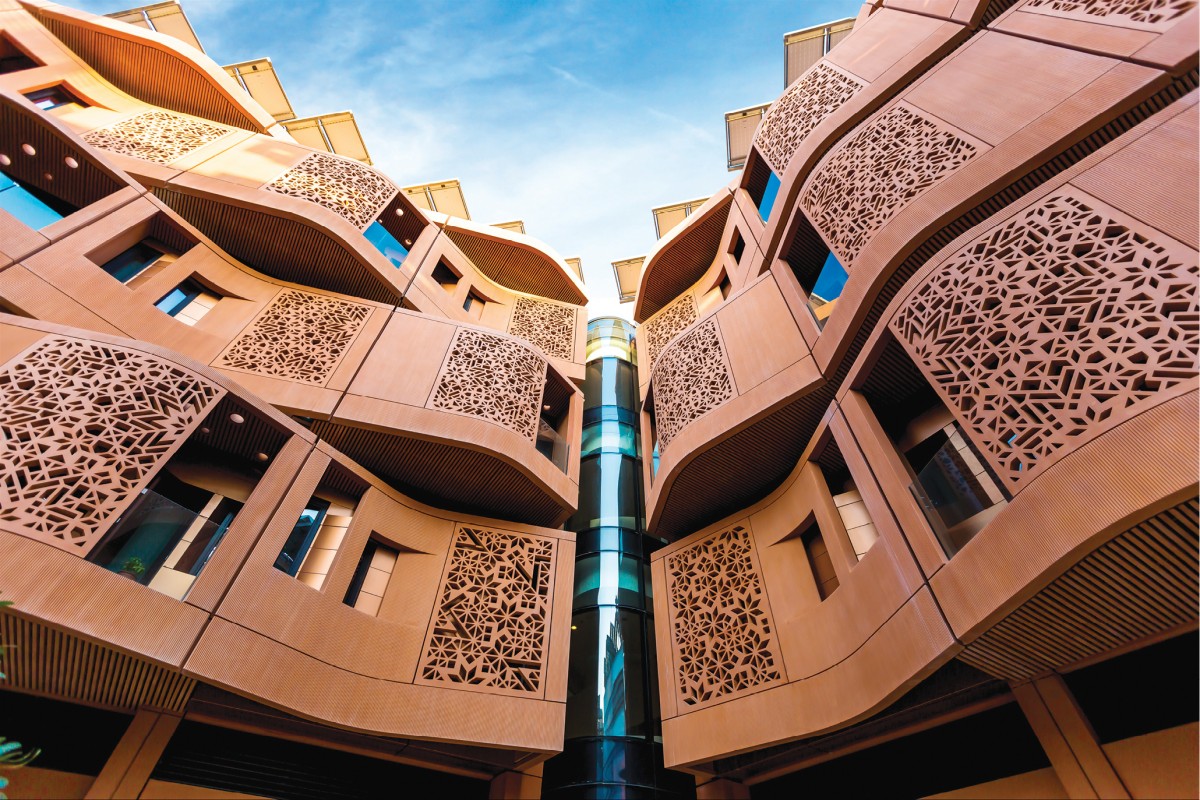 Masdar City is getting a second life after some of its initial environmental goals fell short.
Initiated by the Abu Dhabi government in 2006, the US$22 billion (RM94.18 billion) township had aimed to become the world's first zero carbon, entirely sustainable city in the middle of the Arabian desert. It held ambitious plans such as zero carbon emissions, a car-free cityscape, to be completely renewable-energy-powered and to have waste reduced to as near to zero as possible, according to the official website of Masdar City.
The prominent British architecture firm Foster + Partners produced the visionary master plan.
A decade later, the city found that it was unable to achieve the "zero greenhouse gas emissions" target and many deemed the city a failure and a "green ghost town", with only 300 people residing there as of February 2016, according to a report by The Guardian.
However, Masdar City is now trying to turn things around with a new architecture firm, Boston-based CBT Architects, which is undertaking phase 2 of Masdar City's development. Phase 2 will have more attainable targets and will take five to 10 years to build. Another three phases will be developed simultaneously or following phase 2.
The plan is now to build a city that is "highly sustainable and commercially viable, providing a high-quality lifestyle" for residents, CBT Architects principal and head of urban design Kishore Varanasi told Co.Design in an interview.
"A lot of people have written off Masdar, but cities in general take a long time to build," he said. "And Masdar is trying to strike new ground."
This story first appeared in TheEdgeProperty.com pullout on Aug 4, 2017. Download TheEdgeProperty.com pullout here for free.