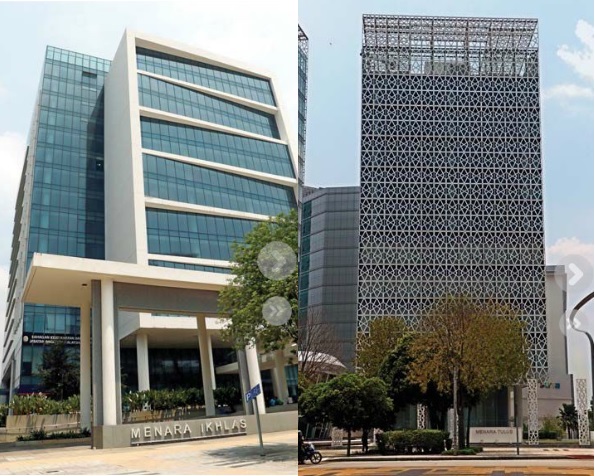 PETALING JAYA (March 24): Two Grade A office buildings in Putrajaya valued at RM600 million have been put on sale as their owner, a US-based private equity fund, is unable to pay its debt, reported The Edge weekly.
The buildings are Menara Tulus and Menara Ikhlas in Precinct 3, came into receivership just five years after their completion as they were unable to get satisfactory occupancy and yield, sources told the publication.
Menara Tulus, which comprises two towers of 10 storeys and 15 storeys each, has a gross floor area (GFA) of 558,059 sq ft, a net lettable area (NLA) of 335,695 sq ft, and 246 parking bays.
Meanwhile, Menara Ikhlas, which comprises two buildings of 11 storeys and 15 storeys each, has a GFA of 1.04 million sq ft and a NLA of 594,200 sq ft, and comes with 436 parking bays.
Both buildings are freehold.
Menara Tulus is held by TRW Boulevard Square Sdn Bhd while Menara Iklas is held by Boulevard Plaza Sdn Bhd.
According to documents from the Companies Commission of Malaysia (SSM), TRW Boulevard Square is owned by TRG Global Opportunity Master Fund Ltd (48.76%), TRG Special Opportunity Master Fund Ltd (48.67%), TRW (Asia) Ltd (2.29%) and TRW (M) Sdn Bhd (0.11%).
Meanwhile, Boulevard Plaza is owned by TRG Global Opportunity Master Fund (79.14%), TRG Special Opportunity Master Fund (19.78%), TRWD Pte Ltd (1%), Cypress Pavilion Sdn Bhd (0.05%), and Kemajuan Pinggir Sdn Bhd (0.03%).
These funds are linked to The Rohatyn Group, a specialised asset management firm that focuses on emerging markets.
SSM filings show that AmBank Islamic Bhd is seeking to recover up to RM110 million from TRW Boulevard Square and between RM225 million and RM281 million from Boulevard Plaza.
Ernst & Young's Stephen Duar Tuan Kiat has been appointed by the bank as the manager and receiver of both companies.
He has conducted an independent valuation of both properties and has appointed real estate agent and valuer WTW | CBRE as the exclusive marketing agent of these buildings.
According to SSM documents, as at June 30, 2015, Menara Tulus' book value stood at RM225 million, while Menara Ikhlas' stood at RM360 million.
WTW | CBRE managing director Foo Gee Jen said they were aiming for a similar figure – of around RM350 million for Menara Ikhlas, and RM250 million for Menara Tulus.
Menara Tulus currently is 55% tenanted by the Ministry of Primary Industries and Commodities and the Royal Malaysian Customs Department, among others, fetching a gross yield of 6.5% to 7%.
Meanwhile, Menara Ikhlas is 20% occupied by tenants such as the Malaysian Immmigration Department and MyEG Services Bhd, bringing the gross yield to 3%.
Foo said while the low occupancies could be due to each ministry already owning their own building in Putrajaya, recent budget cuts will likely see some ministries not owning their own building, providing opportunities for these buildings to cater for government agencies seeking expansion.
Duar and Foo also said it would be difficult to build similar buildings at the buildings' expected selling prices.
"The buildings offer investors an opportunity to go in (purchase) at the near bottom of the market price," he said.