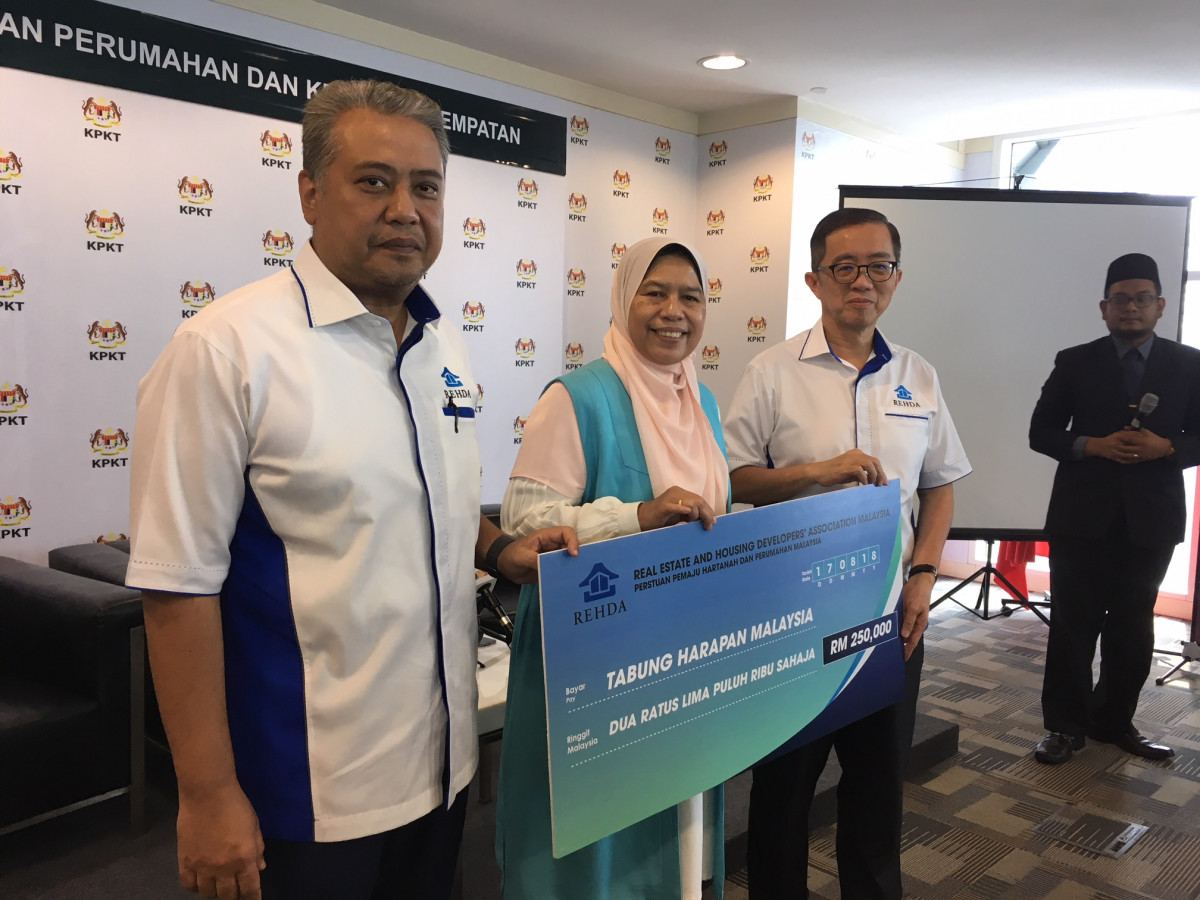 PUTRAJAYA (Aug 17): The recent announcement of the Sales and Service Tax (SST) exemption for major building materials and construction services might not have significant impact on property prices, especially for residential property, according to the Real Estate and Housing Developers' Association (Rehda).
Rehda president Datuk Soam Heng Choon said the construction cost of a house is around 50% of the total cost.
"What we heard [from news reports] is that some major building materials such as steel bars, concrete, cement and bricks are exempted from SST, but the components needed to build a house is more than these.
"There could be some savings [in terms of selected building materials and construction services], but we don't know the quantum yet until the full list for SST exemption items is announced," Soam told the media after a Tabung Harapan mock cheque presentation ceremony today.
Soam explained that other costs include compliant cost and land cost, which are major components that determine the housing price.
Although Rehda does not expect a significant reduction in property prices, they conceded that the cost of owning a house might still be reduced following the implementation of SST as it is a single stage consumption tax applied on importers and manufacturers of certain prescribed goods and services.
Soam noted that commercial property purchasers could immediately enjoy the savings as they do not need to pay the 6% Goods and Services Tax (GST).
"As for residential property which is being exempted from GST, there will not be a significant impact as previously [when GST was implemented], the 6% was absorbed by developers," he explained.
To recap, Finance Minister Lim Guan Eng has announced that basic materials such as bricks, cement, sand and other construction materials will not be taxed under SST, which is expected to come into force on Sept 1 to replace the GST.
Meanwhile, Rehda has contributed RM250,000 to the Tabung Harapan Malaysia.
Soam together with Rehda Immediate past president Datuk Seri FD Iskandar presented a mock cheque to the Housing and Local Government minister Zuraida Kamaruddin today.