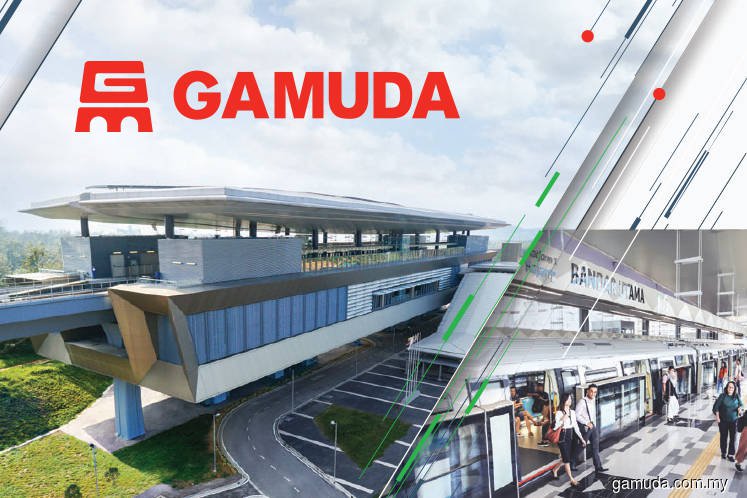 Gamuda Bhd (Oct 29, RM2.35)
Maintain hold with an upgraded fair value (FV) of RM2.80: We have raised our financial year 2019 (FY19) to FY21 net profit forecasts by 3%, 4% and 3% respectively for Gamuda Bhd, as well as upgraded our FV by 3% to RM2.80 (from RM2.71) but maintained our "hold" call. Our FV is based on 12 times revised calendar year 2019 fully-diluted earnings per share of 23.3 sen, in line with our benchmark forward target price-earnings ratio of 11 times to 13 times for large-capital construction stocks. Our earnings upgrade is largely to reflect the remaining mass rapid transit 2 (MRT2) underground works being profitable versus just breaking even, which we had assumed previously.
Gamuda has guided for its 50% share of the remaining MRT2 works now standing at RM8.5 billion, comprising RM5.3 billion for the elevated portion and RM3.2 billion for the underground section. This follows the cost-rationalisation deal struck with the government that has resulted in a 22.4% or RM8.82 billion reduction in the overall project cost from RM39.35 billion to RM30.53 billion. Of the RM8.82 billion savings, RM5.22 billion has come from the elevated portion (a 23% reduction from RM22.64 billion to RM17.42 billion), while the balance RM3.6 billion is from the underground section (a 21.5% reduction from RM16.71 billion to RM13.11 billion). At present, the elevated and underground portions of the project are 30% and 40% completed respectively.
It has also guided for a profit before tax (PBT) margin of 5% to 6% for the remaining works versus our assumptions of 5.2% and 0% for the elevated and underground sections respectively. We feel that the company's guidance for margins is a tad optimistic, given the massive cut in the project value (arguably, part of the cut has actually come from the downsizing of the project scope), coupled with the fact that MMC-Gamuda is now directly exposed to the risk of cost overruns under the current fixed price contract basis (versus "within budget" being just a key performance indicator that could subject MMC-Gamuda to penalties under the previous project delivery partner model).
We now assume a PBT margin of 4% for both elevated and underground works, resulting in earnings being 3% to 4% higher and an FV upgrade of 3% to RM2.80 as mentioned. If we were to fully reflect the company's guidance for a 5.5% PBT margin, our earnings would be 8% to 11% higher, while the FV upgrade would be 8% to RM2.94.
In our mind, the earnings upgrade, be it 3% to 4% or 8% to 11%, is secondary. The greatest comfort we have derived from the latest episode — the reinstatement of MMC-Gamuda as the tunnelling contractor for MRT2 — is the fact that Gamuda's working relationship with the government seems to have "normalised". This definitely puts it in a much better position to push for the Penang Transport Master Plan project, as well as to garner a meaningful role in the MRT3 project down the road.
We remain cautious about the outlook for the local construction sector as the government cuts back on public infrastructure projects on the grounds of fiscal prudence. While the roll-out of public infrastructure projects will resume over the medium term as infrastructure development remains key to nation-building, we believe the focus will shift to smaller-scale/value-for-money basic infrastructure projects such as road upgrading, bridges, schools, drainage, rural water and electricity supply, and smallish sewerage schemes — from multibillion megaprojects. The smaller projects are less economical to large contractors such as Gamuda, given their high fixed overheads. Not helping either is the uncertainty arising from the potential expropriation of Gamuda's toll roads. — AmInvestment Bank, Oct 29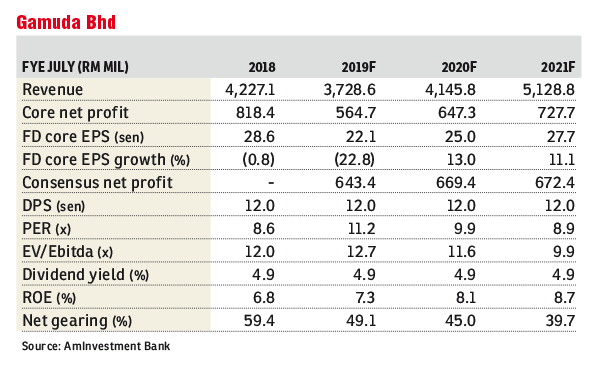 This article first appeared in The Edge Financial Daily, on Oct 30, 2018.