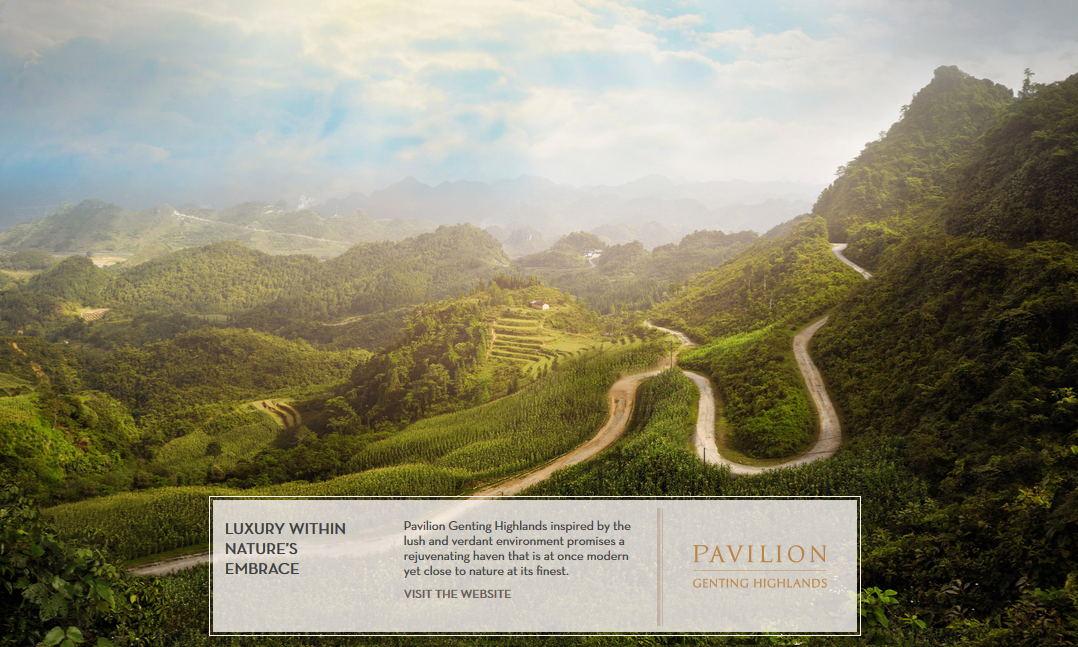 PETALING JAYA (Jan 12): A tract of land that will be developed into Pavilion Genting Highlands was transacted in a 2016 deal that links some of the biggest political and business names in the country, reported The Edge Malaysia.
The 280-acre freehold parcel was sold by Panji Selera Sdn Bhd for RM170.67 million to Sering Manis Sdn Bhd in June 2016.
The land, located 4km from the turn-off to Genting Highlands and 11km from the peak, will house private villas, high-rise homes that feature one-bedroom, two-bedroom and three-bedroom apartments as well as dual-key types, retail elements and a hotel, reported the business weekly.
The project will be marketed by 1 Pavilion Property Consultancy Sdn Bhd, a company based in Pavilion Tower at Jalan Raja Chulan that is the exclusive marketing consultant of Pavilion Genting Highlands.
The company specialises in selling and marketing luxury properties that carry the Pavilion name.
The Pavilion brand is founded by Tan Sri Desmond Lim with its flagship property being the very premium Pavilion Kuala Lumpur mixed-use development that includes a mall which is now part of the Pavilion Real Estate Investment Trust.
Lim is also known for his dealings with Tengku Adnan, who was formerly the Federal Territories Minister, in the contentious redevelopment of a piece of land in Taman Rimba Kiara at Taman Tun Dr Ismail, TTDI.
Memang Perkasa Sdn Bhd, in which Lim's Malton Bhd owns a 51% stake to develop 42- and 54-storey blocks of serviced apartments, as well as a 30-storey block of affordable apartments to relocate the TTDI longhouse residents, on a 12-acre parcel.
The 12-acre land was registered under Yayasan Wilayah Persekutuan (YWP), which was chaired by Tengku Adnan.
Federal Territories Minister Khalid Samad had said cancelling the project was impossible as it would cost the government RM200 million and suggested that it be scaled down instead.
A joint working committee comprising representatives from the TTDI residents, Dewan Bandaraya Kuala Lumpur, YWP and other stakeholders has called for the developer to resubmit plans that would entail using only four acres of land.
According to the Companies Commission of Malaysia (SSM), Panji Selera's directors and shareholders comprise:
Muhammad Amir Zainuddin Daim (50%)
Muhammad Amin Zainuddin Daim (50%)
They are the sons of Tun Daim Zainuddin, who currently heads the Council of Eminent Persons, with Naemah Khalid.
The land transacted is believed to have been owned by Daim's family for several years prior.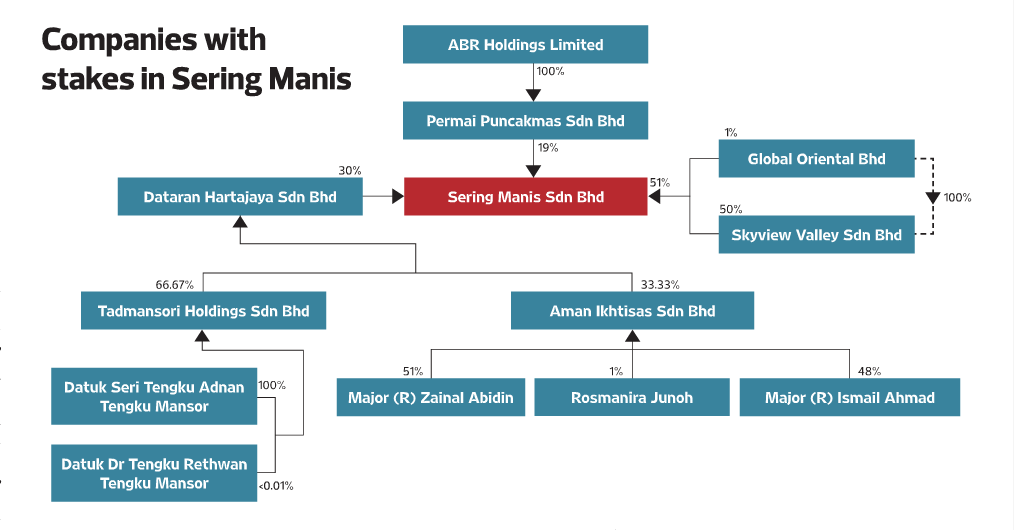 Meanwhile, Sering Manis shareholders comprise:
Global Oriental (1% directly; 50% indirectly via its 60%-owned Skyview Valley Sdn Bhd)
Dataran Hartajaya Sdn Bhd (30%)
Permai Puncakmas Sdn Bhd (19%)
While there are no direct links between Lim and the Bursa-listed Global Oriental, it has been widely reported that he works behind the scenes at the developer.
Moreover, Pavilion and Global Oriental have existing and previous dealings – Global Oriental's Pavilion Embassy project on Jalan Ampang, Kuala Lumpur uses Lim's luxury property brand while in 2015, the developer sold its da:men mall in Subang Jaya to Pavilion REIT for RM488 million.
Dataran Hartajaya is owned by Tadmansori Holdings Sdn Bhd (66.67%) and Aman Ikthisas Sdn Bhd (33.33%).
Tadmansori, which is almost entirely owned by Tengku Adnan (except for four shares held by his brother Datuk Dr Tengku Rethwan Tengku Mansor), describes itself as an investment holding company and provider of property management services.
Notably, it is also an exempt private company – meaning it is exempted from filing its audited accounts as long as it is solvent and does not have more than 20 individuals as its shareholders.
The business addresses of both Dataran Hartajaya and Aman Ikhtisas are in Pavilion Tower.
It should be noted that one of the directors of Sering Manis is Tengku Rethwan.