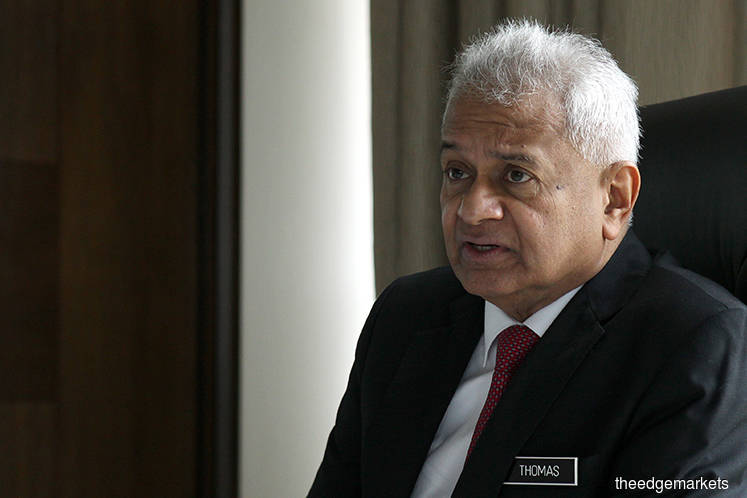 KUALA LUMPUR (May 30): Attorney General Tommy Thomas said today the UK High Court emphasised that it remains ready to proceed with 1Malaysia Development Bhd (1MDB) and Minister of Finance Inc's (MOF Inc) challenge against the consent award to International Petroleum Investment Co (IPIC) after having regard to the circumstances.
In a statement today, Thomas said that under the consent award, Malaysia is obliged to pay US$5.78 billion (about RM24.26 billion) to IPIC and the bond trustee over a five-year period. This is because Malaysia is obliged, among others, to take full responsibility for all interest and principal payments under two bonds issued by 1MDB in 2012 that IPIC jointly guaranteed (2012 bonds), he said.
According to Thomas, as of May 2019, US$1.6 billion has been paid, leaving a balance of US$4.16 billion. He said the US$4.16 billion represents the remaining interest and the principal payable to the bond trustee for the 2012 bonds.
"The related arbitration proceedings will now move forward in London but under the court's supervision. Needless to say, the London Court decision, which allows for the issue of massive fraud that is of public importance to be first determined behind closed door private arbitration proceedings without public scrutiny, is not satisfactory to Malaysia. 1MDB and MOF Inc have therefore filed an application for permission to appeal against the London Commercial Court decision to the Court of Appeal
"These proceedings are steps to recover substantial amounts of money wrongfully paid by the Najib (Datuk Seri Najib Razak) administration. As shown by the realisation of assets in recent recovery exercises, the government's efforts in seeking justice for the Malaysian people following what has been described as 'kleptocracy at its worst' is bearing fruit. The government remains single-mindedly focussed in its attempts to ensure that Malaysia's assets are recovered," Thomas said.
According to him, if Malaysia succeeds in the UK action, Malaysia will be able to recover US$3.5 billion that was paid by 1MDB subsidiaries to IPIC's subsidiary, or alternatively, reduce Malaysia's interest and principal payment under the 2012 bonds that were jointly guaranteed by IPIC up to US$3.5 billion.
"Our challenge is brought on grounds, amongst others, of fraud and public policy," Thomas said.