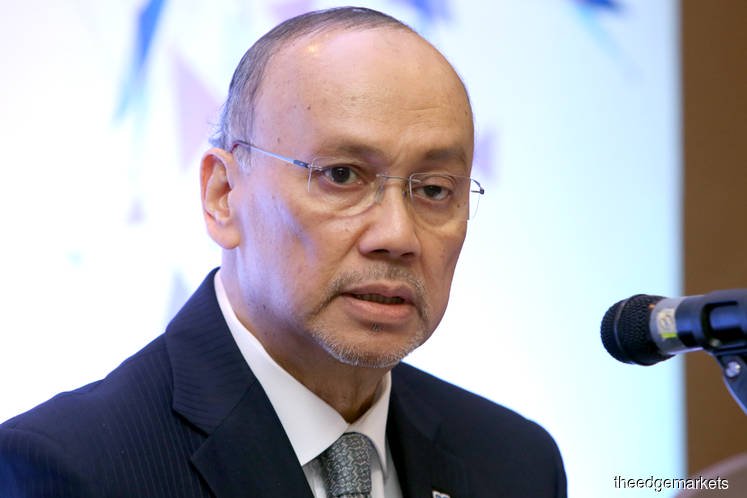 KUALA LUMPUR (June 11): Malaysia Building Society Bhd (MBSB) is undertaking an internal restructuring that will result in its wholly-owned banking subsidiary — MBSB Bank Bhd, formerly known as Asian Finance Bank Bhd — being the group's holding company within the next two years.
Its president and chief executive officer Datuk Seri Ahmad Zaini Othman (pictured) told reporters today that for that to happen, MBSB still has to convert its conventional assets worth about RM1 billion to Islamic assets, which make up about 10% to 12% of its asset portfolio.
"Under our business plan, Bank Negara [Malaysia] gives us about three years to collapse all the conventional assets," said Ahmad Zaini. MBSB Bank obtained its banking licence to undertake Islamic banking in April last year.
Once the group completes this internal restructuring, Ahmad Zaini said MBSB Bank will then have a full shariah-compliant certification or endorsement.
"This [will then also] open up a lot more opportunities for us, once it is a shariah-compliant stock, it is easier to attract more investors and investments," he said after the group's annual general meeting here today.
He also shared some key performance indicators or KPIs for the group's financial year ending Dec 31, 2019 (FY19). Loan growth, for one, is targeted to be more than 5%, while non-performing loan (NPL) ratio is to be 1.2%-1.3%. It is also aiming for a net return-on-equity (ROE) of 10%.
In FY18, its loan growth came in at 3%, while NPL was at 1.2%-1.3%, with net ROE at 8.2%.
Ahmad Zaini said the higher loan growth target will be supported by the group's new revenue stream such as trade finance, wealth management and internet and mobile banking, besides alternative financial services or peer-to-peer financing.
MBSB reported a 73.5% fall in net profit in its first quarter ended March 31, 2019 (1QFY19) to RM83.83 million from RM316.79 million a year ago, due to higher expected credit losses (ECL). Revenue for 1QFY19 declined 3.8% to RM784.04 million from RM815.04 million.
The increase in ECL was mainly because a write-back was recorded for 1QFY18 as a result of staging an improvement from Stage 2 to Stage 1, MBSB said.
According to the bank, financial assets with a 12-month ECL are recognised to be in Stage 1, while those which are considered to have had a significant increase in credit risk are in Stage 2, and those for which there is objective evidence of impairment and are considered impaired are in Stage 3.
At 3.33pm, MBSB shares were up half a sen or 0.53% at 95 sen, bringing its market capitalisation to RM6.04 billion.