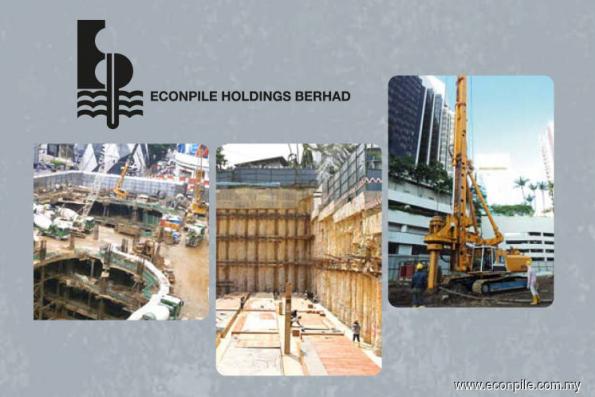 KUALA LUMPUR (June 25): Econpile Holdings Bhd has been awarded RM67.77 million in the adjudication proceedings it initiated to recover progress claims for work done from ASM Development (KL) Sdn Bhd, under a RM280 million contract for a mixed project here.
In a stock exchange filing yesterday, the piling and foundation specialist said its wholly-owned Econpile (M) Sdn Bhd (EMSB) had, on June 21, been awarded the sum, together with costs, in relation to the award in the adjudication proceedings under the Construction Industry Payment and Adjudication Act 2012.
"Any further material development of the above matter will be announced in due course," it said.
On March 14, the group announced it was seeking RM80.1 million in progress claims from ASM Development and had issued a notice of determination to the latter. The determination of ASM Development, the employer of the project, came following a notice of default EMSB had issued to it in Feb 25.
At that time, Econpile said among grounds for the determination of the contract was ASM Development's interference with or obstruction of the issuance of interim certificates in respect of ESMB's progress claims that amounted to RM80.1 million.
Another reason cited was ASM Development's failure to issue the relevant interim certificates within 30 days from the date of receipt of EMSB's progress claims, as well as to make payment within the stipulated period.
Hence, EMSB sought to recover the value of works done and services rendered via adjudication.
The job, involving foundation and sub-structure works, was awarded by ASM Development to EMSB in September 2016. When EMSB sought the adjudication proceedings, the contract was about 80% completed, with the value of the remaining works estimated at about RM56 million.
Econpile's shares slipped half a sen to close at 72 sen today, giving it a market capitalisation of RM963 million.