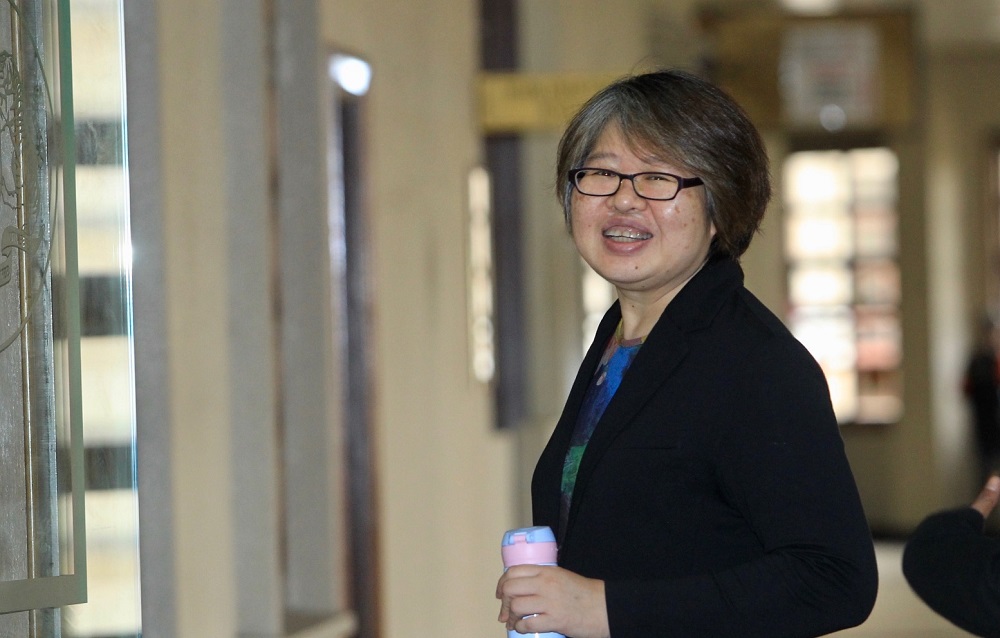 KUALA LUMPUR (July 18): Beleaguered former prime minister Datuk Seri Najib Razak did not file a police report against the former head of 1Malaysia Development Bhd's (1MDB) charity arm who facilitated the transfer of RM42 million belonging to SRC International Sdn Bhd into his personal accounts, even after having met her when the controversy was blown wide open in 2015.
This was confirmed by Datuk V Sithambaram, the lead prosecution lawyer in the Najib-SRC trial, as the High Court hearing ended its 39th day yesterday.
Former Yayasan Rakyat 1Malaysia (YR1M) chief executive officer (CEO) Ung Su Ling — the 49th prosecution witness— told the High Court here that she instructed the transfer of the funds from SRC's unit Ihsan Perdana Sdn Bhd to Najib's AmBank accounts in December 2014 and February 2015.
This, she said, was done under the instruction of the late Datuk Azlin Alias, who was then Najib's special officer and YR1M trustee.
She added that she checked the details of the receiving accounts multiple times with AmBank relationship manager Joanna Yu, who managed Najib's accounts, to make sure the funds were deposited into the right accounts.
"Was there any police report made against you by Najib for wrongly instructing [Ihsan Perdana CEO Datuk] Dr Shamsul [Anwar Sulaiman] to transfer RM42 million into [Najib's] accounts?" asked Sithambaram.
"No, I hope not. I don't know," responded Ung, who said she was told by Azlin the funds were transferred for corporate social responsibility (CSR) purposes — and that she did not know the receiving accounts belonged to Najib.
Ung, who said she offered to Najib to resign from YR1M when the issue came to light in 2015, added that Najib did not say at the time that he did not know the money was from Ihsan Perdana.
Najib opened the accounts to receive donations from Saudi Arabia, the court was told later.
No proof Azlin instructed Ung to transfer the funds
Interestingly, Ung had no evidence to show that she actually received the instruction from Azlin for the fund transfer.
This was because she had deleted Azlin's number and chat records with her soon after his death in April 2015 as it was "painful" to see his name given their good professional relationships, she testified.
Ung recalled having thrown away the phone she used to converse with Azlin — something lead defence counsel Tan Sri Muhammad Shafee Abdullah found hard to believe.
The reason, Muhammad Shafee said, was because Ung became aware of controversies in 1MDB through the media as early as October 2014, and of SRC in January 2015.
"You are a lawyer. Preserving evidence is something we do as lawyers. I am putting to you, this story that you put up about your conversation with Azlin is not true," said Muhammad Shafee.
"I am also putting it to you, it is impossible for a person of your training to have gotten rid of evidence so valuable, especially when the person is dead. Your only salvation is your phone," he added.
"I disagree with that. I might be naive, but that was what happened," said Ung.
Ung is notably linked to fugitive businessman Low Taek Jho, more popularly known as Jho Low, who was allegedly complicit in the 1MDB fiasco.
Ung had previously worked in Jho Low-linked Wynton Group, a position she took alongside three others after Jho Low acquired Merican & Partners Asset Management, where she had previously worked.
She had also communicated numerous times with Yu, SRC and Ihsan Perdana.
It was revealed yesterday that chat messages between Ung and Yu contained the phrase "our friend" several times, including during the days leading to the transfers of RM42 million into Najib's accounts on Dec 24, 2014 and Feb 9, 2015.
Defence counsel Harvinderjit Singh asserted that the term "our friend" was referring to Jho Low — an assertion Ung denied.
She said that it was YR1M's practice not to address people by their names to protect their privacy.
"'Our friend' is to address a person [whom] you don't want to name," said Ung. "[It is] not necessarily [Low]," she said.
However, after further examination by Harvinderjit, Ung said that she used the term to refer at times to Azlin and Jho Low's known associate Kee Kok Thiam, who had been a recipient of YR1M funds for CSR purposes.
Separately, Ung conceded to Harvinderjit that when she was a signatory for YR1M's bank accounts, she practised pre-signing its cheques.
The cross-examination revealed that Ung was also involved in the process of closing the AmBank accounts ending 898 and 906 belonging to Najib.
Ung, who at one point handled the closure documents "in sealed envelopes", had informed Yu of the closure of the accounts via BlackBerry Messenger saying: "I have good news for you (Yu)."
Both Kee and Yu, as per Ung's recollection, were eager to close the accounts because "the conduct of the accounts [was] poor", which she opined was likely a reference to how cheques from the accounts had bounced.
This article first appeared in The Edge Financial Daily, on July 18, 2019.