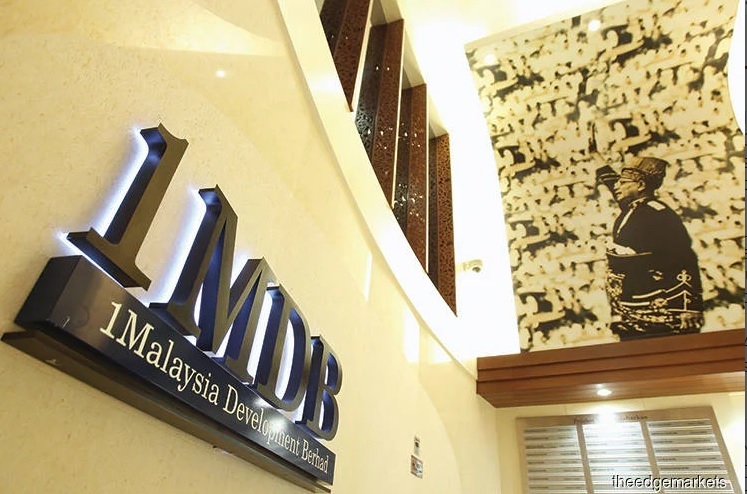 KUALA LUMPUR (Aug 9): 17 current and former Goldman Sachs directors belonging to three of its subsidiaries have been slapped with criminal charges over their handling of the 1 Malaysia Development Bhd (1MDB) scandal, with the government seeking custodial sentences.
In a statement today, Attorney-General Tommy Thomas said the 17 individuals connected to Goldman Sachs were slapped with criminal charges filed under Sections 367(1) of the Capital Markets and Services Act, 2007 (CMSA).
This is in addition to the charges already levied against three Goldman Sachs subsidiaries, under Section 179 of the CMSA.
"Criminal charges were filed today under Sections 367(1), read together with Section 179 of the Capital Markets and Services Act, 2007 against 17 current and former directors of 3 subsidiaries of the Goldman Sachs investment bank: Goldman Sachs International, Goldman Sachs (Asia) LLC and Goldman Sachs (Singapore) Pte ("Section 367 Charges")," Thomas said.
Those charged under Goldman Sachs International are Richard John Gnodde, Brian Griffiths, Michael Sydney Sherwood, Robin Anthony Vince and Claes Ake Gustaf Dahlback.
Meanwhile, from Goldman Sachs (Asia) LLC, Oliver Robert Morgan Bolitho; Matthew Thayer Freemont-Smith; Frederick Towfigh; Archie William Parnell; Ronald Suk Bae Lee; Richard Mark Campbell-Breeden; Keith Leslie Hayes; Amol Sagun Naik; John Michael Evans and Dimitrios Kavvathas have been charged.
Goh Boon Leng and Liow Chang Lee from Goldman Sachs (Singapore) Pte have also been slapped with charges.
Thomas said the accused were directors of the three Goldman Sachs subsidiaries between May 2012 and March 2013, where the investment bank was alleged to have perpetrated a scheme to defraud the government and the purchasers of three bonds with a nominal value of US$6.5 billion, which were underwritten and arranged by Goldman Sachs and issued by 1MDB.
Goldman Sachs was to have helped and participated in the creation of misleading statements over where proceeds from the bonds would be used, as well as receive commission income from 1MDB for their part, as arrangers and underwriters for the bonds.
Thomas said that under Section 367(1) of the CMSA, "any person who … was a director, a chief executive, an officer or a representative of a body corporate or was purporting to act in such capacity" at the time an offence specified under the act has been committed, is deemed to have committed the offence.
They can only be disqualified from the charges, if they can prove that the offence was committed without their consent or that they did their due diligence to ensure that the offence did not take place.
"They [the accused] occupied the highest executive positions in those 3 Goldman Sachs subsidiaries, and exercised or ought to have exercised decision-making authority over the transactions of those bodies corporate," Thomas said.
He added that custodial sentence and criminal fines will be sought against the 17 Goldman Sachs directors accused under Section 367(1), for their participation in the issuance as arrangers, structure agents, underwriters and sellers of the three 1MDB bonds.
This comes in as on Dec 17 and Dec 19, 2018, former Goldman Sachs employees Tim Leissner and Roger Ng have been slapped with criminal charges, alongside fugitive financier Low Taek Jho and 1MDB's Jasmine Loo Ai Swan.