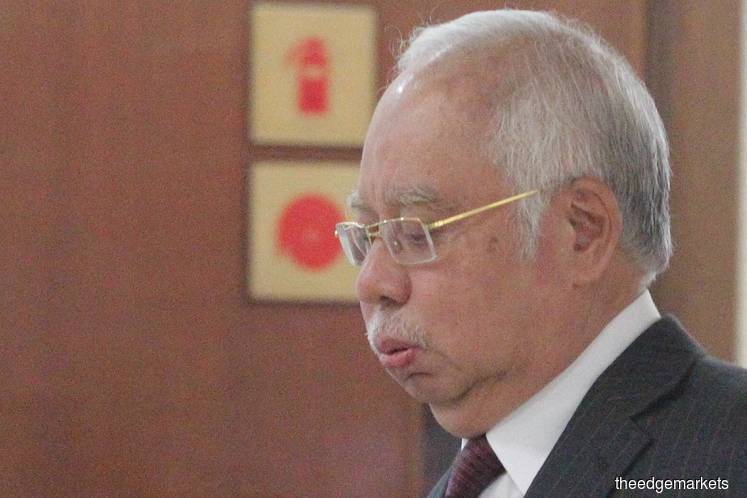 KUALA LUMPUR (January 6): Former Prime Minister Datuk Najib Abdul Razak will kick off the SRC International Sdn Bhd trial for the New Year by picking up from where the case left off in 2019, namely with Prosecution lawyer Datuk V. Sithambaram continuing his cross-examination on the former premier.
The cross-examination on Najib had previously been carried out by Attorney-General Tan Sri Tommy Thomas towards the back end of last year, while Sithambaram had then taken the lead in the cross-examination before the court adjourned for a year end break.
During Sithambaram's cross-examination Najib told the court he had next to no knowledge of the funds in his account when issuing cheques amounting to millions of ringgit.
He also maintained he was under the impression that the RM42 million in his account at that time was from 'Arab donations' and not from SRC International Sdn Bhd.
He also told the court that he relied solely on Nik Faisal Ariff Kamil, the former managing director and chief executive officer of SRC, and his former principal private secretary, the late Datuk Azlin Alias, for the running of his AmBank accounts.
Najib also admitted that he may have signed the Minister of Finance Inc (MoF Inc) shareholders meeting minutes to have Article 117 included in SRC International Sdn Bhd's memorandum of articles of association (M&A).
He then later backtracked and said that he was not sure he signed it and wanted the original meeting minutes to be produced so he can verify them.
Sithambaram is likely to take the better part of the week to finish his cross-examination on Najib where he will grill Najib on his involvement in the scandal.
The trial will begin later than expected today as Najib and his legal team have to be present at Justice Collin Lawrence Sequerah's court for case management in the 1 Malaysia Development Berhad trial.
Najib is facing seven counts of criminal breach of trust, abuse of power and money laundering involving RM42 million from SRC.
He faces a 20-year jail term and a fine of RM5 million or five times the amount of money laundered, whichever is higher, if found guilty.
The Edge is reporting the proceedings of the SRC trial live.