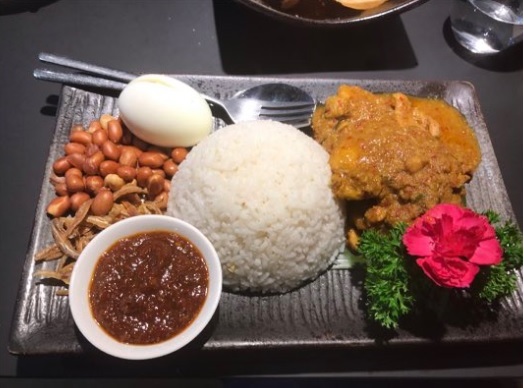 KUALA LUMPUR (Jan 21): It all started when British journo Katie Morley complained/tweeted about a horrible Asian meal (which turned out to be nasi lemak) she had on board a British Airways.
Many Malaysians took it as a cultural/national/culinary attack when Morley described her meal as such: "Behold: chicken curry served with anaemic boiled egg, topped with smelly, slimy anchovies. ANCHOVIES. I quite like plane food usually, and this was a 0/10."
But things seem to have ended well when Morley decided to take up the offer of trying real nasi lemak in a restaurant instead of eating it on board a British carrier.
"Thank you to all the Malaysians who suggested I should try the real nasi lemak. You are right, it's delicious!
"Nothing like that BA plane meal I had…," she wrote in her tweet yesterday.
Thank you to all the Malaysians to suggested I should try the real Nasi Lemak. You are right, it's delicious! Nothing like that BA plane meal I had... pic.twitter.com/Joh1bssJqE

— Katie Morley (@KatieMorley_) January 20, 2020
And where did she get this nasi lemak. According to a report by the Malay Mail, she had it at Zheng in Chelsea, London, "which serves top-rated Malaysian cuisine".
The report also stated that Zheng is helmed by husband and wife team Adam Abdullah and Izlinda Baharom and has "received rave reviews from publications such as The Times, Evening Standard, Wallpaper and Time Out".
And offers are still pouring in for Morley to try out real nasi lemak in its home country.
"Next time you go to Kuala Lumpur, you may want to go Nasi Lemak Ujang, located at Jalan Batu Caves, Greenwood, Gombak. It's open at night, locals queue to buy, between 10-30 minutes. It's my favourite" Dr Azhar Mohamad tweeted in reply to Morley's latest extremely positive nasi lemak experience.
Another Malaysian encouraged her to be more adventurous.
"You should try to eat 'Nasi Lemak Sambal Kerang'. Very delicious," suggested Hafizuddin Aris.