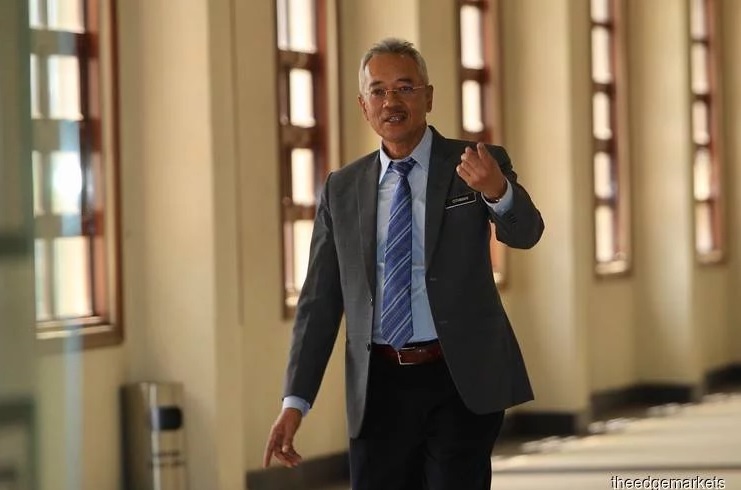 KUALA LUMPUR (Feb 17): The award for the solar hybrid and diesel generator set project to Jepak Holdings Sdn Bhd through direct negotiations did not follow procedure, and the company's RM1.25 billion quotation of the project was accepted without any discussion, said a witness today.
The Finance Ministry's deputy secretary-general of Treasury Management Datuk Othman Semail (pictured) said the project was offered to Jepak on Nov 10, 2016.
"This project was given through direct negotiations and needed to be processed by the Government Procurement Division of the Finance Ministry," he said.
He said to his knowledge, although the project was awarded via direct negotiations, it did not adhere to the guidelines set by the Finance Ministry regarding such negotiations.
"More important, there is no negotiation between the Education Ministry and Jepak over the cost of the project before the letter of acceptance was issued. The value of RM1.25 billion fixed by Jepak from the start was accepted by the Education Ministry.
"In my knowledge, there is no physical valuation done although it is a requirement that all physical projects worth RM50 million and above require one (valuation)," he said.
Othman, 58, is the seventh prosecution witness in the trial involving Datin Seri Rosmah Mansor, the wife of former prime minister Datuk Seri Najib Razak, who was also the then finance minister.
He added that in his observation, this is not in line with the principles of good governance.
The witness said that from the documents submitted, he did not have a clear picture about the necessity of the project, its scope, the ability of the Education Ministry to finance the project or Jepak's ability to undertake the solar hybrid project.
The massive project to cover 369 rural schools in Sarawak is meant to provide electrical supply for their needs as they are not within the national grid for electricity.