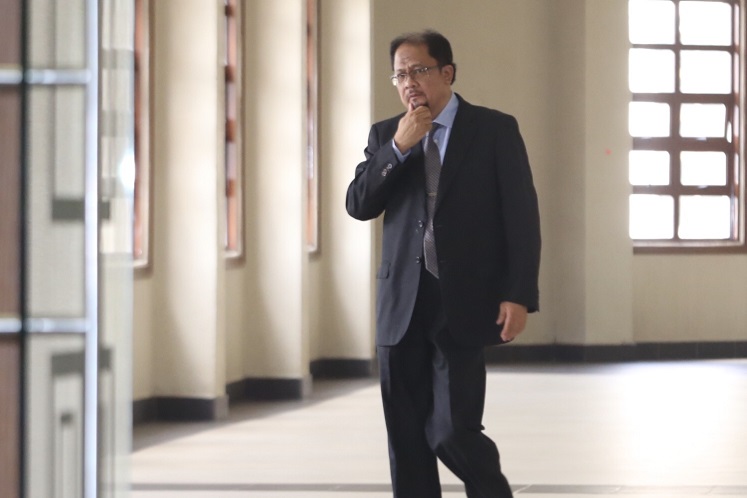 KUALA LUMPUR (March 11): Former education secretary-general Datuk Seri Alias Ahmad said Datin Seri Rosmah Mansor had asked him to speed up the signing of Jepak Holdings Sdn Bhd's contract for the solar hybrid power project so that progress payments to the company could be released.
According to Alias, Rosmah had approached him directly after a Permata Foundation board of trustees meeting which they both had attended.
"Datin Seri Rosmah asked me when the contract would be signed and whether it could be hurried because so long as the contract was not signed, progress payments were also not able to be made. I told her that Jepak had not completed the contract draft to be checked by the ministry. Our conversation ended there as I asked to excuse myself," the witness said.
He was also queried by her about when an advanced payment requested by Jepak regarding the RM1.25 billion project would be made.
"Datin Seri Rosmah had asked me on the status of the advanced payment to be made to Jepak and when it will be done because the company was not able to implement the project until they received the money," Alias told the High Court today.
Alias is the 12th prosecution witness to be called in Rosmah's solar graft trial, which enters its 13th day today.
He took over the education secretary-general post after Tan Sri Madinah Mohamed retired from the position in September 2016.
The witness said he did not remember the date of their conversation, however he was certain it took place before the signing of the official contract — which appointed Jepak to install a solar hybrid system in 369 schools — on June 20, 2017.
According to the witness, he took Rosmah's queries seriously as they came from the wife of the then prime minister, Datuk Seri Najib Razak.
Alias then instructed his officers to find a solution to resolve the issues surrounding Jepak's request for advanced payment, progress payments and the preparation of the contract.
The witness also recalled being contacted by Datuk Rizal Mansor and Datuk Seri Azizah Abod regarding the status of the payments to Jepak.
Both Rizal and Azizah were special officers to Rosmah at the time.
"Datuk Rizal had contacted me and asked for the process of payments to Jepak to be sped up. I am not sure if the payment is in regard to advanced payment or progress payment, but I told him there were problems in making the payments. I took his word seriously however as he was the special officer to Rosmah. I figured he was asking on her behalf so I asked my officers to deal with the matter immediately," the witness said.
Rosmah, by herself, occupied no formal position in the government, which was underscored by senior deputy public prosecutor Datuk Seri Gopal Sri Ram in his opening statement at the start of her graft trial.
Yesterday, former Education Ministry asset management secretary Kamaruddin Abdullah, the 11th prosecution witness, testified that in February 2017, Jepak had requested for RM130 million in advanced payment to start the solar hybrid project.
Jepak also subsequently asked for some RM64 million in progress payment for work done between January and April 2017.
Rosmah is facing charges of soliciting RM187.5 million from Jepak managing director Saidi Abang Samsudin between January and April 2016, and allegedly receiving RM5 million and RM1.5 million in 2016 and 2017.
The trial continues tomorrow before Justice Mohamed Zaini Mazlan.
Click here to see agricultural properties for sale in Sarawak.
Click here for more property stories.