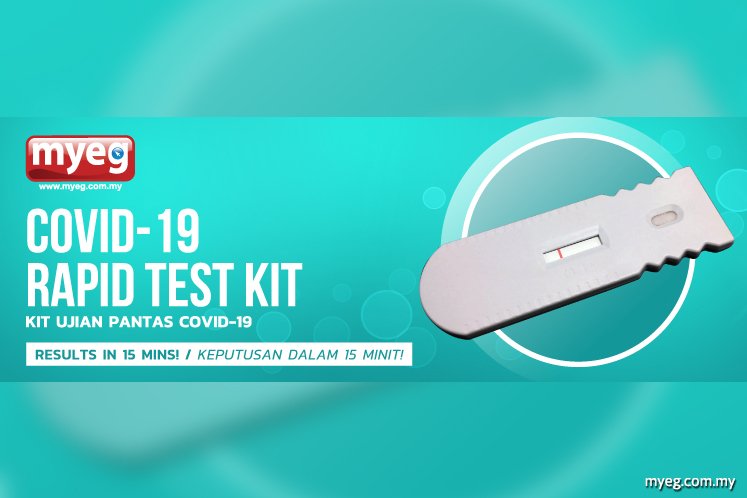 KUALA LUMPUR (March 23): My EG Services Bhd (MyEG) said its COVID-19 rapid test kit has been qualified for emergency use by the US Food and Drug Administration (FDA), paving the way for the sale of the kits in the US, where the number of positive cases has surpassed 33,000, with 417 deaths.
In Malaysia, the rapid test kit is pending approval and certification by the Ministry of Health (MoH). The company had earlier said the kit has already been approved by health authorities in China and Europe, where they are already being used widely.
MyEG said the test kit, developed by an unnamed "reputable" Chinese biomedical company, has been approved by the FDA under a policy to accelerate detection and diagnosis during public health emergencies.
"The authorisation by the FDA for the test kits is in addition to the European CE mark, which certifies conformity with health, safety, and environmental protection standards obtained earlier," it said in a statement today.
"The acceptance of the test kits worldwide, including in major regions like the US and Europe, is timely amid growing acknowledgement worldwide of the need for faster and more widespread detection capacities in the fight to contain the spread of the virus," MyEG added.
The company said the test kit enables early detection of the COVID-19 by detecting the presence of antibodies from blood samples which are taken through finger-pricking.
MyEG claimed that the kit can generate results on the spot within minutes, without having to send the samples to external diagnostic laboratories.
Presently, the test kits are available for pre-order on MyEG's website at a price of RM99 per unit in a set of 10 units while stocks last.
"An upgraded kit with testing for additional antibody has been introduced at RM149 per unit and is also available in sets of 10 units per pack," it added.
Last Friday, the MoH retracted its Facebook post which alleged that MyEG's RM99 COVID-19 rapid testing kit is fake news.
The social media posting had raised questions about the reliability of the testing kit, which claims to produce results in just 30 minutes, but MyEG had insisted that its product is not fake.
The company clarified that its COVID-19 rapid test kits exist, and are currently awaiting approval from the local authorities and certification from the MoH.
At 3.54pm, MyEG fell three sen or 3.59% to 80.5 sen, with 37.86 million shares traded. The company was valued at RM2.77 billion.