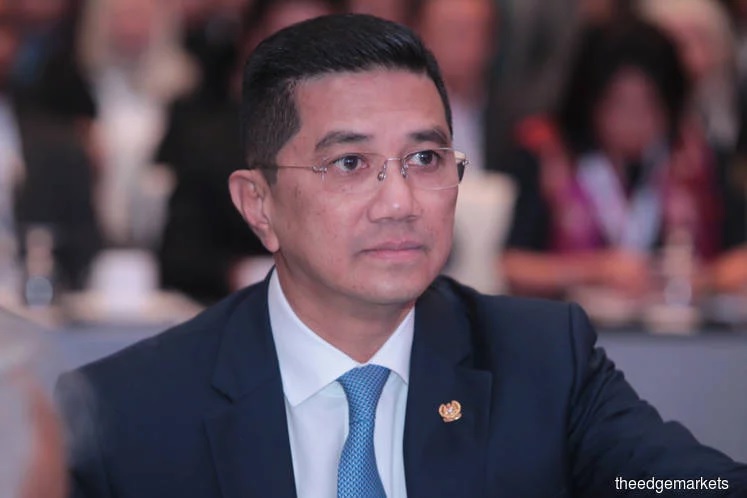 KUALA LUMPUR (April 28): All economic sectors that have been allowed to operate during the movement control order (MCO) period can ramp up their operations to full capacity starting tomorrow, said International Trade and Industry Minister Datuk Seri Mohamed Azmin Ali.
In a statement, Mohamed Azmin said this was decided in the National Security Council meeting today, which discussed the recommendations of the Economic Action Council following the latter's own meeting yesterday.
The meeting yesterday reviewed the studies and recommendations by the Ministry of Finance, the Ministry of International Trade and Industry (MITI), Bank Negara Malaysia and national sovereign wealth fund Khazanah Nasional Bhd.
"Realising the urgent need to tackle the current economic crisis, the government has agreed that the economic sectors that have been allowed to operate during phases 1, 2 and 3 of the MCO [be allowed] to raise their operational capacity to the fullest and to operate without time limits, in accordance with their respective industry's needs.
"The parties in the sectors are required to adhere to the standard operating procedure (SOP) that has been established. Failure to adhere to the SOP will result in the permission to operate to be revoked immediately, and will result in legal action," said Mohamed Azmin.
Companies that have been given permits to operate do not have to apply to MITI again for permission, he said.
"This initiative will provide a lift to the recovery of the supply chain for products and services to fulfil domestic and overseas demand. This will surely give a positive impact to the income of companies, especially for small and medium businesses.
"While the government has provided this relaxation [of the MCO restrictions], the people and businesses must initiate a 'new norm' by practicing social distancing at the workplace, hygiene and health control guidelines," he added.
Since the implementation of the MCO on March 18, businesses that have been allowed to operate included essential services and manufacturers of critical products. The list was expanded in mid-April to include certain non-essential sectors.
As at April 15, the essential services were: Water; energy; security and defence; solid waste and public cleansing management and sewerage; communications and the Internet; banking and finance; e-commerce; transportation, port and airport services; fuel and lubricants; logistics confined to the provision of essential services; and hotels and accommodations.
Critical product manufacturing included the manufacturing and importing of staple foodstuff such as rice, sugar, bread, agriculture and fisheries, home goods and products such as detergents and disinfectants, personal protective equipment, pharmaceuticals, packaging and printing materials including ink, medical and surgical devices, as well as the manufacturing of parts of medical devices such as ventilators.
Based on MITI's statement dated April 10, the non-essential sectors allowed to operate during the MCO were:
1. Automotive (limited to completely built-up export units, equipment and components, and aftersales service [maintenance])
2. Machinery and equipment
3. Aerospace
4. Construction and construction-related services, including:
projects with G1-G2 contractors as main contractors;
projects with a minimum 90% physical completion;
tunnelling/maintenance works;
sloping works;
emergency works stipulated in contract agreements;
maintenance, cleaning and drying of stagnant water, as well as spraying of insecticides on construction sites;
other works that could be dangerous if not completed;
building projects with an IBS score of 70 and above;
construction of accommodation facilities for workers, such as centralised employee quarters or employee camps, and professional services involved with the construction industry including architects, town planning, surveyors, material surveyors, project managers, facility managers and others
5. Social health services including registered traditional healthcare services (limited to registered traditional and complementary medicine)
6. Hardware stores, electrical and electronic appliances, and stores selling spectacles
7. Full laundry services (self-service not allowed)
Stay calm. Stay at home. Keep updated on the latest news at www.EdgeProp.my. #stayathome #flattenthecurve
Click here to see residential properties for sale in Putrajaya.