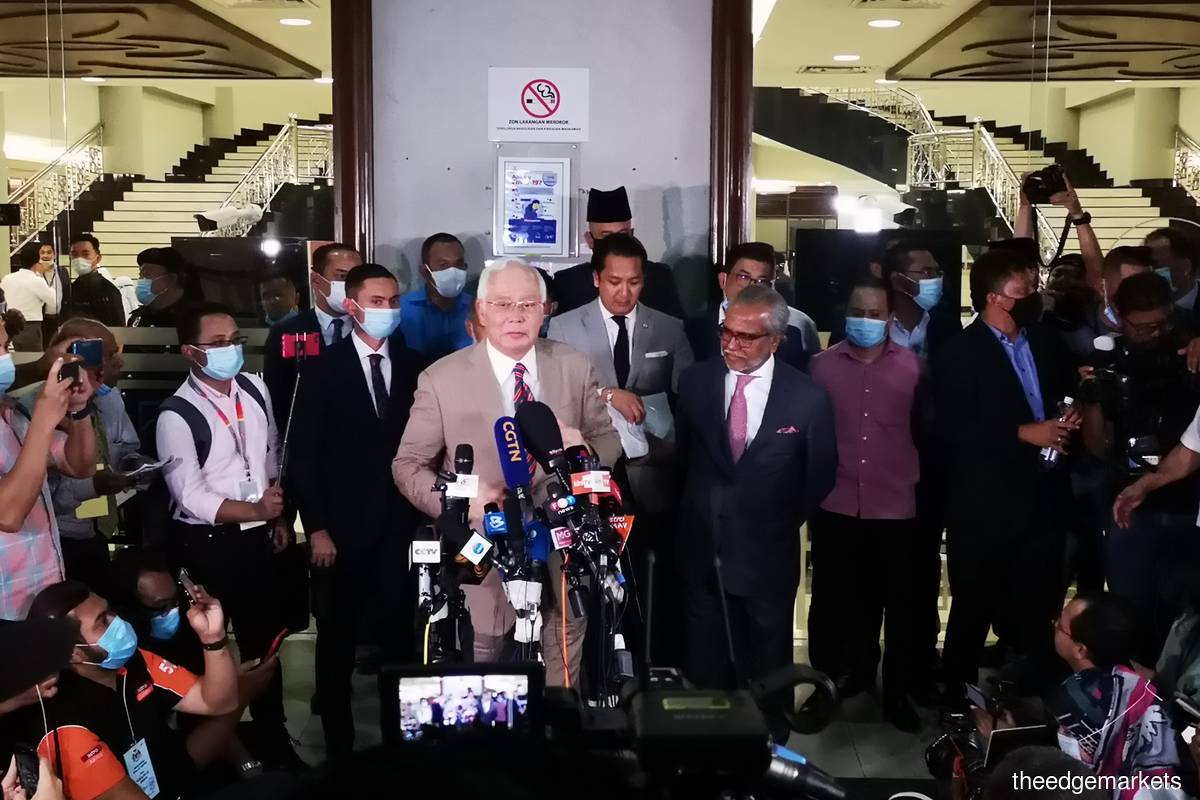 KUALA LUMPUR (July 29): Former prime minister Datuk Seri Najib Razak, who has been found guilty of corruption, said he is disappointed by the High Court's decision yesterday and is determined to bring his case to the Court of Appeal as soon as possible.
For the second time yesterday, he repeated his "sumpah laknat" (religious oath) in front of reporters, claiming he had no knowledge of the RM42 million that was shown to be from SRC International Sdn Bhd and moved into his private accounts.
"I am very disappointed with the court's decision regarding this case because our defence team led by Tan Sri Shafee has given arguments that can lead to many doubts in this case. But [they were] not accepted by the judge.
"Nevertheless, the appeal to the Court of Appeal will be made as soon as possible and I hope that this appeal will be heard as soon as possible. Because I want to continue the effort to clear my name and I shall continue this struggle," he told reporters after proceedings were concluded yesterday.
Lead defence counsel Tan Sri Muhammad Shafee Abdullah further clarified that the first round of appeal to the Court of Appeal will be done within the next three months.
He added that should the case go on to the Federal Court, it will then take another four months to be cleared.
"So we are looking at a total exhaustion of all the appellate matters within seven months," he explained.
"I am looking forward to this appeal like I have never looked forward to any appeals before, because this is a very exciting appeal that we want to close it as quickly as possible," Shafee added.
Although he believes that Najib was given a fair trial by High Court judge Justice Mohd Nazlan Mohd Ghazali, Shafee suggested that the judge might have made several mistakes throughout the court process. As such, he said he is confident that his side will win the appeal.
"I think this judge is honest, but I think he honestly made various mistakes.
"And from the judgement at the prosecution stage, he has gone into the current final judgement. And we find that the error has compounded.
"Perhaps because he cannot unwind the reasoning that he has provided, so I feel that we have got the strongest of chances to win the appeal," he explained.
Shafee claimed that the judge, when presiding over the case, did not seem to apply criminal law concepts and philosophy, but instead, applied more civil case concepts.
"This is also a case where principles of company law have been thrown aside because the learned judge said a shareholder can literally take away the function of the board of directors and the board need not be liable to this.
"There is no evidence whatsoever that Datuk Seri Najib was the one who instructed the RM42 million to be paid to him. If it [was] a gratification, you may wonder how come the charge, or even the judgement, never mentioned who paid the gratification to him, and who agreed that he should receive the gratification?" the senior lawyer questioned.
Earlier yesterday, Najib was found guilty by the High Court here of all seven charges of abuse of power, criminal breach of trust and money laundering in relation to RM42 million belonging to SRC, a former unit of 1Malaysia Development Bhd.
Stay safe. Keep updated on the latest news at www.EdgeProp.my