The double balconies are a unique feature of Park Regent's large units as they promote a sense of openness and naturally-ventilated spaces. This whole concept of living in nature permeates the entire development from the ground up."

Distinctively built to complement its picturesque surroundings, Park Regent is a carefully crafted luxury condominium project situated on the precious parcel next to the Central Park and Central Lake of the international award-winning township of Desa ParkCity in Kuala Lumpur.
Developed by two renowned developers – Malaysia's ParkCity and Singapore's CapitaLand, the freehold development has a gross development value of RM1.1 billion.
Park Regent comes in two residential towers, with each tower having tiered design with the highest tier ending at the 55th floor. The condos come in various layouts with built-ups ranging from 872 sq ft to 4,887 sq ft and with an average selling price of RM1,100 psf.
Park Regent's architect, Christopher Lee from Serie+Multiply, wanted the development to blend into the park surroundings, flowing seamlessly into the Central Park and Central Lake. The two towers are designed to form an open arm gesture, opening up as if to embrace the lake and wider landscape into the development.
Serie+Multiply is a joint venture between London-based Serie Architects founded by Lee, and Singapore-based Multiply Architects.
Serie was the recipient of the prestigious BD Young Architect of the Year Award and was recently named by the Leading European Architects Forum as one of the 10 visionary architects for the new decade.
Strengthening the link between Park Regent and the Central Park and Central Lake further, will be the gentle waterfall flowing from the infinity pool at level 3A and cascading over the car park podium's front facade framed by lush vertical gardens on both sides.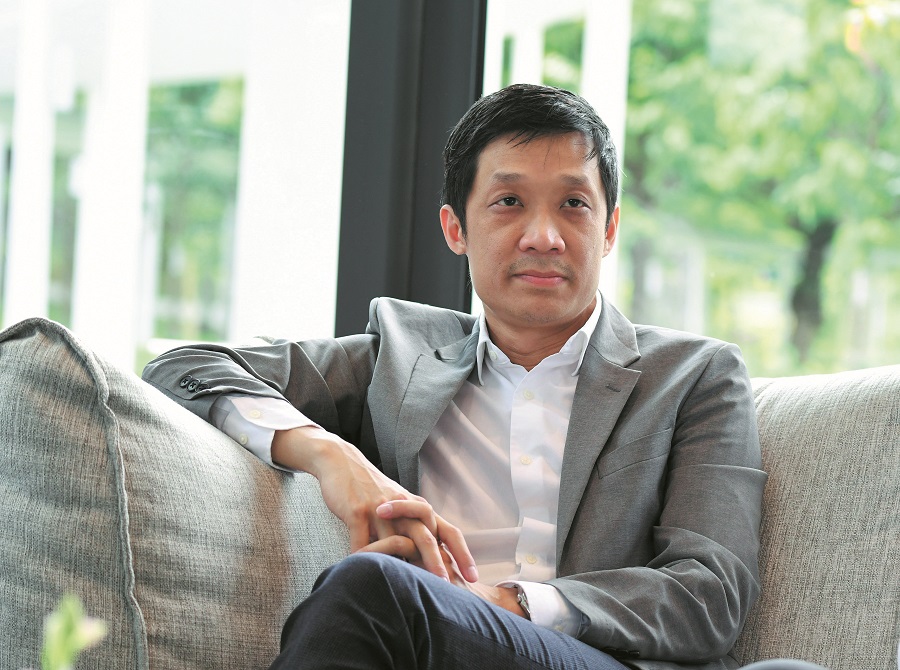 On top of that, the recreation deck and infinity pool at Level 3A form a contiguous green space with the Central Park with uninterrupted views of the Central Lake from the elevated infinity pool.
"The Central Lake is one of Park Regent's main pull factors and the key design objective of this project is to bring nature into every strata of the development, starting from the ground, all the way to the roof. It is like living in a bungalow in the sky yet close to nature," says Lee, the design lead of Serie Architects offices in London, Mumbai, Singapore and Beijing, who is also an associate professor in Practice of Urban Design at Harvard University's Graduate School of Design.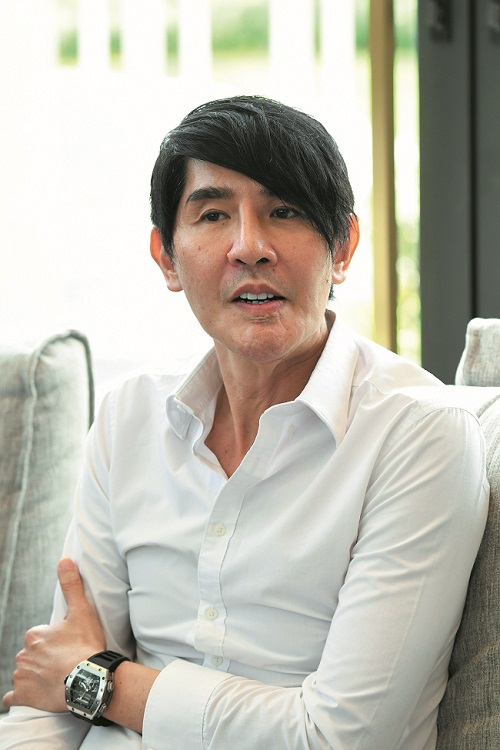 For instance, Park Regent's larger units sized at 2,346 sq ft and above feature two spacious balconies of about 3m and 2m wide respectively. They come with sunken planters to allow residents to bring nature into their homes.
The generous balcony spaces offer an environmental response as well as act as buffers against direct sunlight into the main living area while giving a completely open view of the outside.
"The double balconies are a unique feature of Park Regent's large units as they promote a sense of openness and naturally-ventilated spaces. This whole concept of living in nature permeates the entire development from the ground up," offers Lee.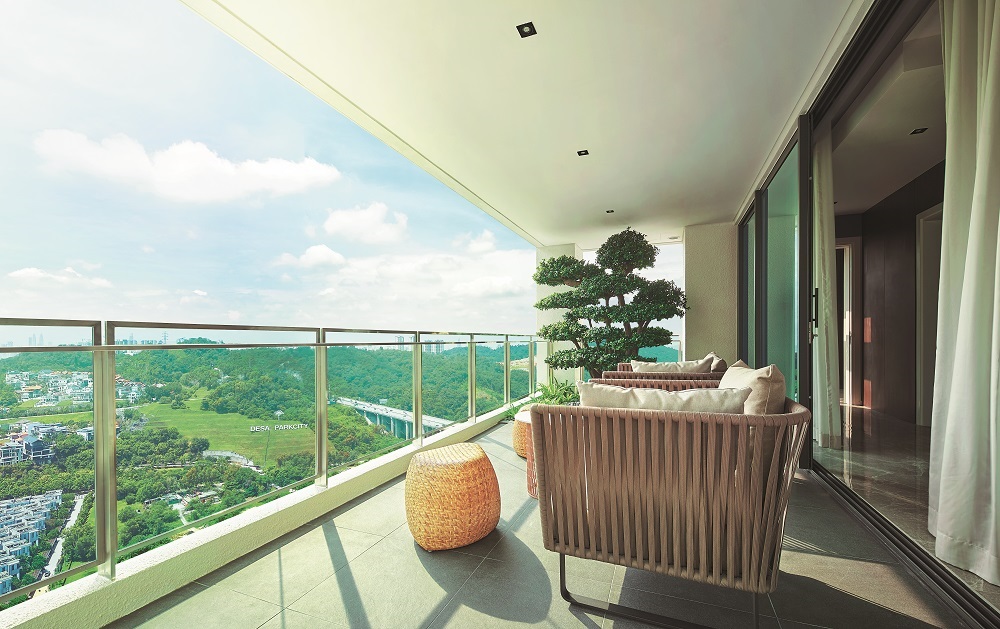 "Although it is a 55-storey tower, it is an incredibly slim tower precisely to create this connection with nature and to bring in daylight and breeze," he adds.
While some may question the practicality of the generous balcony space, Singapore award-winning interior designer Peter Tay of Peter Tay Studio was given the task of clearing all doubts by highlighting the balconies and other spaces in the two Park Regent show units.
"At Park Regent, the balcony space has become not just an extension of the interior but functions almost as a living space of its own. A good interior design encompasses walking from point A to point B seamlessly," Tay says.
Initially trained as an architect and graduated from London's prestigious Architectural Association School of Architecture School, Tay is a well-known interior designer to celebrities such as Zhang Ziyi, Wang Leehom, Stephanie Sun and Zoe Tay.
His portfolio comprises high-profile residential and commercial projects. Almost all of Tay's work hinges on the concept of reflection, so there is no clear demarcation between the interior and the exterior. His design style is classic, modern and luxe as he believes that materials and colours play crucial roles in capturing the character of a home and its inhabitants.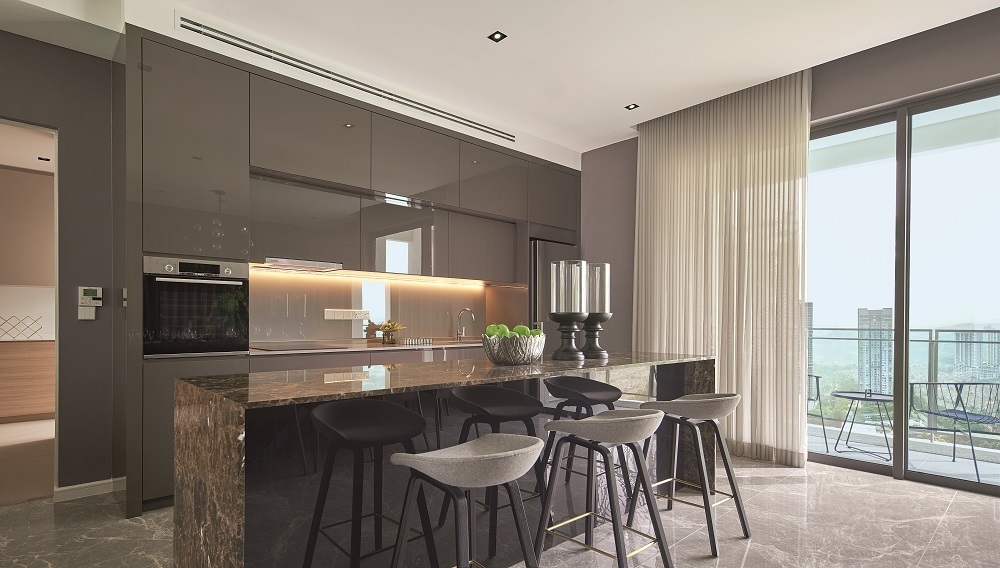 Luxury of space
In the two show units at Park Regent, Tay has perfectly captured the duality of the balcony space through his signature style and expertise in spatial quality and lighting, by blurring the line between the interior and exterior.
In the 3,046 sq ft Type E2a show unit, Tay first placed emphasis on the lighting, to offer a cheery welcome as visitors step out of either one of the two lifts into the unit. Once inside the unit, one can bask in the sunlight filtering in from the two balconies flanking the sitting and dining areas while the breeze flows through the open balconies.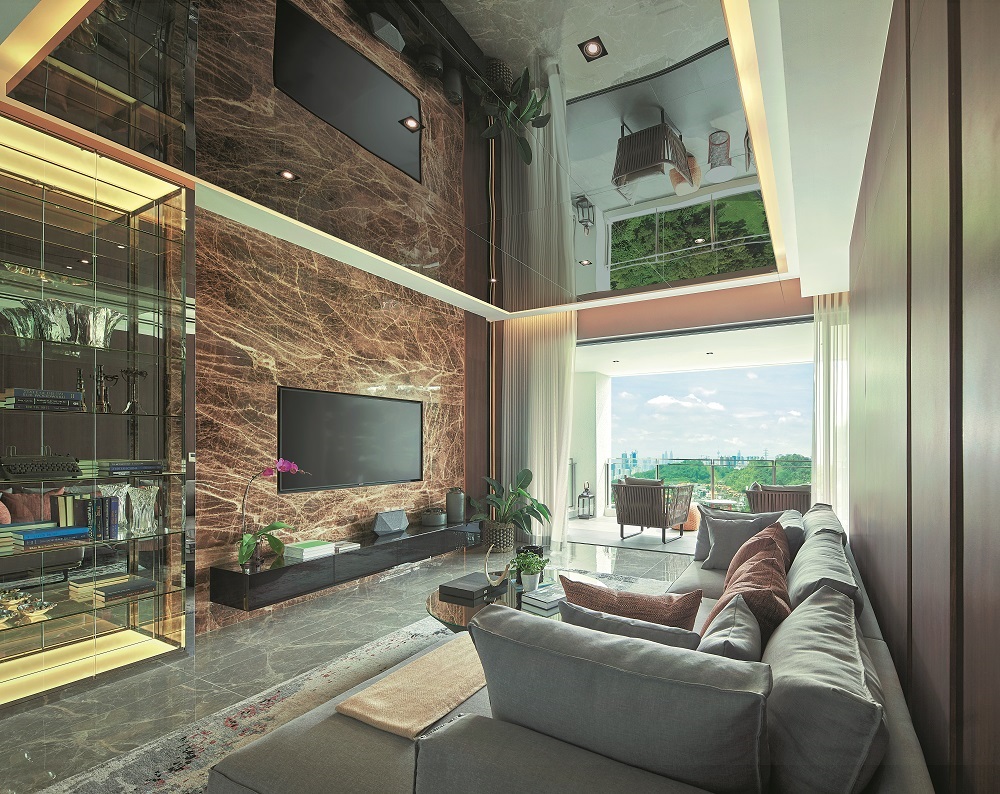 Mirrors and high-glass ceilings are used to expand the spatial parameter of the living areas. Layers of vertically aligned full-height glass panels are used to frame the natural landscape outside, thus drawing the outdoors inside.
To top it all off, a full grown tree stands proudly in the 2ft deep sunken planter which never fails to surprise and inspire visitors that a private garden is possible in a high-rise unit.
Park Regent's Type E2a features three-bedrooms, four bathrooms, a powder room, a family space, one maid's room, a 6.5ft wide private lobby and two balconies, one of which comes with sunken planters. It is one of the most exclusive unit types in Park Regent as only 16 such units are available in the entire development.
Besides Type E2a, the other large unit types are Type C3, C4 and C5 (from 2,346 sq ft to 2,433 sq ft), Type D (2,519 sq ft to 2,723 sqft), Type E (2,928 sq ft to 3,100 sq ft) and Type F (4,446 sq ft to 4,887 sq ft). Apart from the usual amenities, each unit comes with mirrored cabinets in the bathrooms, built-in wardrobes in the bedrooms, utility closets at the private lift lobbies and yards that provide useful laundry and drying areas and valuable storage spaces.
"I am confident that Park Regent's larger units will enable interesting permutations and amazing utilisation of living spaces," adds Tay.
(Read: A 'community of short distances')
(Read: A place one would love to call home)
(Read: Desa ParkCity – Solid track record)
Click here to find out more about Park Regent.
Join the Desa Park City Community
Register Your Interest in Park Regent Now
In this Series
Learn how banks are transforming

Video: Innovation at work

Video: The new digital bank

Video: The new digital bank

Video: The new digital bank
Video: Innovation at work