With the financial impact of the Covid-19 pandemic, many of us may have tight budgets to decorate our homes for Chinese New Year (CNY) this year. However, we should not skip the trimmings as every new year symbolises a new beginning, and a fresh start is what we need the most for the Year of Ox after a rough Year of Rat in 2020.
So, let Eunice Teo, who is a certified member of the American Institute of Floral Designers (AIFD), together with EdgeProp Malaysia, kindle your artsy side to create some new decor trends, all from the comfort of your home through a six-episode Facebook Live mini-series called 'At Home with Eunice'.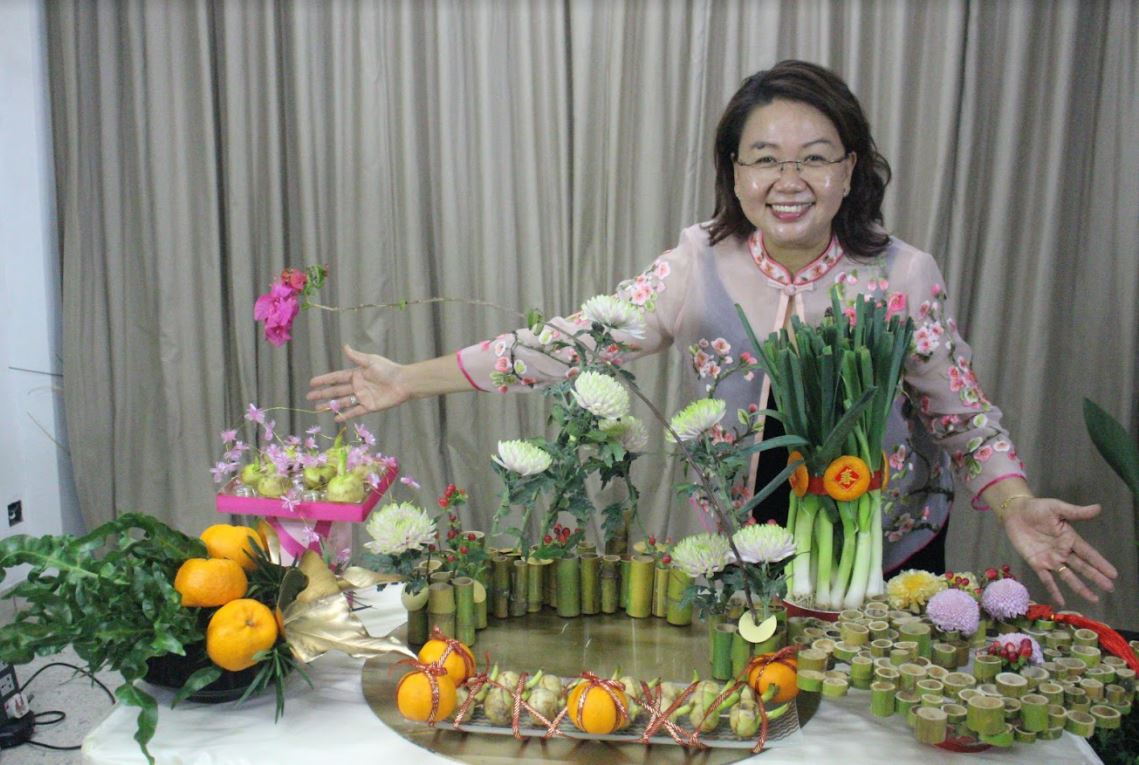 At Home with Eunice is presented by EdgeProp.my, sponsored by Matrix Concepts Holdings Bhd, and supported by Nippon Paint Malaysia and Amtrol Flower Designing. Hosted by EdgeProp.my writer Natalie Khoo, the mini-series is live-streamed on EdgeProp.my Facebook page every Tuesday 8pm starting from Feb 9, 2021.
Eunice Teo, who is the principal of Amtrol Flower Designing, was also the evaluator of AIFD and the mastermind behind the beautiful flower creations in worldwide-blockbuster movie Crazy Rich Asians.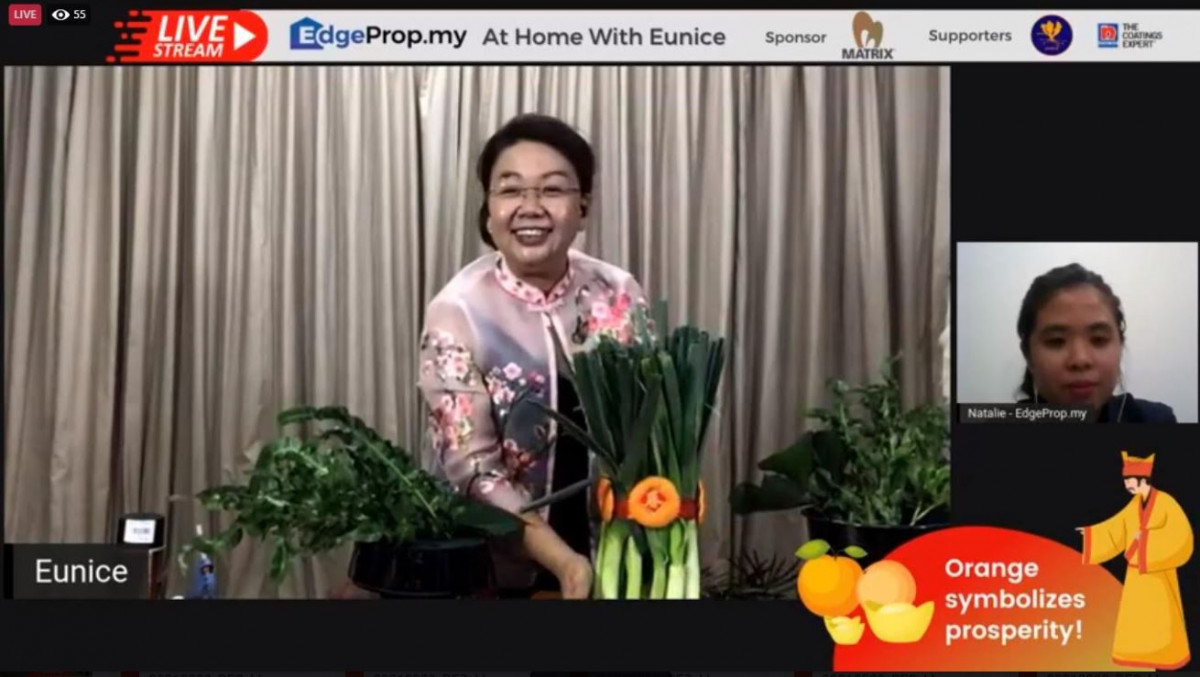 In the first episode of the series on Feb 9, she shared six CNY-themed decor pieces by using what are readily available in most homes.
"Sustainability and recycling are what I have in mind when thinking about the designs. It has to be something that everyone can easily get from the home and garden, doable and full of meaning as we are doing it to welcome the new year," Teo noted.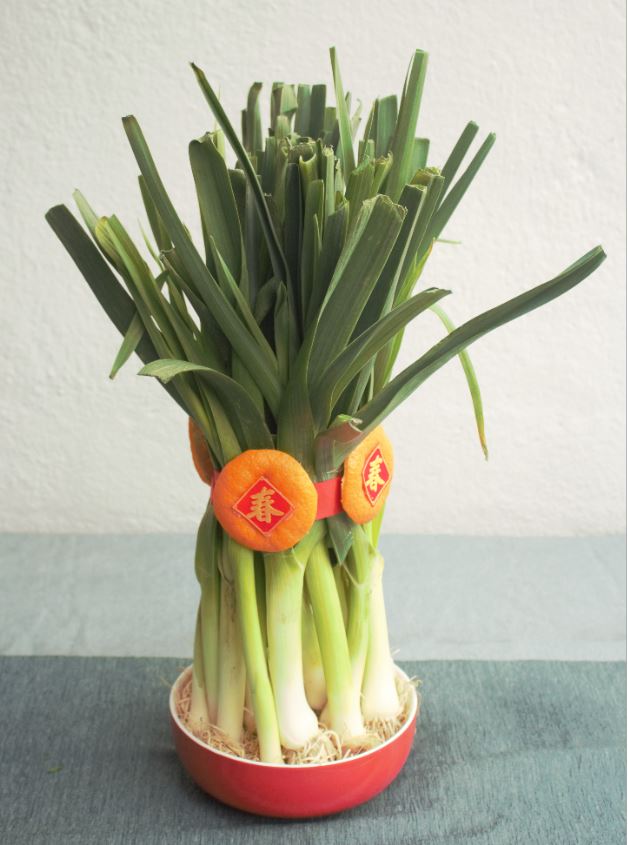 Work magic using Mandarin orange skin
Mandarin oranges are one of the must-have items at home during CNY. While enjoying the fleshy citrus, the peel could be used as the main material, together with green leafy plants or vegetables like leek or white cabbage, to create some festive decorations.
The trick is, instead of peeling the mandarin oranges, we could cut off the top part of the oranges, take out the flesh and just use the peels as decoration.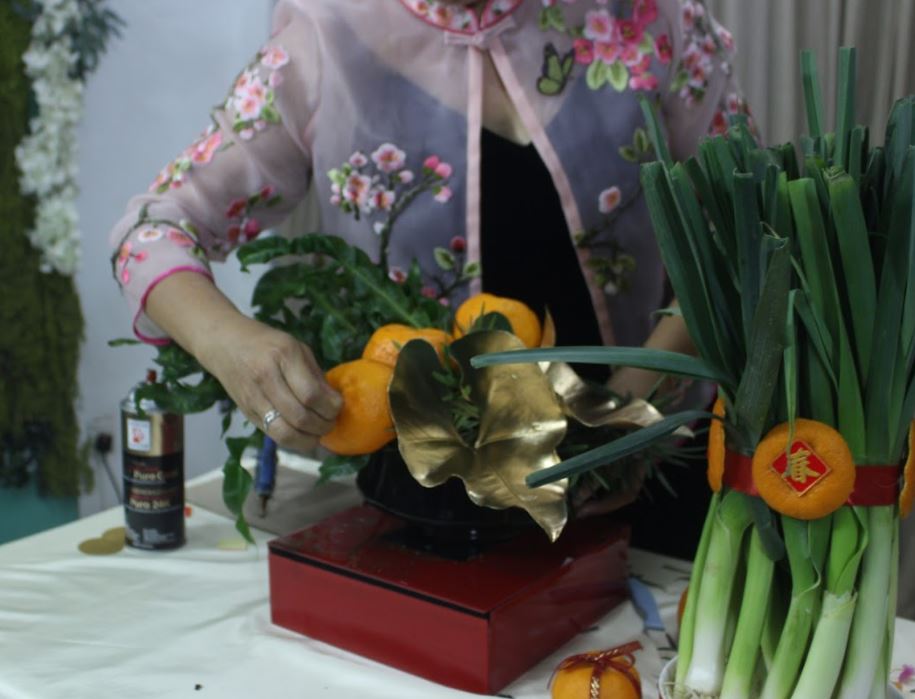 For the first piece, Teo tied a few leeks together with a red ribbon so they can stand straight in a shallow bowl. Then pin the top part of the orange peels on the four sides of the red ribbon to symbolise incoming prosperity from all four directions.
To add some colours, just put on the red CNY stickers on the orange peels and ta-da, a simple leek "bouquet" will soon light up your living room or dining area.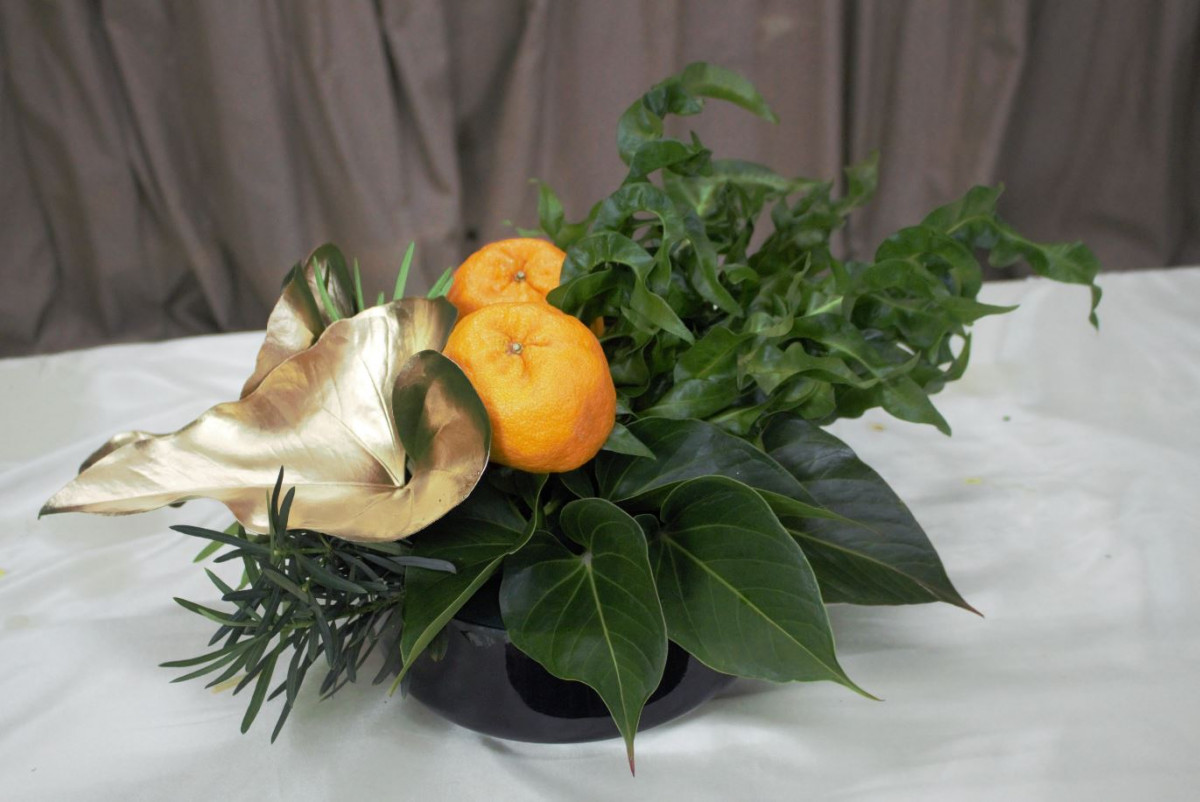 The mandarin orange skin shells are for the second piece, together with any green leaves from the garden.
Teo picked up leaves of different textures and shapes – spiky, waxy and soft – and grouped them together into a wide bowl to create the contrast and different lines. The final touch of the piece is to pick two bigger leaves and spray them into gold colour to elevate the value of the piece. Then fix the empty mandarin orange shells in the middle of the greens with sticks (or toothpicks) for the final touch.
"This is the piece for someone who prefers greens to flowers. The gold and orange colours could highlight the feel of CNY. The mandarin orange peels will also give off a pleasant citrus smell in your home," she shared.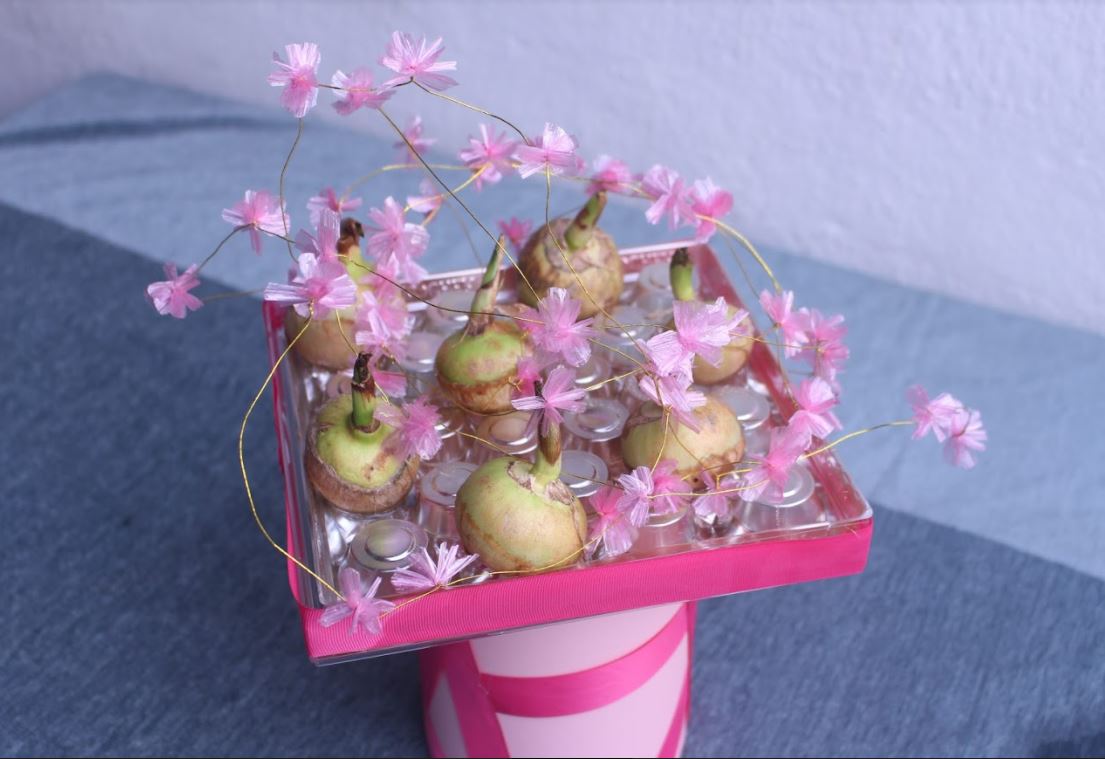 Ngaku is more than chips
The third and fourth CNY-theme arrangements used arrowhead bulbs, which is also the first try for Teo.
She believes it is a good element to use as arrowheads are in season during CNY.
"Arrowheads have to make it through the winter before they burst to sprout in the spring. It is only available during CNY and I think it brings a very good meaning behind. I have never tried to make an arrangement with arrowheads but I think it is worth trying," she shared.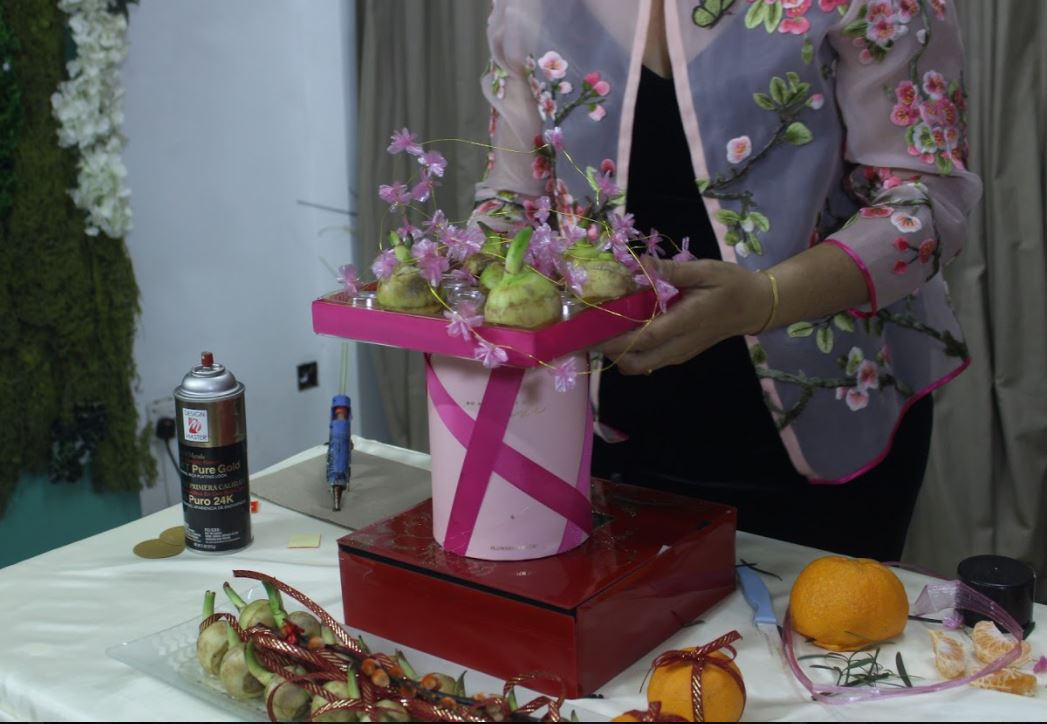 By reusing a square chocolate container, Teo soaked some arrowheads for about 10 days to let them sprout with greenish leaves.
"My grandparents used to grow arrowheads in a small bowl during CNY. Many may not be aware they can grow when soaked in water. I wish to reproduce the plant by growing more in this recycled chocolate container," she said.
She also suggested lifting the square container with a tall box to create lines, as well as adding in some small flower bulbs made of raffia string and gold wire to create a different level and line for the piece.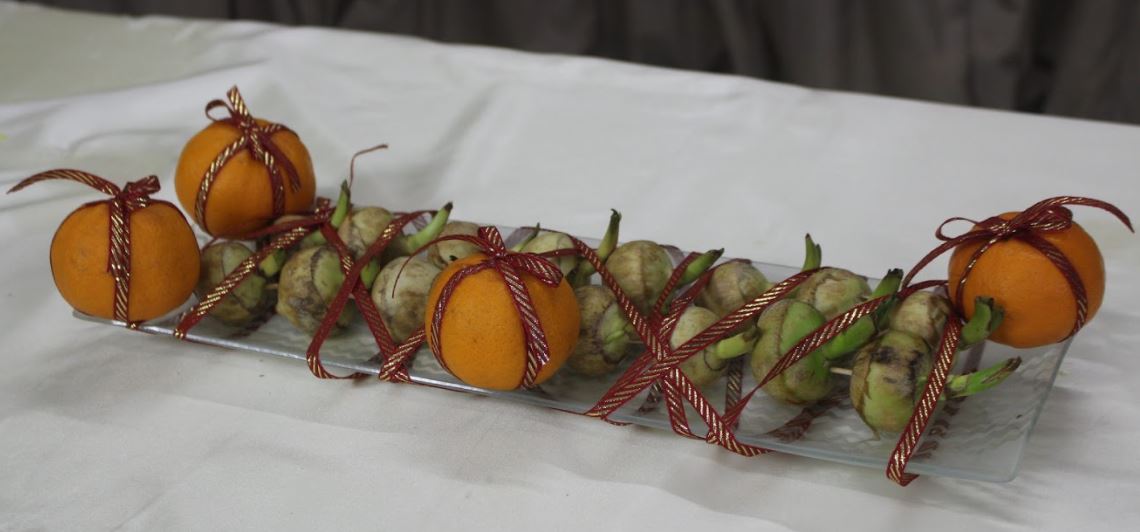 If you happen to have a long rectangular-shape plate at home, the second arrowhead decor piece will definitely suit you.
Just skew some arrowheads using sticks or toothpicks and lay them on a long plate filled with a little fresh water. Then tie some red ribbons over the plate to add some festive colours to the arrangement.
"By sticking through them and laying them flat on the plate, I can make sure that the sprouts will follow the light and grow upwards to create phototropism.
With this, it will create an interesting line for this piece when the stem and leaves are all growing upwards while the arrowheads lay flat. I hope this piece could remind all of us to never stop trying to break through the challenges we are facing right now," Teo said.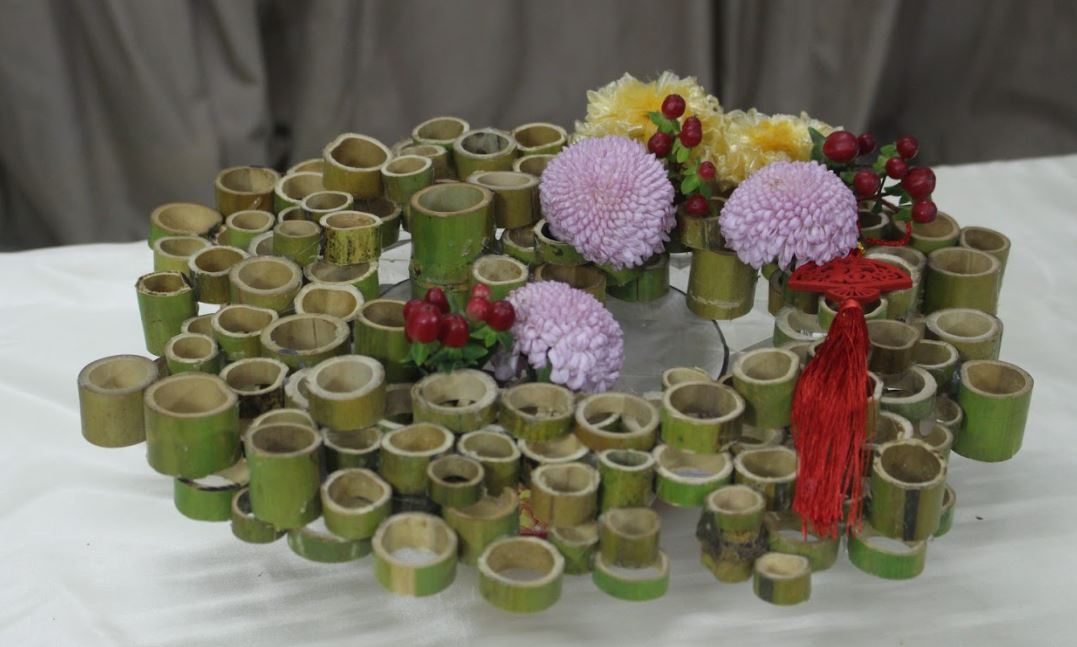 Bamboo for character
Bamboo was the last item Teo recommended in making some simple yet unique decor pieces that could add an essence of nature to our living areas.
"In Chinese culture, bamboo symbolises strength, mainly due to its resilience; and if it is gifted to someone, it means you wish that person a strong and prosperous life. Its strength teaches us to stand upright and its flexibility reminds us to always adapt to the most challenging circumstances," said Teo.
By sawing the bamboo into small pieces and gluing them to the cover of a plastic chocolate box to form an irregular shape, we could create a simple and nice plate to decorate in the living area.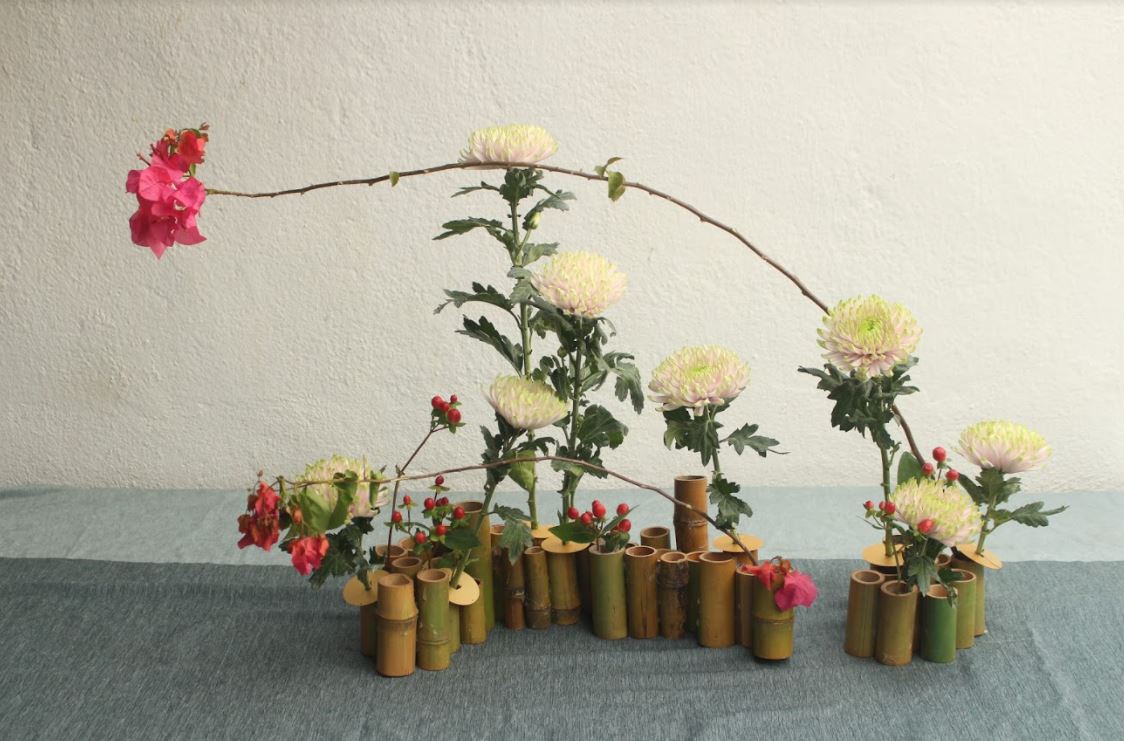 To add some colours, Teo said some fresh flowers like yellow or pink chrysanthemums would light up the piece, or we could also make some flowers using colourful raffia strings to decorate the bamboo plate.
For the last decor piece, Teo also used sawn bamboo but in bigger pieces. They were glued in irregular forms. Teo inserted plastic bags into the bamboo and used it as a vase for fresh flowers.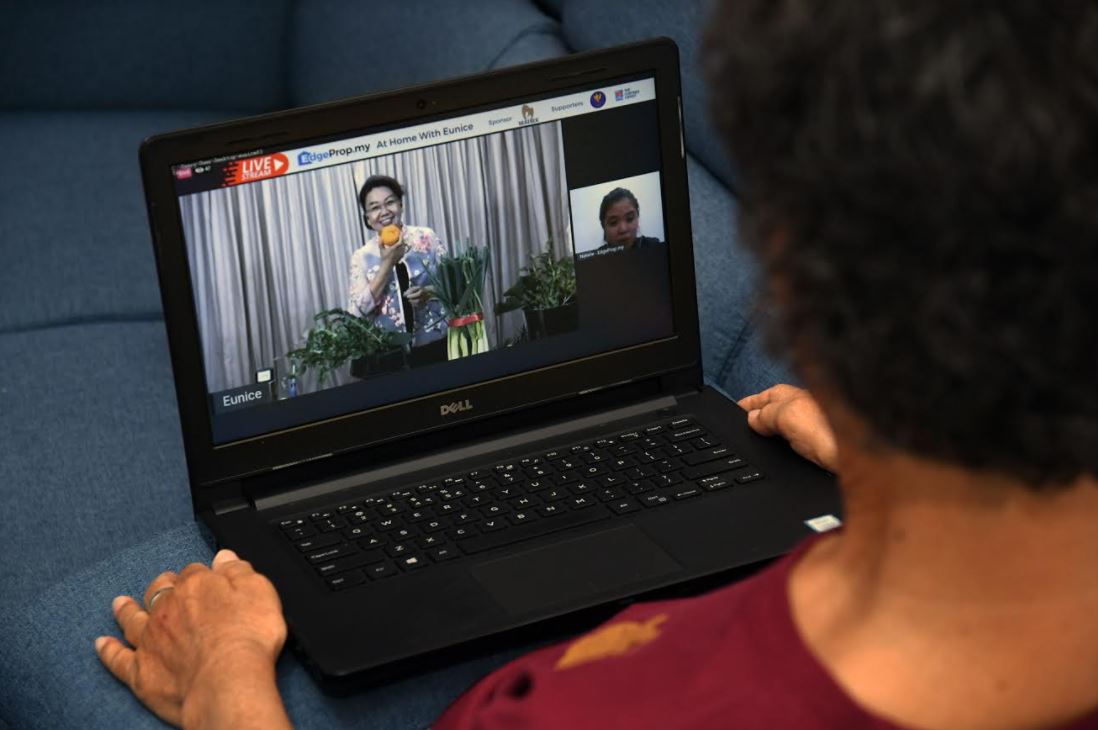 In every episode of "At Home with Eunice", Eunice Teo will be giving out the decor pieces created for the series to the lucky audiences who tune in and post their questions or comments during the session.
The next episode, which goes live on Feb 16, 2021, will be using vegetables as the decorative theme. Stay tuned!
Click here to register for the reminder of the second episode of "At Home with Eunice".
Get the latest news @ www.EdgeProp.my
Subscribe to our Telegram channel for the latest stories and updates