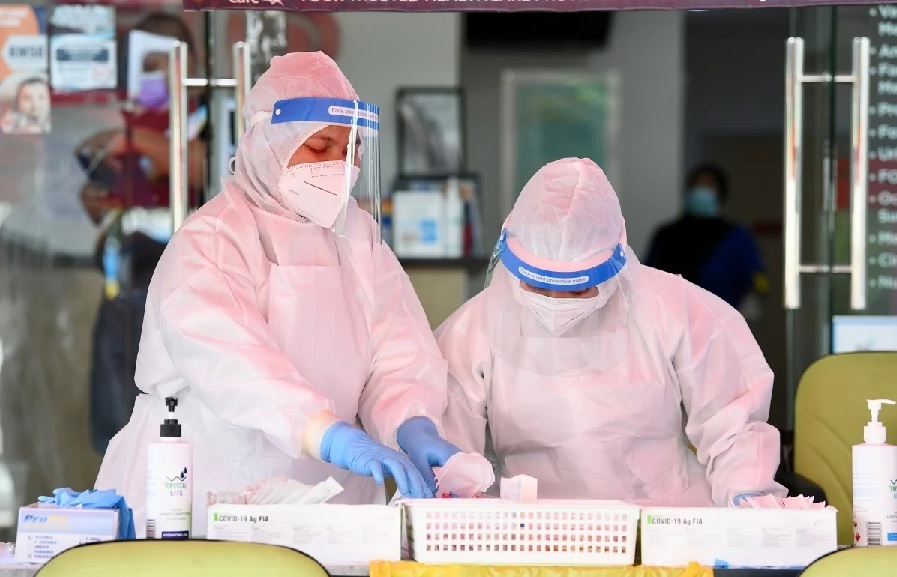 KUALA LUMPUR (Feb 17): Malaysia's Covid-19 deaths breached the 1,000-mark, after 22 more fatalities were reported today.
The latest fatalities involved 21 Malaysians and one foreigner, and pushed the death toll to 1,005, said Health Director-General Tan Sri Dr Noor Hisham Abdullah.
He said the country recorded 2,998 new Covid-19 infections today, bringing total cases to 272,163.
The number of daily recoveries came in at 5,709, which exceeded the number of new cases for the fourth consecutive day. This raised total recoveries to 229,762 or 84.4% of total cases, Dr Noor Hisham said in a social media post.
Active cases (those who carry high transmission risks) have been declining steadily over the past week, reaching 41,390 today, compared with a high of 52,186 on Feb 10.
A total of 231 Covid-19 patients are being treated in intensive care units, with 115 placed on respiratory support.
Dr Noor Hisham said Selangor registered 1,382 new infections today, followed by Johor with 436 cases, Negeri Sembilan (233), Kuala Lumpur (226) and Sarawak (200).
This was followed by Perak (99), Sabah (94), Penang (92), Terengganu (91), Kelantan (72), Kedah (36), Melaka (20), Pahang (14), Putrajaya (two), and Labuan (one).
A total of 103 cases or 3.4% of total cases involved clusters in prisons, lockups, and immigration detention depots.
They included Tembok Pengkalan Chepa in Kelantan (48 cases), Tembok Bendera in Perak (22), Tembok Tapah in Perak (12), Seberang Perai prison in Penang (seven), Sungai Jelok prison in Selangor (seven), Tembok Sungai Udang cluster in Melaka (four), Kepayan prison cluster in Sabah (one), Tembok Mempaga cluster in Pahang (one) and Matambai cluster in Sabah (one).
Overall, Selangor has the highest cumulative confirmed infections at 90,535, followed by Sabah with 51,655 cases, Kuala Lumpur (32,548), Johor (31,993) and Negeri Sembilan (13,501).
13 new clusters identified
Dr Noor Hisham said 13 more Covid-19 clusters were reported today, raising the total number of clusters in the country to 1,028.
Ten of the new clusters are linked to workplaces, two are high risk group clusters, while the remaining one is a community cluster.
The ten workplace clusters are:
● Tapak Bina Jalan Emas cluster in Petaling, Selangor with 49 infections
● Jalan Rawang cluster in Gombak, Selangor with 42 infections
● Jalan Subang cluster in Petaling, Selangor (28)
● Tapak Bina Seksyen Satu cluster in Hulu Langat, Selangor (18)
● Jalan Persiaran Cyber cluster involving Kota Tinggi, Johor Bahru and Kulai in Johor (121)
● Senai Murni Empat cluster in Kulai, Johor (18)
● Jalan Perindustrian Murni cluster which spans Kulai, Johor Bahru and Kota Tinggi in Johor (18)
● Industri Tekstil Nilai cluster involving Seremban and Port Dickson in Negeri Sembilan (64)
● Tapak Bina Jalan Sultan cluster in Lembah Pantai, Kuala Lumpur (120)
● Pulau Rusa cluster which spans Marang, Kuala Nerus, Kuala Terengganu and Dungun in Terengganu (18)
The high-risk group clusters are the Jalan DC cluster in Kuala Selangor, Selangor with 13 infections, and the Jalan Payamanis cluster in Johor Bahru, Johor with 39 infections.
The lone community cluster is the Jan Yong cluster in Kapit, Sarawak with 15 infections.
To date, active clusters which are still being monitored by the health ministry stood at 499, while 529 clusters have ended.
Dr Noor Hisham said 75 clusters recorded an increase in cases led by the Tanjung Suria cluster in Selangor (380 cases), the Kebun Baru cluster in Selangor (186) and the Industri TTJ cluster in Negeri Sembilan (141).
Get the latest news @ www.EdgeProp.my
Subscribe to our Telegram channel for the latest stories and updates