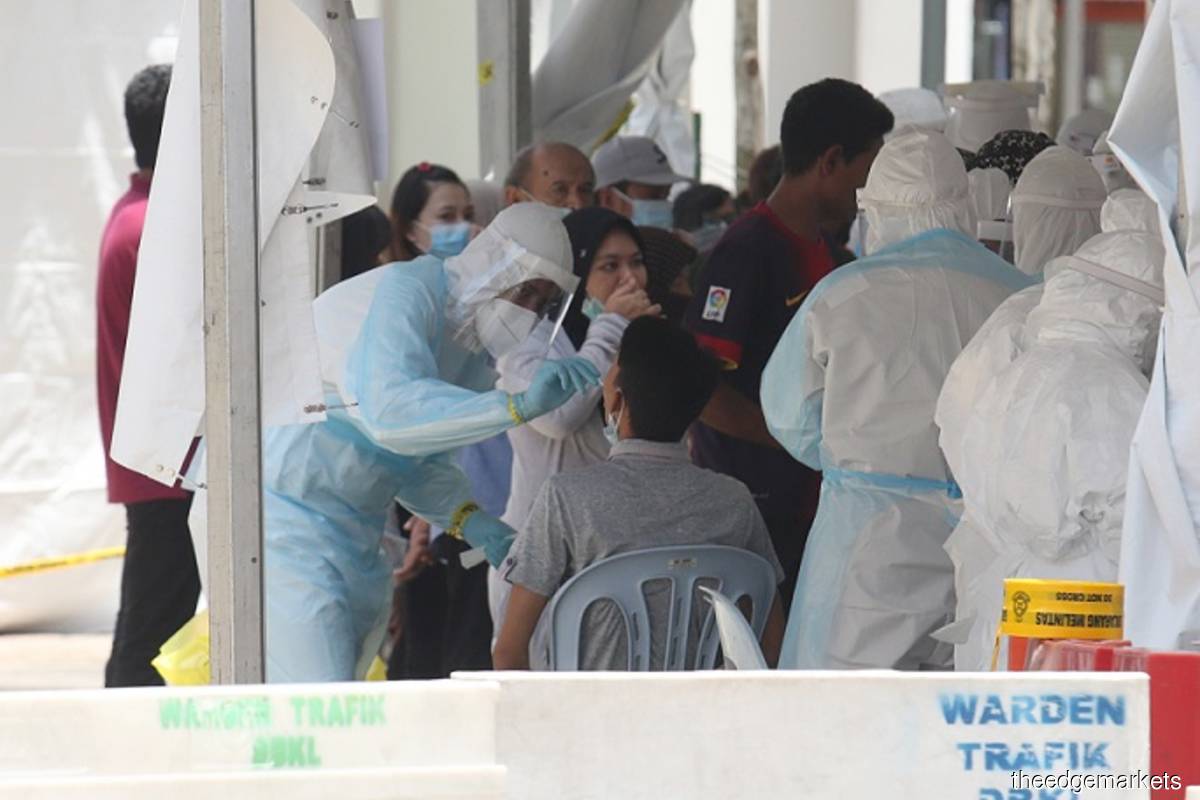 KUALA LUMPUR (July 12): The Ministry of International Trade and Industry (MITI) has made it compulsory for workers employed by manufacturers within Selangor enclaves placed under the Enhanced Movement Control Order (EMCO) to be tested twice a week using the Antigen Rapid Test Kit (RTK-Ag) to determine early if workers have contracted the severe acute respiratory syndrome coronavirus 2 (SARS-CoV-2), which causes the Covid-19 pandemic.
In a Facebook post today, Senior Minister and Minister of International Trade and Industry Datuk Seri Mohamed Azmin Ali said MITI's directive, which has been effective since Wednesday (July 7), aims to impose stricter operating criteria for factories within Selangor EMCO enclaves to curb the spread of the pandemic.
"The move is deemed (to be) able to identify Covid-19 infections earlier besides to ensure that only workers who have been confirmed to have tested negative (for SARS-CoV-2) are allowed to be present at the workplace.
"Employers need to cooperate and be responsible for the entire (Covid-19) screening cost," Mohamed Azmin said.
He urged employers "not to take advantage of the chances" given by MITI with regard to standard operating procedures (SOPs) implemented by the government to curb the spread of the Covid-19 pandemic at workplaces.
Mohamed Azmin claimed that it is regrettable that many employers have not abided by the SOPs and that many have taken the matter lightly.
He said strict SOPs need to be implemented in tandem with "practical measures" to curb the spread of Covid-19 especially at workplaces.
On July 1, 2021, it was reported that the EMCO would be imposed on 34 mukims or enclaves in Selangor besides 14 localities in Kuala Lumpur from July 3 until this Friday (July 16).
It was reported that In Selangor, the EMCO was enforced within Petaling district enclaves of Petaling, Damansara, Sungai Buloh and Bukit Raja, Hulu Langat district enclaves of Hulu Langat, Ampang, Cheras, Kajang, Semenyih and Beranang, Sepang district enclaves of Dengkil, Labu and Sepang, besides Gombak district enclaves of Batu, Rawang, Setapak, Hulu Kelang and Kuang.
"Also involved are the Kuala Langat district (Mukim Tanjung 12 [1], Tanjung 12 [2], Teluk Panglima Garang, Morib, Bandar, Jugra and Batu), Klang district (Mukim Kapar and Klang), Kuala Selangor district (Mukim Ijok, Bestari Jaya and Jeram), and Hulu Selangor district (Mukim Serendah, Rasa, Ulu Yam and Batang Kali)," Bernama reported.
"Meanwhile, in Kuala Lumpur, areas involved include the Sri Semarak People's Housing Project (PPR), Batu Muda PPR, Wangsa Maju Section 1 and Section 2 flats, Kampung Padang Balang, Taman Koperasi Polis (Phases 1 and 2), Sri Sabah flats, Kampung Puah and Kampung Baru Air Panas PPR.
"Desa Pandan flats (including Baiduri and Delima), Kampung Batu Muda, Kerinchi PPR, Bandar Baru Sentul and Taman Ikan Emas are also involved," Bernama reported.
Get the latest news @ www.EdgeProp.my
Subscribe to our Telegram channel for the latest stories and updates