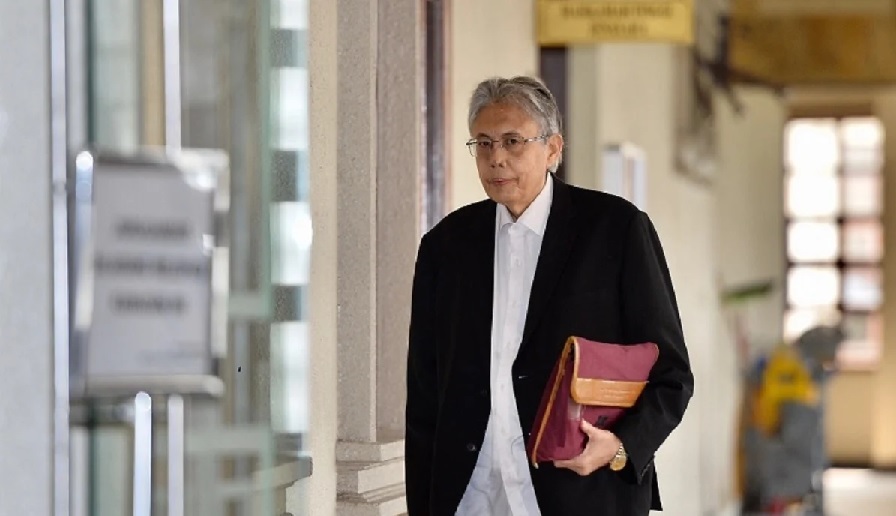 KUALA LUMPUR (Sept 30): Datuk Seri Najib Razak's former principal private secretary Tan Sri Shukry Salleh said the former premier had ordered him to instruct the National Audit Department (NAD) to drop certain "sensitive information" from the 1Malaysia Development Bhd (1MDB) audit report in 2016.
The information includes fugitive financier Low Taek Jho (Jho Low)'s involvement in 1MDB, Shukry said when testifying in the 1MDB audit tampering trial at the High Court on Thursday.
He said Najib summoned him and gave him the order on Feb 26, 2016.
"He instructed me more or less like this: 'Shukry, you tell the audit [department] that sensitive issues and those that aren't relevant including (the involvement of) Jho Low in 1MDB to not be added in the final report. If the opposition finds out about this it will be an issue'."
Shukry said he followed Najib's instructions and informed then NAD director Saadatul Nafisah Bashir Ahmad about it.
The meeting between Shukry and Najib allegedly took place two days after a meeting between then chief secretary to the government Tan Sri Ali Hamsa, Shukry himself, former Finance Ministry deputy secretary-general Datuk Seri Dr Mohamad Isa Hussain, former director of audit Saadatul Nafisah Bashir Ahmad, Attorney-General's Chambers representative Tan Sri Dzulkifli Ahmad, former auditor general Tan Sri Ambrin Buang and former 1MDB CEO Arul Kanda Kandasamy.
Shukry testified that in early February 2016, Najib had asked him to obtain the audit report on 1MDB from Ambrin because it "needed to be checked before it's printed".
"This is because he (Najib) was afraid that the report would contain unnecessary information," he said.
Shukry said he called Ambrin at the NAD a few days later to obtain the report, but the latter was hesitant to hand it over.
"I called Ambrin to convey Najib's instructions and asked for the report to be given to me. At first, he was hesitant in handing over the report as he explained to me that it had to be printed and sent to the Public Accounts Committee (PAC) immediately," he said.
Shukry said he took this message back to Najib and the ex-premier told him that he needed to check what was being reported by the NAD. Eventually, on Feb 20, 2016, Shukry testified to having received the report from the NAD and handed it to Arul Kanda to examine its contents.
"Arul Kanda had then told me that there were facts that needed to be set straight between Ambrin and 1MDB. He also had told me that he had met with Ambrin before to discuss the content of the report," he said.
Shukry said that on Feb 23, Ali Hamsa requested a meeting with him and Ambrin. At that meeting, he told them that he had arranged for a meeting on the next day (Feb 24) to meet with representatives from 1MDB, the Treasury, the NAD and the Attorney-General's Chambers.
It was during this fateful meeting on Feb 24 that decisions were made to remove or change certain parts of the audit report, including omitting the existence of 1MDB's two conflicting financial statements for 2014.
Shukry testified that during the controversial meeting, he had raised the matter of 1MDB's conflicting financial statements for 2014 and expressed fear that this is a crisis that must be dealt with immediately as it was garnering attention worldwide.
Najib did not report to the Cabinet
Shukry said he also brought up the issue of Najib not reporting to the Cabinet about an agreement he had made with the then Yang di-Pertuan Agong (Terengganu Sultan) to delay the issuance of the RM5 billion Islamic Medium Term Notes pending a meeting on May 27, 2009.
He said straight after Najib had met with the King, he attended a Cabinet meeting but did not report to them of this development.
"To me, the wording of the report indicates that Najib is hiding something. At the time I only queried whether Najib was duty-bound to report to the Cabinet about this according to the rules and laws," he said.
"They (people in the meeting) decided to drop the matter after getting legal advice from a representative from the Attorney General's Chambers, which is Datuk Dzulkifli Ahmad," he said.
After he had finished testimony based on his written witness statement, the court then played the two-hour-plus recording of the Feb 24 meeting so that he can identify what was said.
Shukry confirmed he attended the meeting in the capacity of Najib's principal private secretary.
The trial before Judge Mohd Zaini Mazlan will resume on Oct 20 and 21.
Najib is charged with abusing his power to amend the 1MDB audit report before it was submitted to the PAC to protect himself from disciplinary, civil and criminal actions while Arul Kanda is charged with abetting the former premier.
The charges are framed under Section 23(1) of the Malaysian Anti-Corruption Commission (MACC) Act 2009, which specifies a jail term of up to 20 years and a fine of no less than five times the amount of gratification or RM10,000, whichever is higher.
Get the latest news @ www.EdgeProp.my
Subscribe to our Telegram channel for the latest stories and updates