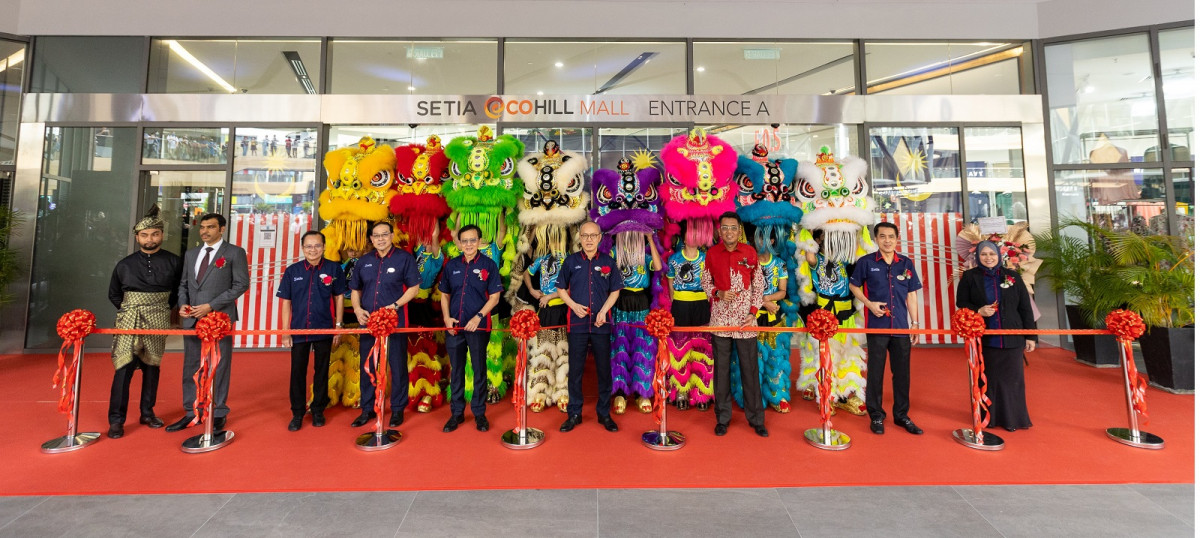 To be the to-go destination for Southern Klang Valley
Fourth mall for S P Setia
SEMENYIH (Sept 22): Property giant S P Setia Bhd opened its first neighbourhood lifestyle mall in its township Setia Ecohill in Semenyih, Selangor, last week.
The grand opening was officiated by the President of Kajang Municipal Council Tuan Haji Najmuddin Jemain SMS.
The Setia EcoHill Mall, which is expected to serve the 600,000 population within 20 minutes' driving distance, has a total nett lettable area of 160,000 sq ft.
S P Setia's President and CEO Datuk Choong Kai Wai said the mall, which had its soft opening earlier this month, is already 60% occupied.
"It is elevating the retail scene in Semenyih with a well-rounded tenant mix, which will attract more shoppers coming from nearby neighbourhoods who want to enjoy our vast variety of lifestyle offerings, bringing more business opportunities for our tenants in the mall and Setia Ecohill Walk's commercial hub.
"With more potential tenants enquiring, we are expecting 3% to 4% of our total rental income from Setia Ecohill Mall," Choong said.
He said the mall is expected to attract the communities from the Southern Klang Valley Corridor across Cheras, Kajang, Bangi, Semenyih, Sungai Long, Seri Kembangan, Putrajaya and Cyberjaya.
The four-storey Setia Ecohill Mall, which is part of the Setia Ecohill Walk commercial hub, was fully completed in December 2021.
According to Setia Ecohill Sdn Bhd general manager Koh Sooi Meng, the current footfall for Setia Ecohill Mall is 15,000.
He said people from as far as Seremban are eager to visit and enjoy the variety of shops and lifestyle attractions here and it will definitely increase the footfall for next year.
"We are careful in terms of selecting the tenants as we want to have variety, which will gain better traffic," he said.
Koh said the lower ground floor of the mall is a Boutique Digital Centre dedicated for tech needs and the company wants Setia Ecohill Mall to be perceived as a one-stop centre for the people in the vicinity.
Apart from having Apple's premium reseller Machines as one of the mall's key tech tenants, this is where shoppers can purchase gadgets, other major brands and enjoy telco services.
In conjunction with the grand opening of the mall, LuLu Group International also opened its fifth Lulu chain in Malaysia, a 36,000 sq ft Lulu Supermarket and Department Store.
The wide variety of F&B offerings include well-known brands such as The Coffee Bean & Tea Leaf, Tealive, Gigi Coffee, Boost Juice, Llao Llao, Sangkaya, Secret Recipe, Sushi King, The Chicken Rice Shop, Texas Chicken, Ipoh Kacang Putih, Kari Puff Abe Yus and more.
The mall is one of the components of the 17.5-acre Setia EcoHill Walk. With a design inspired from the Grand Canyon in the US, visitors can enjoy a man-made stream, water sculptures and lush landscapes between the "canyon" of retails shops.
The commercial component of Setia Ecohill Walk offers 243 units of retail shops and offices across eight blocks, while another component comprises two blocks of 40-storey serviced apartments.
The Gem @ Setia Ecohill Walk, a 23,000 sq ft space, offers a unique Diamond Façade and is set to become a premium entertainment centrepiece that will be the highlight of the project.
The mall, which boasts 2,000 car park bays, is easily accessible via the Cheras-Kajang Expressway, the South Klang Valley Expressway (SKVE), the Kajang Dispersal Link Expressway (SILK) and the Kajang-Seremban Highway (LEKAS).