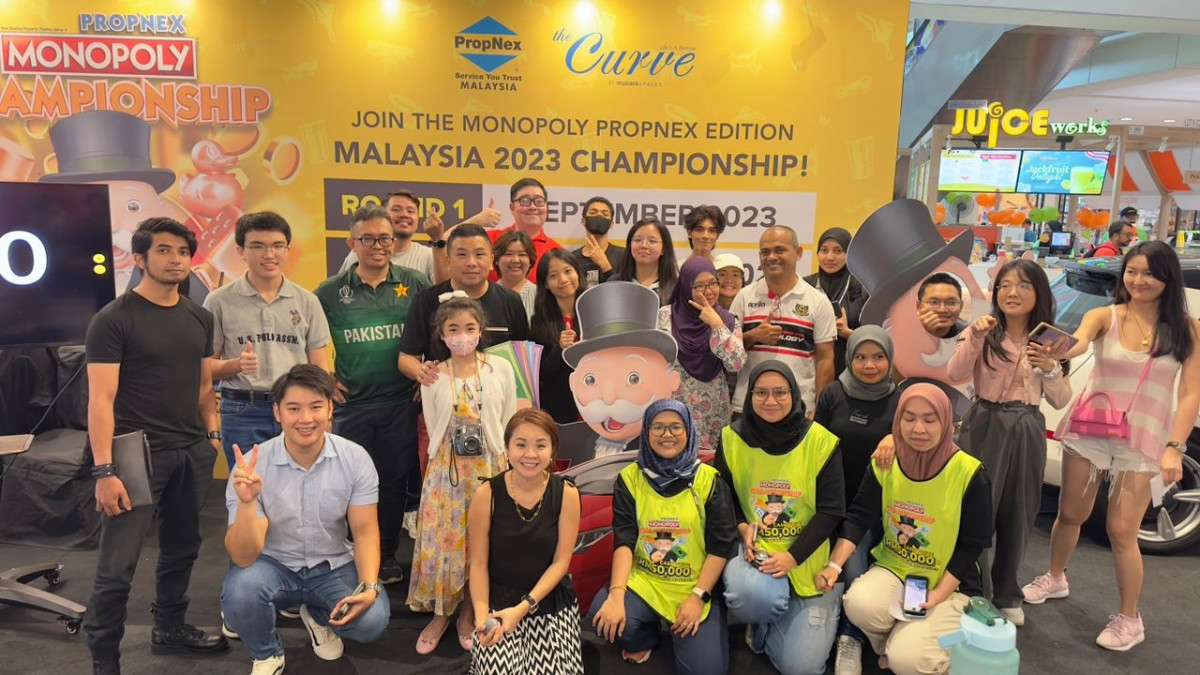 "You can't buy everything you land on but be selective. When you encounter a good opportunity to buy something of high value, invest as you will earn from your opponents."
KUALA LUMPUR (Sept 22): The PropNex Monopoly Championship 2023 is in full swing, with Round 1 ending this weekend. The championship, which kicked off early this month, has already seen 11 intense rounds of gameplay.
The championship, held at The Curve Mutiara Damansara, Petaling Jaya, saw hopeful players tested in their decision-making about property investment, financial planning and even market dynamics!
What sets this championship apart is its unique twist on the classic Monopoly board game. Under a licensing agreement with Hasbro, PropNex introduced its own version, complete with iconic landmarks and street names of Singapore. The Malaysian Championship aims to impart experiential learning, enhancing financial literacy and property investment acumen among participants.
Players will be in the running to earn the Grand Champion title this October, with RM50,000 cash prize and up to RM1 million worth of additional prizes up for grabs. The finalists from Round 1 will begin competing in Round 2 in an attempt to make it to the final competition from Oct 5 to 8.
"Round 1 is coming to a close but it has been fun to witness how the game has brought strangers together," says Evon Heng, chief operating officer of PropNex Malaysia. "The camaraderie has led to friendships forged well after the game, with a few participants from earlier rounds even returning with their friends and families so that they, too, can try a hand at winning the game."
Indeed, a good strategy game has the power to draw in even your mother, as evidenced by 20-year-old Ahmad Addin Farid's participation in a previous round, which piqued his mother's interest to join as well.
"This game is all about cash flow. It teaches us how to invest and manage your wealth. We know what we want to build or buy to increase our wealth. I love strategy games."
Ahmad emphasises that buying a house is not only exciting but also one of life's biggest achievements. Real estate plays a crucial role in education, and owning properties can lead to generating income, he adds.
His mother, Siti Syazana, has a different winning strategy. "Lessons from real life, such as being patient and not over-confident, apply to the Monopoly board as well," was her advice.
"You can't buy everything you land on but be selective. When you encounter a good opportunity to buy something of high value, invest as you will earn from your opponents," she says.
Real estate negotiators, Teddy Chin and Kim Lim, share a similar mindset and reflect on the unpredictability of both the game and real life.
"I was dealt a bad hand from the beginning with three utility cards and two of the cheapest properties on the board! Instead of giving up, I observed which properties I should bid on and eventually, my investments paid off," Teddy shares.
"It is a fun game of luck and opportunities. You learn how to collect rental and diversify wisely," Kim adds. "Just like in real life, holding too tightly to your cash will not make you wealthy!"
Don't miss out
If you're intrigued by the world of property investment and financial planning, don't miss the chance to witness the excitement and strategy in action at the PropNex Monopoly Championship 2023 this Sunday, Oct 24, 11am to 1pm. Register here.
As a partner of the Monopoly Championship, EdgeProp START members who participate in the game stand a chance to be rewarded with more upsized vouchers! Remember to quote "EdgeProp" in the registration.
Looking to buy a home? Sign up for EdgeProp START and get exclusive rewards and vouchers for ANY home purchase in Malaysia (primary or subsale)!