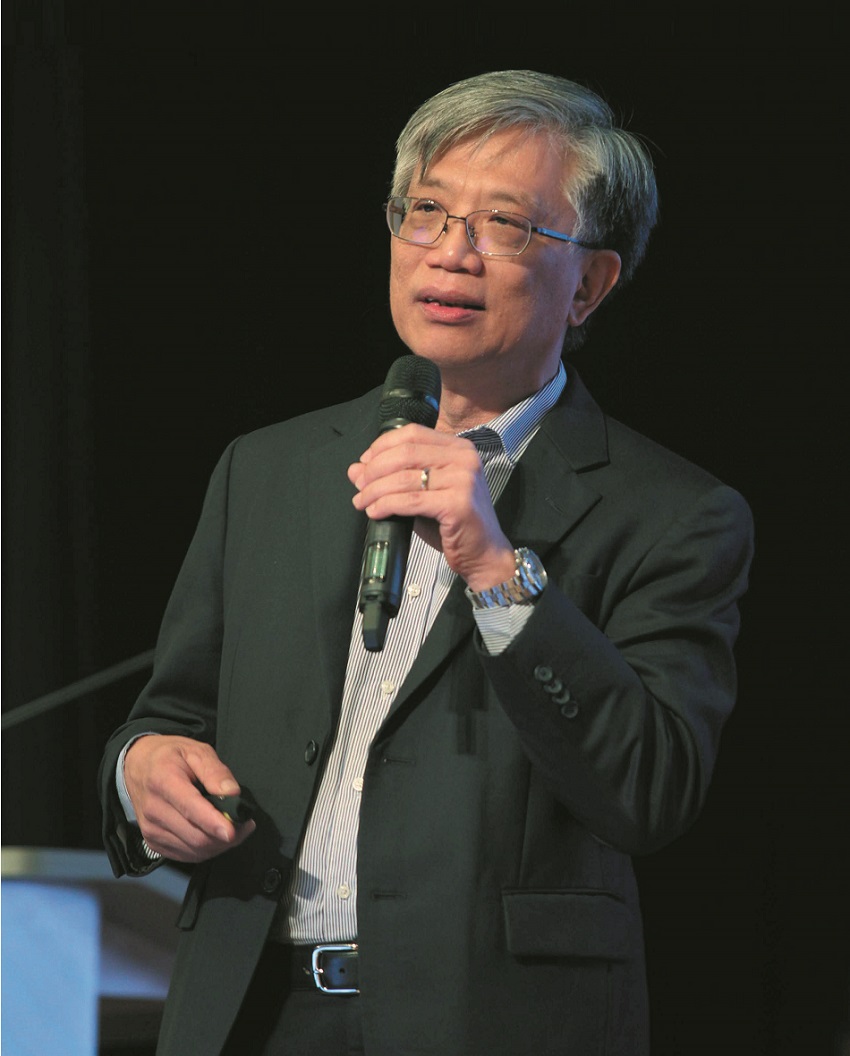 WITH the expected improvements in infrastructure that come from having a high speed rail station, towns such as Seremban in Negeri Sembilan and Ayer Keroh in Melaka will see more significant growth in their property values than the more developed and larger cities, said Henry Butcher Malaysia chief operating officer Tang Chee Meng.
He was speaking at TheEdgeProperty.com's "Symposium on Kuala Lumpur-Singapore High Speed Rail 2016" on Aug 27 on the topic "Investment sweet spots: The Seremban/Ayer Keroh lure".
Both Seremban and Ayer Keroh are among the six intermediate stations proposed along the Kuala Lumpur-Singapore High Speed Rail (HSR).
Tang said residential property values in these two towns are lower or more affordable than those in larger cities such as Kuala Lumpur.
"Townships in Seremban are very vast in size and the properties there are relatively cheaper compared with those in KL.
"If you were to buy a double-storey terraced house in Seremban, you can still get them at about RM600,000 to RM700,000. In the Klang Valley, a typical double-storey terraced house will easily cost you a million and above," he noted.
Besides the overall rise in property values, Tang also pointed out three potential benefits of the HSR to Seremban and Ayer Keroh.
"There will be an increase in tourism and retail spending whereby there will be an increase in tourist arrivals from KL and Singapore to these two towns. It will provide a boost to retail trade, tourist destinations, eateries and entertainment outlets.
"In terms of hospitality, hotel stays by business travellers may not increase much as the short travel time may reduce the need to stay overnight. On the other hand, hotel occupancy may be boosted by leisure travellers," he said.
Tang also noted that as travelling time is reduced significantly, Seremban may be able to attract people from KL to relocate to Seremban while Ayer Keroh may attract Singaporeans, considering the lower cost of living in the cities.
"Seremban and Melaka residents who work in KL may also consider staying back in their hometowns and commuting daily to work instead of renting in KL," he offered.
"The HSR may also lead to more businesses and industries being set up in Seremban and Ayer Keroh to take advantage of the lower cost of operations while having access to a larger labour market," he added.
He noted, however, that the HSR fare charges would be a key factor in the success of the HSR.
"HSR fares must be competitive with other modes of transport and must be reasonable to make it viable for people to commute daily or at least regularly," said Tang.
"On top of that, authorities should also control development around the transit stations to ensure that the desired types of developments are carried out. If development launches are not paced and matched accordingly to actual demand, an oversupply situation may arise and this will affect property values," he added.
Another vital factor is what Tang described as the "last mile connection". Tang said good local transport connectivity would be crucial for a town to benefit from a HSR station. "Local connectivity and convenience would be key to the stations' popularity with HSR users in Ayer Keroh and Seremban," he said.
"Melaka, for instance, is a sweet destination spot for Singaporeans during the weekends where they just drive up from Singapore to have some Nyonya laksa or for a short holiday trip. The HSR will benefit the middle class Singaporeans who do not drive because they can just hop on the train to go over to Melaka," said Tang.
"However, even if they can minimise their travelling time to only 1.5 hours, when they arrive at the station and there are no shuttle buses or other means of transport to bring them to Melaka town from the station, then they will have to spend another half an hour to 45 minutes of travelling time again," he said, adding that the government or shopping mall owners can consider arranging transport services to cater to the needs of HSR travellers.
He also stressed that having a HSR station does not always cause property values in an area to rise.
"According to a report by Australasian Railway Association, which reviewed the impact on areas around the HSR in 15 cities, it was found that land or property values were positively linked with the opening of a HSR station in eight cities, three cities showed the opposite evidence while four cities had no significant variations in property values," he offered.
"Nevertheless, generally, changes in accessibility drive changes in land values and create value uplifts. I would say that smaller developing towns will gain more than areas whose residents are more affluent and do not depend as much on public transport," he said.
"The closer the property to the HSR station, the higher the premium will be. But, it is important to note that locations which are too close to the HSR line will suffer from noise pollution and congestion which may result in a drop in property values," he added.
The symposium, which was held at Sunway Putra Hotel, Kuala Lumpur on Aug 27 was organised by TheEdgeProperty.com and supported by The Edge Malaysia. The presenting sponsor was Bukit Bintang City Centre.
Tang also identified some property developments or townships that investors could look at in Seremban and in Ayer Keroh which are located near the proposed HSR stations. In Seremban, among them are Bandar Ainsdale by Sime Darby Property, Seremban 2 and S2 Heights by IJM Land Bhd, Bandar Sri Sendayan by Matrix Concepts Holdings Bhd and Bandar Enstek by TH Properties.
Meanwhile, in Melaka, there are Taman Tasik Utama by MTD Capital Bhd, Baba Nyonya Resort by Novasara Development Sdn Bhd and Taman Muzaffar Heights by Scientex Bhd.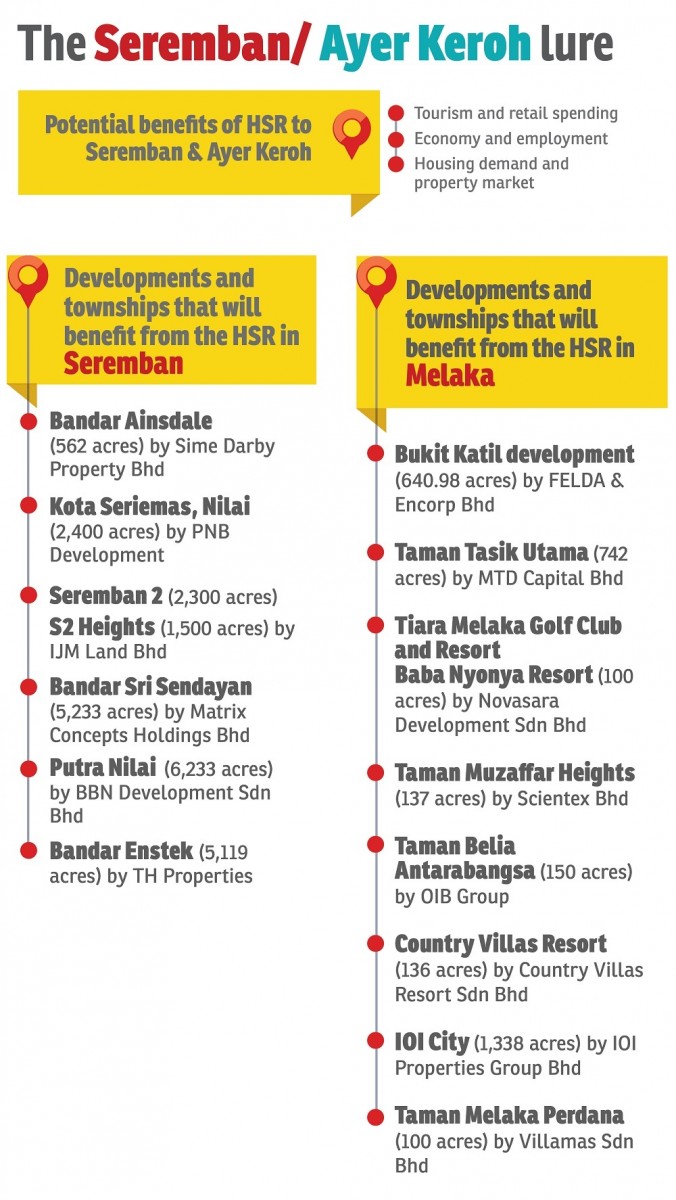 Not sure how much you will have to pay a month for your home? Check out our mortgage calculator here.
This story first appeared in TheEdgeProperty.com pullout on Sept 2, 2016, which comes with The Edge Financial Daily every Friday. Download TheEdgeProperty.com pullout here for free.
HSR270816