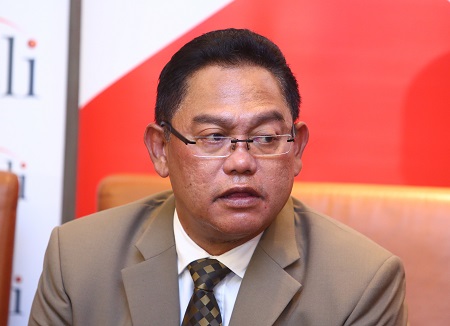 PETALING JAYA (Sept 8): The Urban Wellbeing, Housing and Local Government Ministry will be issuing money lending licences to eligible property developers to provide financing for homebuyers.
Its minister Tan Sri Noh Omar (pictured) in his opening remarks at the 19th ASLI-National Housing & Property Summit 2016 in Bandar Sunway today said there have been calls for the government to allow the re-introduction of the developer interest bearing scheme for first-time homebuyers who find it difficult even to pay for a down payment on their purchases
"Recognising this issue, the ministry will issue money-lending licences to eligible developers. The licence is restricted to provide housing financing to eligible house buyers who face difficulties in getting loans from financial institutions."
Noh said the licence is regulated under the Moneylenders Act 1951 and Pawnbrokers Act 1972, and does not involve Bank Negara Malaysia.
Developers with the licence are allowed to provide 100% or just a portion of the loan to value ratio, he added. "For example, if a buyer who only can fork out 10% downpayment and get 70% loan from a bank, the buyer can apply for a loan from the developer to finance the remaining 20%."
This move is to provide another avenue of financing for homebuyers while providing another source of income for developers, Noh explained.
The ministry has already issued the licence to several developers and other developers can start applying today. "The licence is open to all developers, but developers who apply for the licence have to prove that they are really developing a housing project."
Such financing by the developers is open to all home buyers, not only first-time homebuyers, Noh added. "However, the developers will have their own criteria for lending to the buyers."
Property developers' responses
In immediate response, property developers view this as a positive move that will benefit potential homebuyers.
Sunway Bhd managing director of the property development division for Malaysia and Singapore Sarena Cheah said the group has had a leasing arm for more than 30 years.
"However, we can only finance upon the completion of a property. With the introduction of the money lending licence for all developers, they will have more flexibility to help buyers," she told TheEdgeProperty.com.
Mah Sing Group Bhd managing director Tan Sri Leong Hoy Kum said: "We have been actively launching for the past few months and have been receiving good take-up. There is keen interest from buyers and the main thing delaying their purchase decision is their inability to procure loans. "Hence, our focus should be to assist buyers with easy ownership schemes," said Leong.
Although the move stems from good intentions to help more people purchase properties especially first-time homebuyers, Land & General Bhd (L&G) managing director Low Gay Teck said it may be too costly to implement this for some developers.
"For L&G, what we focus on is building houses. We do not have experience and resources to carry out financing or a money lending business. Do not forget we would need to fork out resources to maintain it (money lending business).
"I must say there will not be many developers who can afford to do this so I don't expect a huge impact on the current property market," Low added.
Meanwhile, SkyWorld Development Sdn Bhd chief operating officer Lee Chee Seng was more optimistic."Of course we (developers) all understand that before we can do that (lend money), we need to comply with the lending rules and things cannot happen in a day. However, if the government manages it right and developers utilise this correctly, it will benefit both developers and buyers," Lee said.
Anyhow, he prefers the developer interest bearing scheme (DIBS), which will give buyers more freedom to choose their desired properties.
"Not all developers would want to do that (lend money). In that case, buyers would have limited choices although it will definitely benefit the developers who offer this service," Lee noted.
Meanwhile, the Real Estate and Housing Developers' Association Malaysia (Rehda) president Datuk Seri FD Iskandar Mohamed
Mansor takes this new policy as a noble scheme to assist homebuyers especially first-time homebuyers. However, he said: "We need to study the scheme in detail once the guidelines come out.
"Most developers do not have a strong balance sheet to do full financing. We actually asked for some leeway for first-time homebuyers buying houses below RM500,000, so the element of speculation will not arise," said FD Iskandar.
However, Rehda deputy president Datuk Soam Heng Choon said there are already some developers with strong balance sheets and flush with cash that are giving assistance on a case-by-case basis.
"Licences for money lending is under the Urban Wellbeing, Housing and Local Government Ministry, so if developers can give out loans and serve their purpose as well, why not?" Soam said.
Not sure how much you will have to pay a month for your home? Check out our mortgage calculator here.
This article first appeared in The Edge Financial Daily, on Sept 8, 2016. Subscribe to The Edge Financial Daily here.