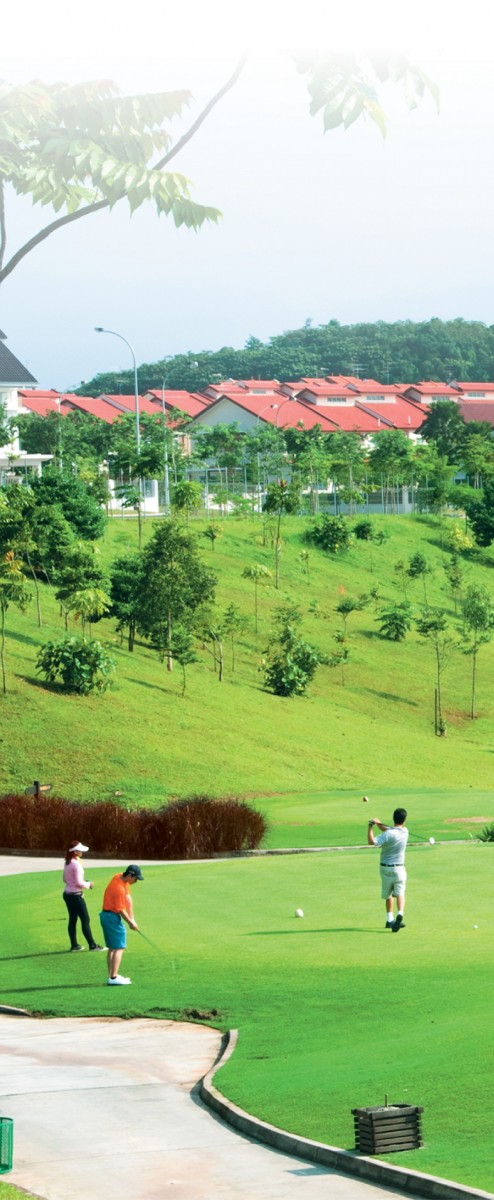 Gamuda Bhd has maintained its philosophy of practising comprehensive master-planning
across all its developments. (Photos by Gamuda Land)
A SUSTAINABLE township is one that emphasises a comfortable living environment that endures into the future. It is one that aims to fulfil the desires of the people for a place they can call home. Planning a sustainable township therefore requires an insight into the needs of the people or its future residents, and this takes a special developer – one who can commit its expertise and efforts into carving out a true master-planned development from barren lands.
The importance of good master planning in townships are often overlooked and consequently affects the residents' quality of life. A comprehensive master plan is essential to provide a long-range vision for the built environment of a community. It involves vital issues like laying out the streets, the intersections, the bike lanes and sidewalks; providing good accessibility to the area while allocating a hierarchy of community spaces and amenities such as landscaping as well as parks and recreational centres in suitable locations for easy reach by the residents. Amenities such as lifestyle and retail centres, schools and medical centres are also included in the master plan.
Strong master planning is also about having the foresight to create flourishing townships from an undeveloped area. Such foresight involves the various processes of anticipating development needs, balancing competing community building goals, and coordinating local and nation-scale interests on a sustainable basis thus building up and growing the area.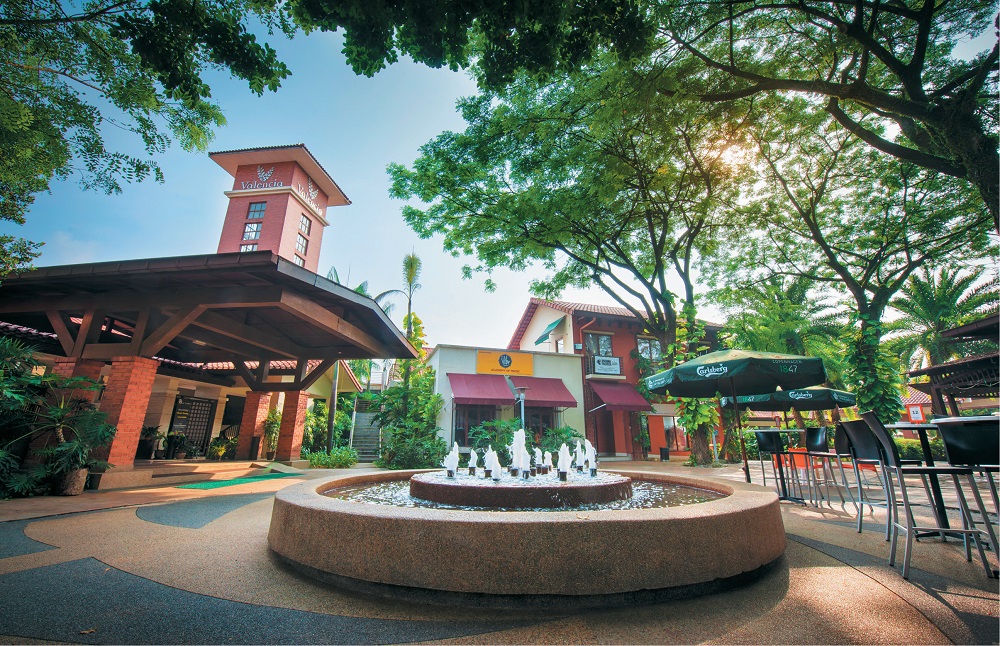 Village Square at Valencia , Sungai Buloh.
Apart from providing adequate infrastructure to support the daily and commercial needs of the community, strong master planning also ensures the sustainability of the quality of life of the township's residents. The strategy of mixing commercial, recreational, educational, healthcare and public amenities in urban neighbourhoods has proven successful towards the sustainability of a township.
A strategic location with superior road accessibility plays an important role in every successful, self sustaining township. The socio-economic development and subsequent economic growth of any community is strongly linked to its transport infrastructure. Careful planning is involved in the design stages to choose the best layout for the township's streets, walkways and road interchanges that enable easy entry and exit. The efficient and sustainable use of resources in a settlement can also be achieved by spatial and strong master planning.
Enhancing quality of life through master-planning
For the past 20 years, Gamuda Land, the property development arm of construction giant Gamuda Bhd has maintained its philosophy of practising comprehensive master-planning across all its developments. It has built a track record in delivering innovative developments and creating holistic, sustainable communities since 1995. This comes as a natural progression as Gamuda Bhd which emerged Builder of the Year at the Malaysian Construction Industry Excellence Awards 2016 had long emphasised on product differentiation and excellence, value-creation as well as sustainability which includes talent development — all attributes which are similarly reflected in the way Gamuda Land works.

Homes overlooking the golf course at Horizon Hills, Iskandar Puteri.
Creating a master plan may only be the beginning of a township's creation but for Gamuda Land, it is one of the most crucial aspects in the development process. This is because a good master plan requires the developer to draw up a plan that anticipates and accommodates potential development issues that may arise in the future phases of the township's growth. Hence a logical phased growth plan needs to be outlined, in order to develop the site to its fullest potential.
With a well-established reputation for strategic foresight, innovative design and value creation in developing a portfolio of projects (completed, under construction and future projects) worth about RM73 billion, Gamuda Land has the resources and experience to develop large scale townships not only throughout Malaysia but globally.
According to Gamuda Land Managing Director, Chow Chee Wah, "Smart development takes forward planning and a vision. Comprehensive master planning lays the foundation for any development to move forward in building a complete and sustainable community where the right mix of components are placed at the right places — residential, commercial, retail, recreational and entertainment as well as schools and other public amenities. In building sustainable developments with emphasis on strategic locations, fortified with comprehensive master-planning and beautifully crafted environments, we are able to ensure that our properties continue to grow in value time after time especially in terms of investment growth."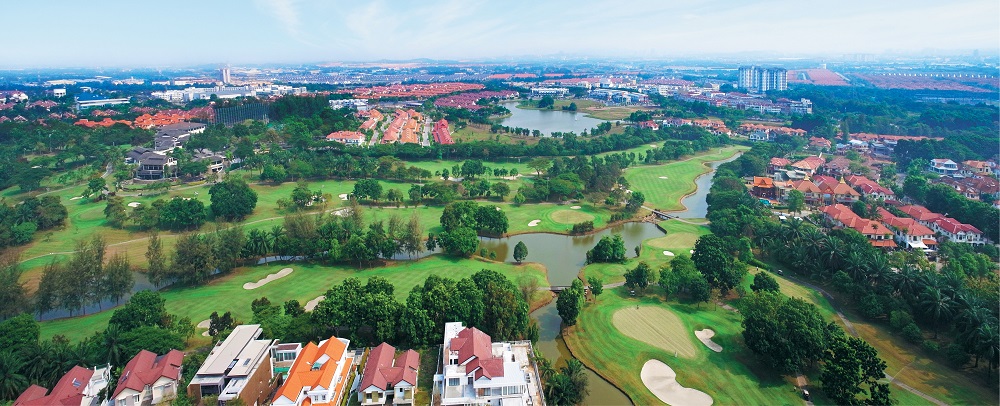 Aerial view of Kota Kemuning, Shah Alam.
Initially focusing its interests in Klang Valley and its outskirts, Gamuda Land has successfully expanded its investments into Singapore, Vietnam and Australia, with a portfolio comprising over 13,000 residential units and a growing list of retail and commercial property projects.
Premier planning outcomes
Kota Kemuning, Shah Alam
Gamuda Land's emphasis on holistic master-planning has resulted in a number of award-winning projects including Kota Kemuning in Shah Alam, Selangor. The 1,800 acre mature township used to be a palm oil estate when it was first acquired by the developer in 1995.
When first unveiled in its early years, Kota Kemuning was considered to be in a place in the middle of nowhere. However, the area was greatly transformed with the construction of the Shah Alam Expressway (Kesas) by Gamuda in 1996 and the highway has since become one of Klang Valley's major highways.
Kota Kemuning is now considered to be strategically located due to its highway accessibility. It has since become a self-sustaining township which is supported by a network of highways and roads, commercial and business precincts with over 1,000 stores, a wide variety of public amenities, community spaces and facilities that ensure that all the lifestyle needs of its residents are taken care of. Commercial precincts are strategically placed near different residential enclaves to conveniently serve the needs of the residents.


Canals of Kota Kemuning.
The houses and amenities in the township are set within a well landscaped environment filled with lush greenery. Walkways and open spaces are weaved into the neighbourhood's residential clusters. The township's central lake and parks have become meeting points for residents and brought them out of their homes to enjoy the great outdoors. Another central point of the booming township is the Kota Permai Golf & Country Club that provides residents with a full service club house. Gamuda Land also built Gamuda Walk, the first neighbourhood lifestyle mall in the township to serve the needs of the residents. All these make for a comfortable living environment which is are not found in normal township developments.
Innovative solutions have also been applied to deliver beautiful yet useful outdoor features. For instance, Gamuda Land built canals that became recreational features instead of the usual concrete drains. Their designs not only provide aesthetic values but represent a unique blend of form and function. The Kota Kemuning Wetland Park has successfully incorporated form and function by creating a value-enhancing wetlands area that manages the storm water for flood mitigation and at the same time, plays host to a great diversity of flora and fauna in and around it.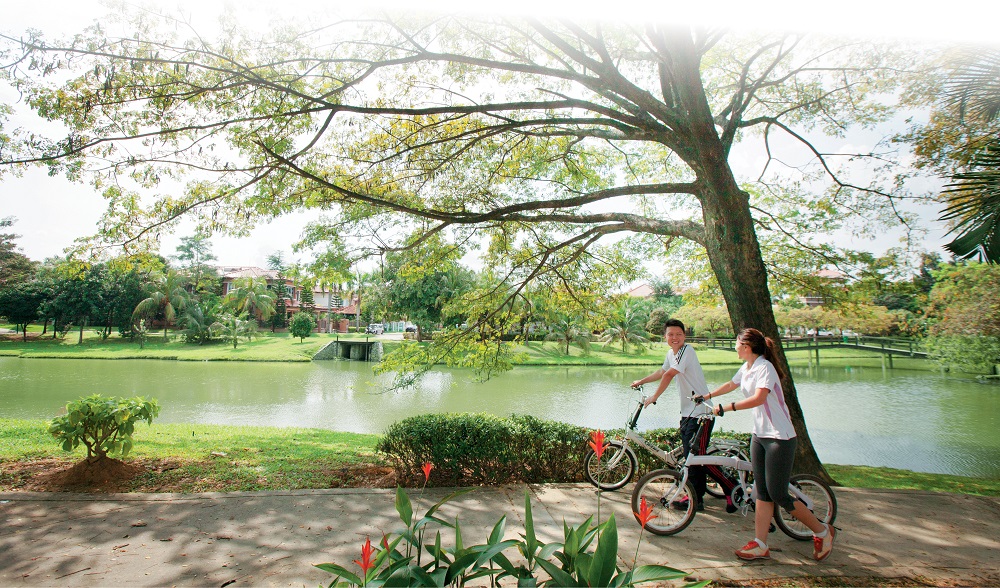 Ambang Botanic in Bandar Botanic, Klang.
Kota Kemuning had received the Best Property Development title at The Edge Malaysia Property Excellence Awards 2015 as well as The Edge Malaysia-PEPS Value Creation Excellence Award in 2012 and 2013. These awards are testament to what Gamuda Land stands for when it comes to township development namely strategic location underpinned by comprehensive master-planning and beautifully crafted environment which accumulatively translates into value creation.
Bandar Botanic, Klang
Meanwhile, Gamuda Land's Bandar Botanic in Klang is based on a parkland-waterfront concept. It spans over 1,247 acres of freehold land with a total gross development value (GDV) of RM5 billion. The low-density development which began in year 2001 stayed true to Gamuda's practice of incorporating maximum greenscapes. It also won multiple awards. The bungalows, semi-detached houses, linked houses, and shop offices are set within more than 100 acres of generous green lungs including parks, lakes and open spaces.
The generous botanical parkland area, Botanic West, was carefully designed to create a distinct green identity and its Central Lake and parks have become the community's main recreational hubs. Meanwhile, the waterfront-parkland of Botanic East offers resort-style ambience with its thematic parks and gardens.

Clubhouse at Botanic Resort Club in Bandar Botanic, Klang.
Bandar Botanic had also achieved the remarkable feat of winning The Edge Malaysia-PEPS Value Creation Excellence Award for three consecutive years from 2013 to 2015. This achievement is attributed to a combination of factors including its strategic location South of Klang with direct access from KESAS Highway, its award winning landscaping and its detailed master planning, which had previously won the developer an award from the International Real Estate Federation (Fiabci). All these attributes have attracted the attention of homebuyers to Bandar Botanic thus raising demand and sustaining the capital growth of the properties in the township.
Horizon Hills, Iskandar Puteri
Down south in Johor, Horizon Hills, with a GDV of over RM7 billion, is another low-density integrated master-planned residential township. Located in Iskandar Puteri, it spans across 1,200 acres of land. At Horizon Hills, Gamuda Land has maintained the natural undulating terrain of the land and transformed the lowlands into a golf course of international standards and a full facility club house. Only 30% of the terrain was reshaped while the rest was retained in their natural form. The award-winning international championship 18-hole golf course was designed by Ross Watson.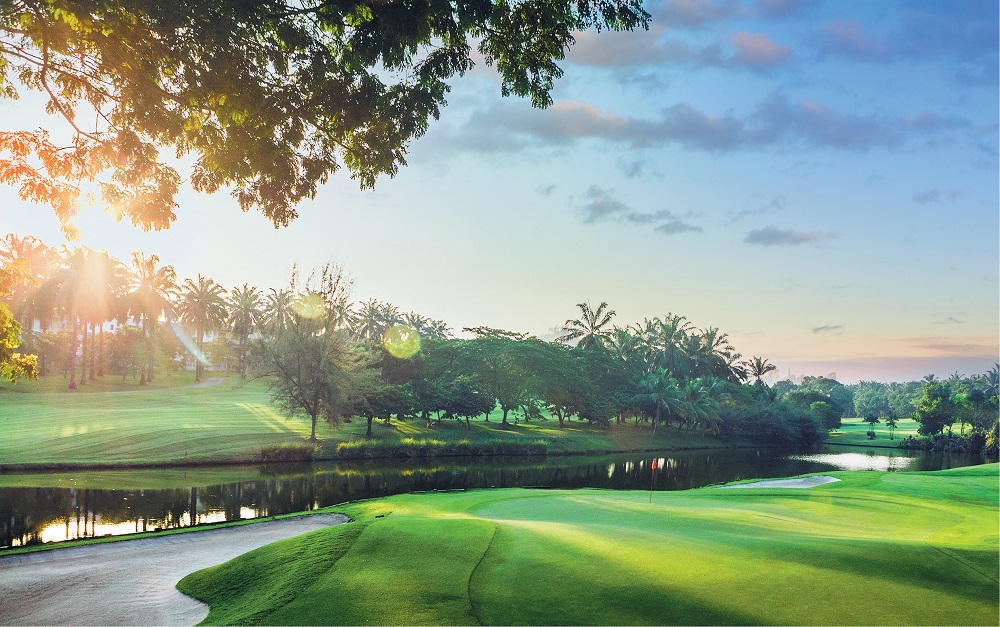 Kota Permai Golf Course.
"Building houses that cling tenaciously to the sides of a hill are is more difficult and more expensive than building on a flat ground. Often, developers will take short cuts which damage the natural terrain. We strive to keep the allure of the hillside through dramatic vistas and rugged landscaping. This preserves its natural beauty while enhancing the project's marketability," said Chow.
Also included in the master plan design are security or crime prevention features such as in the form of cul-de-sacs and roads that ensure only one entry and exit point to the residential areas. The placement of perimeter fencing and guardhouses are also detailed in the master plan.
Overseas, strong master planning and sustainable development have also been applied in the creation of Gamuda City, Hanoi. The beautiful Yen So Park in Gamuda City, a world class recreational park is one of the most beautiful developments in North Vietnam. Its inspiration is derived from the diverse historical elements of culturally-rich Hanoi. Gamuda Land has used its experience and expertise in infrastructure construction to transform the old run-down park into a well-maintained, lush landscape with recreational facilities, commercial and residential zones, hotels and office towers. The design dramatically transformed the surrounding environment by retaining the existing natural attributes such as the five lakes, lake sizes and transplanting the 2,000 existing mature trees on site. Gamuda City also features two other integrated townships and two vibrant commercial centres.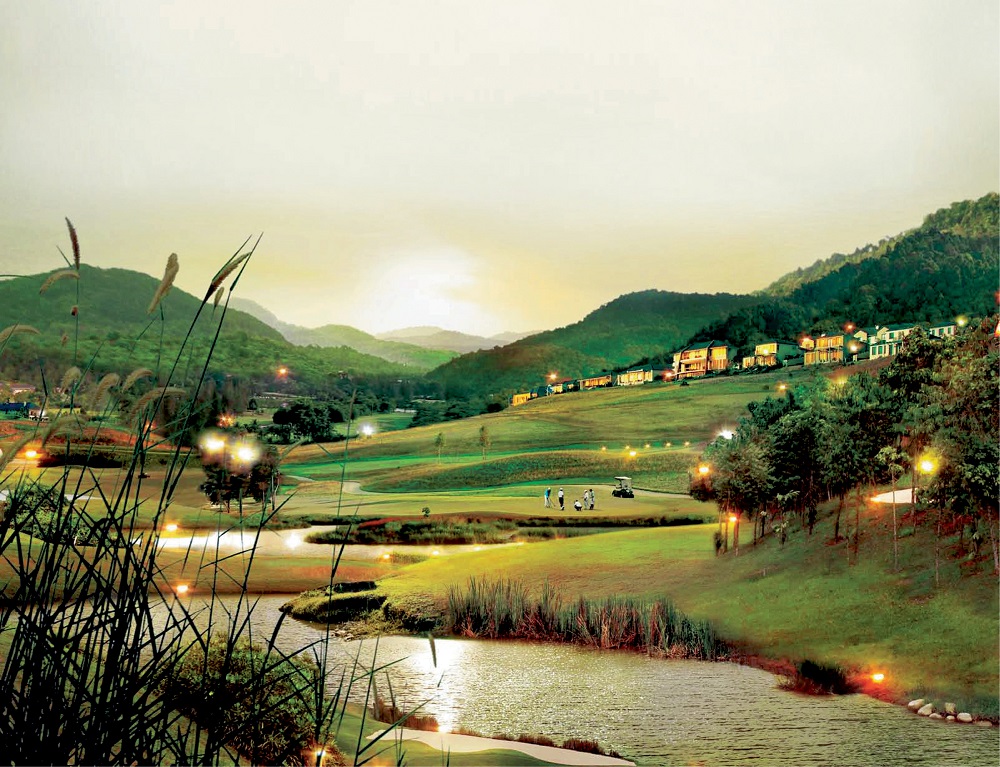 Sunset at Horizon Hills, Iskandar Puteri.
Moving forward, Gamuda Land stands firm in its belief to create value for residents and investors alike despite the current slowdown in the economy. It stands ready to raise the bar at every opportunity. Its strategy of combining good master-planning with well-crafted environment ensures the creation of sustainable value for its customers, in the form of enhanced quality of life and investment growth.
This will continue to be Gamuda Land's core strength as a developer of outstanding townships that provide long term value appreciation.
Upcoming townships
Gamuda Land will truly distinguish itself through the upcoming launch of an over 900-acre development in North Kuala Lumpur with GDV of RM11 billion. Perfectly located at the intersection of three major highways — Guthrie Corridor Expressway, LATAR Expressway and North-South Expressway — the development comprises Gamuda Gardens, an 810-acre mixed-use development that ingeniously combines modern lifestyle with nature-rich living and Kundang Estates, an 89-acre boutique residential development that offers modern countryside living. Gamuda Gardens will be launched in the first quarter of 2017 whilst Kundang Estates will be officially launched in November 2016.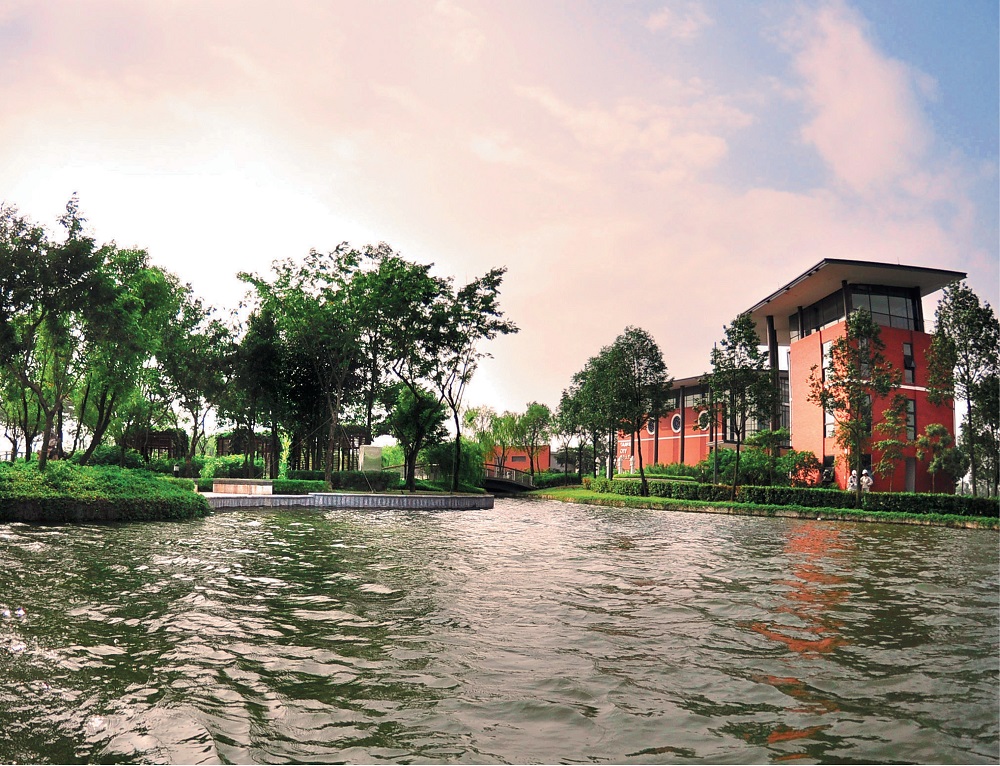 Yen So Park, Gamuda City, Hanoi.
Also in the works is twentyfive.7 in South Kemuning, a modern lifestyle development with a vibrant waterfront retail and commercial hub as well as residences with new-to-market designs.
Gamuda Land's strength in master-planning will again be reflected in each of these new developments bringing to fruition, the developer's vision to inspire change in the way people live by providing conducive living environments that are sustainable over time.
This story first appeared in TheEdgeProperty.com pullout on Oct 28, 2016, which comes with The Edge Financial Daily every Friday. Download TheEdgeProperty.com pullout here for free.


Signature homes at Gamuda Gardens with striking façade.