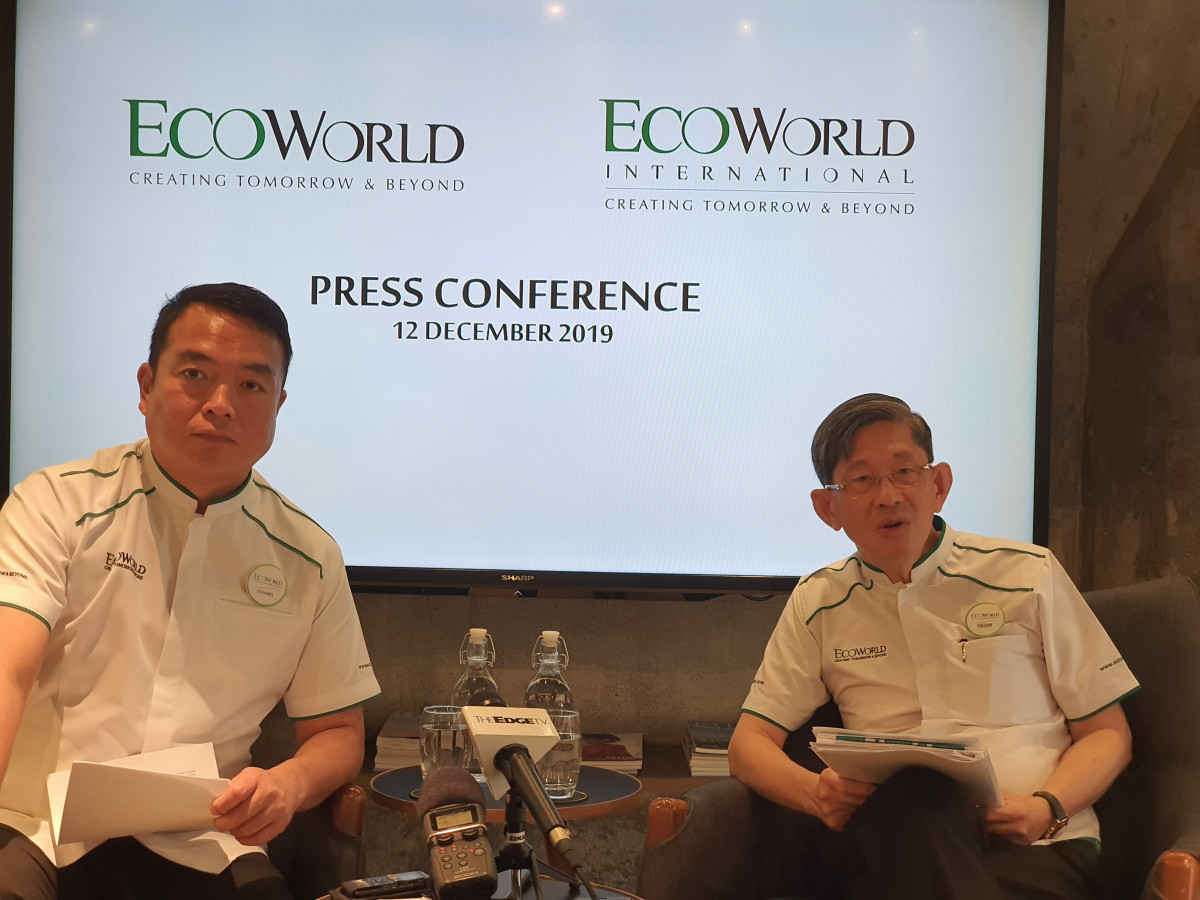 KUALA LUMPUR (Dec 12): Eco World Development Group Bhd (EcoWorld Malaysia) and EcoWorld International Bhd (EWI) have delivered their "best annual financial results" by far in their financial year ended Oct 31, 2019 (FY2019).
Read also
'The best is yet to come,' says EcoWorld
EcoWorld to introduce high rises priced from RM300,000
"Based on this year's result, it is probably our best ever, our strongest result since we started," EcoWorld Malaysia president and CEO Datuk Chang Khim Wah told reporters at a press conference today.
In tandem with the results, both EcoWorld Malaysia and EWI are targeting to declare dividends in FY2020, he added.
EcoWorld achieved a profit after tax of RM203.42 million and revenue of RM2.46 billion in FY2019, an increase of about 118% and 24% respectively against the preceding year.
Chang attributed the outstanding result to the higher percentage of completion and sales secured by its ongoing projects which include Eco Majestic in Semenyih, Eco Botanic in Iskandar Malaysia and Eco Meadows in Penang, as well as its Malaysian joint-ventures, Bukit Bintang City Centre in KL, Eco Ardence in Setia Alam and Eco Business Park V in Puncak Alam.
"Both the wholly-owned projects and Malaysian joint-ventures have shown tremendous and amazing growth," he said.
Meanwhile, EWI's revenue stood at RM478,000 in FY2019, down by about 63% from a year earlier. Profit after tax, however, was recorded at RM190.3 million compared to a loss of some RM10 million in FY2018.
"The result in FY2019 is dramatically different [versus FY2018]. What we have been doing through FY19 was actually to work our construction sites very hard and to deliver blocks of our projects, such as London City Island, Embassy Gardens, Millbrook Park and Aberfeldy Village in London," explained EWI president and CEO Datuk Teow Leong Seng.
"UK is going through Brexit and thus the high-end open market sales segment is a little bit slow. But our mid-market products are doing well. In fact, we have [registered] a 67% increase in the sales of our mid-range open market projects in greater London [in FY2019]," he said, adding that its build-to-rent segment has started to contribute earnings and thus lifted the financial result.