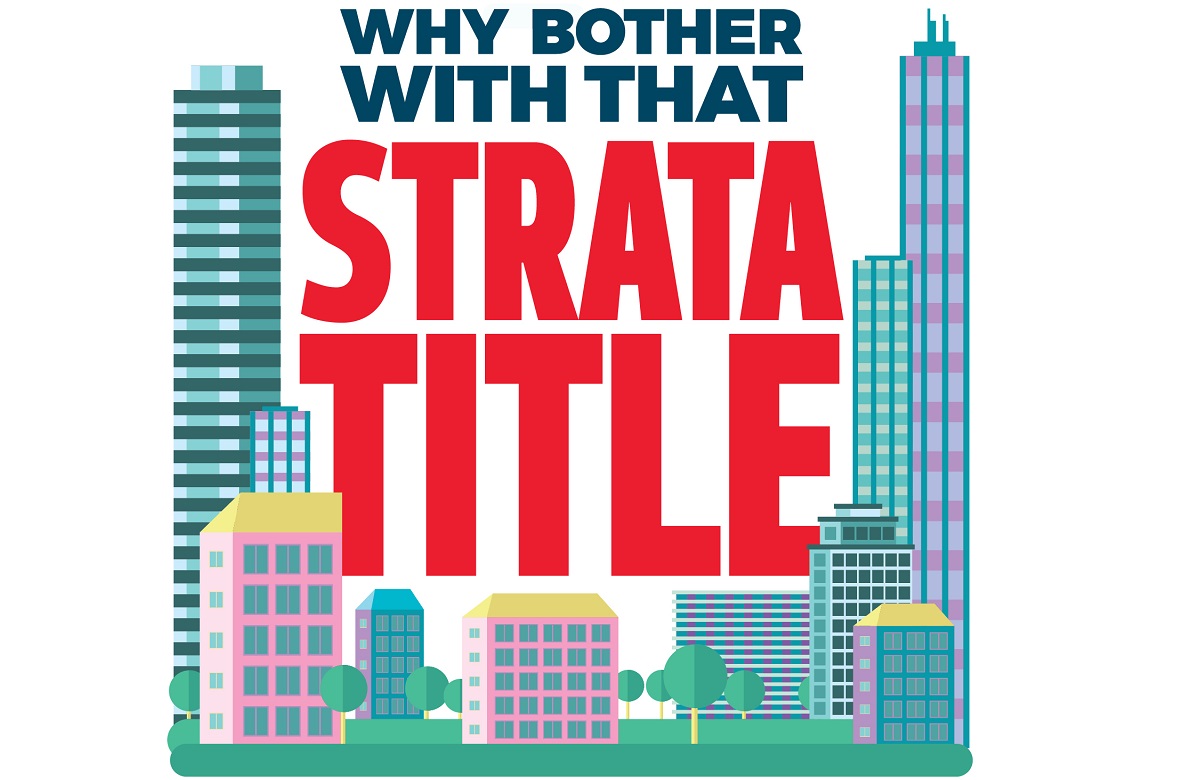 Like a will, the absence of a strata title is usually not felt until you need to dispose of your property. The simple process of selling a stratified unit could turn into a journey as impeding as the infamous Bangkok traffic jam just because of the lack of a strata title.
For the uninitiated, a strata title is the document that states the ownership of a strata property. It gives owners the control of the individual units of high-rise properties and strata landed ones.
Beyond being an ultimate proof of ownership, a strata title is a dealing instrument when it comes to certain processes involving the property, says National House Buyers Association (HBA) honorary secretary-general Chang Kim Loong.
"As long as strata titles have not been transferred, the land and common property are still owned by the developer.
"Should the project be abandoned — if the developer company goes under liquidation or becomes insolvent, for instance — before strata titles have been obtained, the unit owners would have to go through some trouble such as dealing with the liquidators or they might eventually have to pay for the application of strata titles themselves," he tells EdgeProp.my.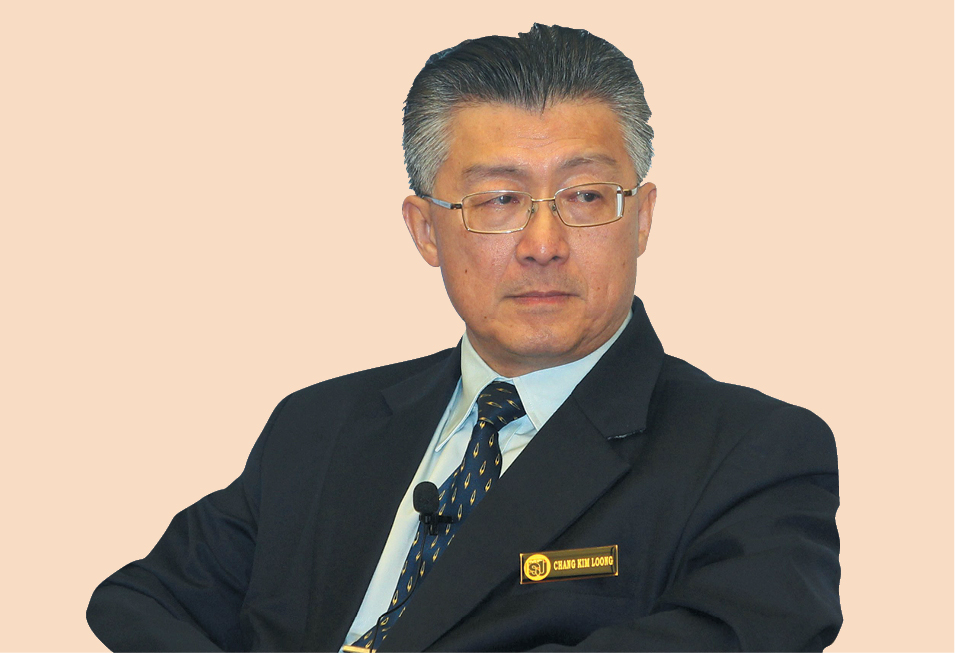 Chang adds that when buying a secondary property without a strata title, some financial institutions might be reluctant to finance such purchases. If both the buyer and seller are to go ahead with the transaction, he advises both parties to engage their own lawyers to ensure protection.
However, vendors of newly completed developments may not encounter any hassle arising from the want of a strata title. This is because with the enforcement of the Strata Titles (Amendment) Act 2013, strata titles are to be issued upon vacant possession (VP) of the property. Hence, prolonged delays in issuance of strata titles are mainly experienced by owners of units in older projects that were handed over before the amendment Act was enforced in June 2015.
Previously, under Section 8 of the Strata Titles Act 1985, developers were to apply for individual strata titles within six months from the issuance of the Certificate of Completion and Compliance or other compulsory circumstances as facilitated in the same Section of this Act, HBA's Chang points out.
Regulation in force but not enforced
While there are regulations to ensure strata titles are duly issued, Chang laments that the enforcement of the law is somewhat lacking.
"Under Clause 12 of the sale and purchase agreement (SPA) (Schedule H), developers are statutorily bound to apply for strata titles expediently at their own cost and expenses. How often has this been dealt with efficiently by the developers?
"We read of warnings from all sources on charging developers in court for not applying for strata titles, but in reality and honestly speaking, how many developers have been charged for breaching this provision of the Act?
"One can think of various reasons developers do not see the urgency in applying for strata titles. One is that enforcement is slack, and threats of charges in court have so far remain threats. Unless purchasers make a complaint, nobody would know if strata titles have been applied or transferred to the owners," says Chang.
Will the value of your property be affected?
Marcus Hwang of Marcus Hwang & Co law firm says the value of a property will not be affected by the non-availability of a land title or strata title.
"There is no implication or difference in respect of ownership and the rights of the owner whether the title is issued or not. Banks do provide the same margin of financing for both properties with or without strata titles. There is no criteria that a title must be first obtained for high margin of financing.
"The difference is only in the documentation of transfer for the ownership. If the title or strata title has been issued, the mode of transfer will be a Memorandum of Transfer, which is required to be registered with the respective Land Registry or Land Office.
"As for properties without strata titles, the mode is an assignment, wherein upon the full stamp duty paid on the Deed of Assignment, all rights title and benefits derived from the principal SPA will be assigned to the new purchaser, technically acknowledging the new purchaser as the rightful owner.
"In other words, this Deed of Assignment will assign all interest, rights and obligations of the property from the seller to the buyer if the said property does not have a strata title," he explains.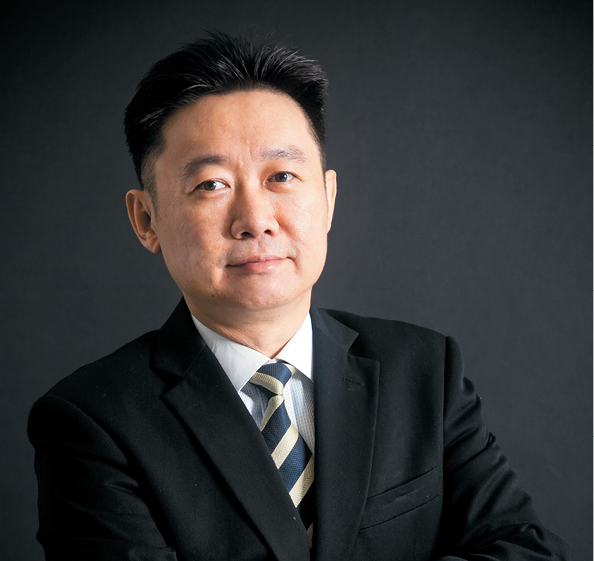 However, Hwang concurs that long-standing cases where land or strata titles have not been issued for as long as 20 years, or in cases where the developer has wound up, banks will be reluctant to give higher margin for loans or will decline the financing outright.
He also agrees that the current provisions are strong enough to protect homebuyers. "However, only timely and consistent enforcement can ensure homebuyers receive the protection that the law intends," he says.
Guide for the lost
So, if you still have not gotten your strata title, what do you do? Commissioner of Buildings (COB) head for Ampang Jaya Muhammad Noor Isman Ismail shares that in the case where the property developer has gone bankrupt, the insolvent party will have to appoint a liquidator to make an application for the strata title from the Land Office. Any additional cost will be borne by the strata owner.
Additional costs include surveyors' and consultancy costs to appoint an architect to draw up a new planning design of the building as well as other administration costs. The COB acts as the mediator in resolving the issue.
Property owners would, first of all, need to check whether a strata application has been filed and whether a book of strata register has been opened. If the book of strata register has been opened, property owners will have to appoint a lawyer to manage the application of strata titles.
Muhammad Noor Isman observes that most of the time, a developer's failure to issue strata titles to homeowners is due to lack of monitoring and enforcement by authorities as well as some developers' tendency to pursue profits.
"To overcome this issue, strata laws such as the Strata Titles Act 1985 (Act 318), the Housing Development (Control and Licensing) Act 1966 (Act 118) and Strata Management Act 2013 (Act 757) have replaced the Strata Titles Board established in the 1990s," he points out.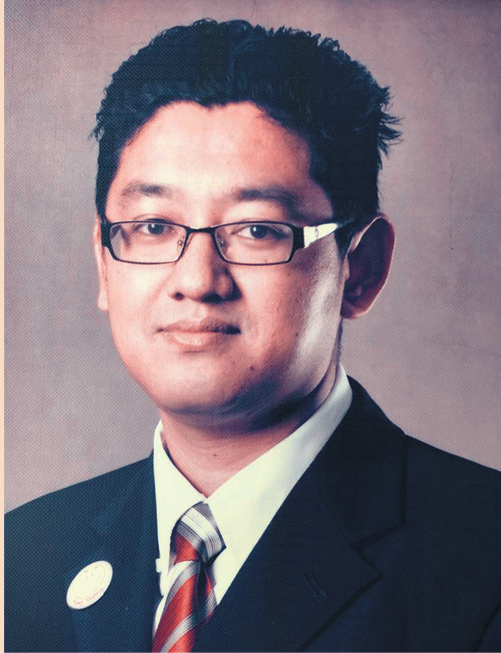 The Department of Director General of Land and Mines (JKPTG) under the Ministry of Natural Resources and Environment says the existence of properties without strata titles was a result of previous loopholes in the law, its director general Datuk Seri Sallehuddin Ishak tells EdgeProp.my.
"JKPTG is working closely with all state land administrations, industry players and non-governmental organisations to deal with this issue through a committee under JKPTG.
"Affected homeowners are advised to report their cases to the respective state Land and Mines Office so that enforcement can be made under Section 8 or Section 20 of the STA towards the original proprietor for failure to apply for the strata title.
"For strata properties where the developers have wound up, homeowners should deal with the appointed liquidator to apply for their strata title on behalf of the original proprietor. Nevertheless, they could approach the respective Land and Mines Office for consultation and advice as each case is different and might need different solutions," he says.
Hwang concurs: "Purchasers are to revert to their respective developers. In cases where the developer has been liquidated or wound up, the purchasers can then revert to the court's appointed liquidator."
Likewise, HBA's Chang advises property owners who have yet to obtain their strata titles to bring the issue up in their annual general meeting or with the joint management body so the issue can be highlighted to the Land Office.
Strata title to come with VP
Meanwhile, JKPTG's Sallehuddin says the Strata Titles (Amendment) Act 2013 has now sealed previous loopholes that had contributed to the delay in issuance of strata titles.
"Now, developers must ensure that any issues arising from land matters are resolved before they could apply for the Advertising Permit and Developer Licence to sell their properties.
"Nevertheless, JKPTG is always ready to improve the law from time to time to safeguard strata owners and buyers and keep it relevant at all times," he affirms.
Based on the amended Act, strata titles are now supposed to be issued upon VP.
However, noting that the amended Act was only enforced on June 1, 2015, JKPTG explains that only projects approved after the date will be enforced with the stipulation of VP with strata title.
"It is expected that the first batch of issuance of VP with strata title will start from 2018 onwards," adds Sallehuddin.
The Strata Management Act 2013 has also established the Strata Management Tribunal, with jurisdiction to hear any claims not more than RM250,000.
An offence will be liable to a fine of not less than RM10,000 but not more than RM100,000 or imprisonment for a term not exceeding three years or both and, in the case of a continuing offence, to a further fine of not less than RM100 but not more than RM1,000 for each day during which the offence continues to be committed; and the court may order the original proprietor to apply for subdivision of building or land within a period specified in the order.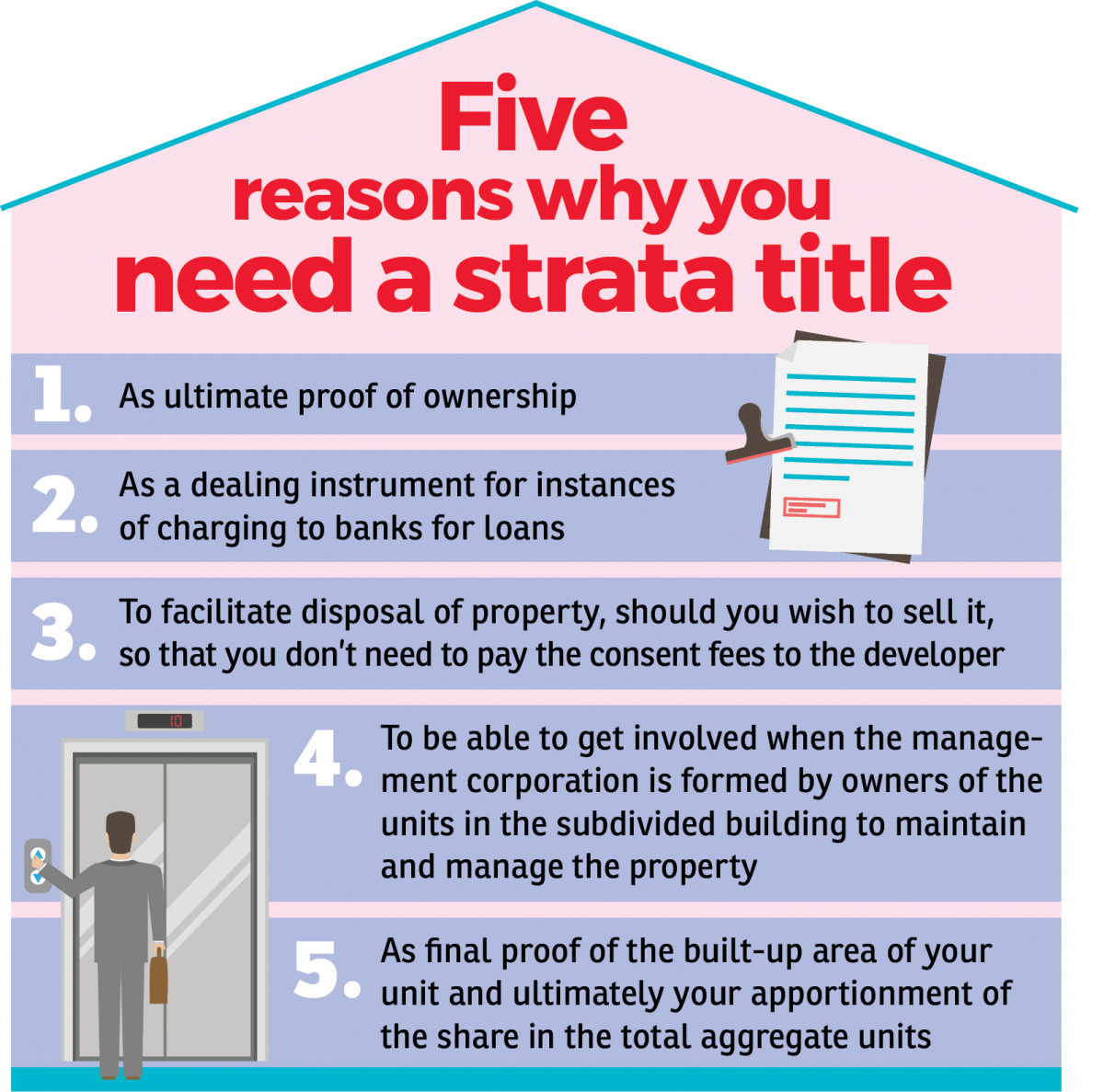 Strata Ownership Special Fund
The Department of Director General of Land and Mines (JKPTG) under the Ministry of Natural Resources and Environment has established a Strata Ownership Special Fund (Tabung Khas Hak Milik Strata) to aid property owners in the process of strata title application for buildings that are categorised as "special buildings" as stated in Section 4 of the Strata Titles Act 1985 (Act 318), with a focus on low- and medium-cost housing schemes.
The RM12.8 million fund was proposed by the Ministry to be included in the Second Schedule of the Financial Procedure Act 1957. It was tabled and approved by Parliament on April 5, 2018.
It is hoped that the fund could help resolve problems faced by owners in about 136 special building schemes housing 25,761 parcels in Peninsular Malaysia including Wilayah Persekutuan Labuan within five years' time, says JKPTG director general Datuk Seri Sallehuddin Ishak.
According to JKPTG, "special buildings" are old buildings that were either occupied before June 1996 (automatic classification by Act 318) or any building occupied from June 1996 up to April 11, 2007 (classified as such by the state authority).
"These special buildings do not have strata titles due to land, legal and proprietors' issues that have hindered their applications to be approved, such as erroneous building plans, accrued land rent or the proprietor/developer was adjudged as bankrupt," he says.
The list of schemes categorised under special buildings that are fit to be funded with this special fund were proposed by state governments through the 1 Negeri 1 Skim (1N1S) programme, initiated by JKPTG and the Ministry in 2011.
Since the establishment of 1N1S and with the joint efforts of state governments, proprietors and buyers, the programme has successfully helped to issue 13,718 strata titles to strata parcels in these special buildings in Peninsular Malaysia.
"Apart from 1N1S, the government through JKPTG has made several amendments to Act 318 since 2007 to ensure that the application of strata titles for special buildings is simplified and that similar issues that had plagued special buildings will not take place again in future.
"The list of special buildings that are fit to be funded will be shortlisted and approved by the Special Board of Strata Title Fund.
"Due to an overwhelming amount of special buildings with high cost to endure, this preliminary fund might not be able to solve each and every special building case in Peninsular Malaysia including Labuan. Nevertheless, it is a great start to this long-standing hitch," he says.
This story first appeared in EdgeProp.my pullout on June 8, 2018. Download EdgeProp.my pullout here for free.