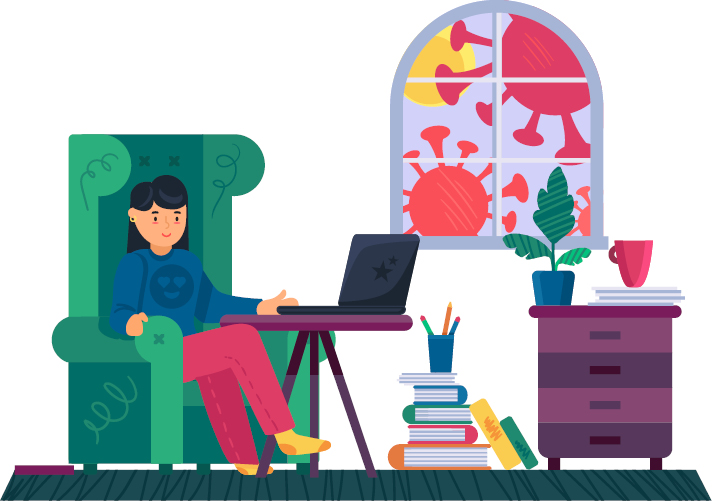 One of the side effects of the Covid-19 pandemic is that companies now realise that having their employees working from home is a viable option. With restrictions caused by the pandemic and with extensive internet coverage available, office spaces have encountered one strong rival — the home.
The 'new normal' has certainly affected demand for office spaces and the often asked question today is: Will office spaces become obsolete in future?
The Savills Office FiT survey covering 65,000 Savills' and KKS Savills' clients from various industries in the UK and EU as respondents explored how people responded to working from home and what might be future changes in an office space.
First of all, 89% of the respondents believe that the physical office will still be necessary for companies to operate successfully, with 47% believing this to be the case into the future and 42% believing this to be the case at least in the short term.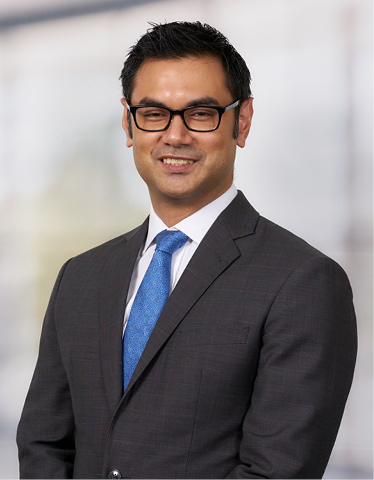 The survey was conducted in April 2020 when the UK was in lockdown. The UK government announced lockdown measures on March 23, with restrictions currently eased.
Nonetheless, the survey found that post-lockdown, respondents tend to be willing to work more days from home compared to pre-lockdown.
"However, there are other factors that will impact the nature of demand. These include the significance of emergent business sectors and the changing nature of work. Some businesses, for example within the life sciences sector, will remain more resilient and grow faster, potentially leading to higher demand for office space that meets their unique requirements," said Savills.
Whilst it is generally perceived that productivity is either the same or higher when working from home (more than 85%), it was also noted that working from office and home have their own advantages and disadvantages.
The respondents believe that the office environment is better for personal growth and to gain a sense of belonging or pride in a company, while the home is more preferred for better work-life balance.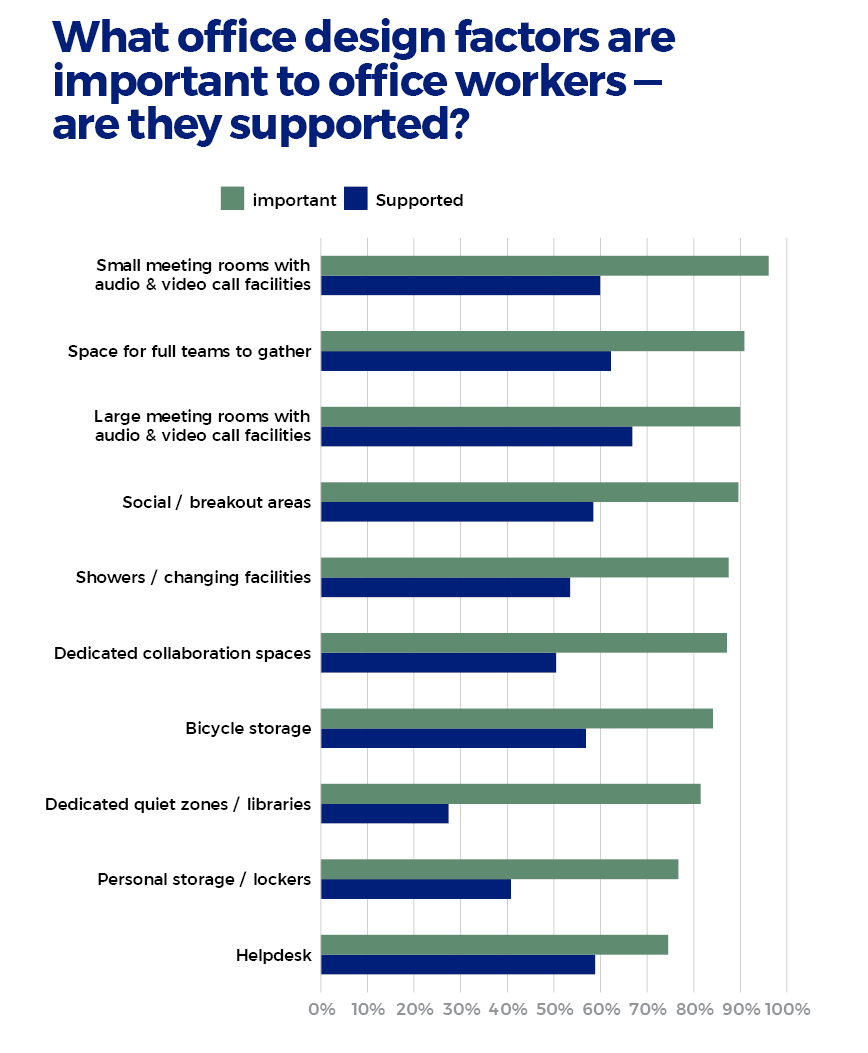 Offices are also thought to be the better place to network, mentor, collaborate with colleagues, manage teams, and for career advancement, while the home is better for meeting targets and deadline, as well as to concentrate and focus on a task.
Impact on office design
While the physical office may remain, its design and location may change in line with consumer preferences.
Working from home has provided people a chance to ponder whether their comfort and wellbeing are satisfied more effectively at home or in the office.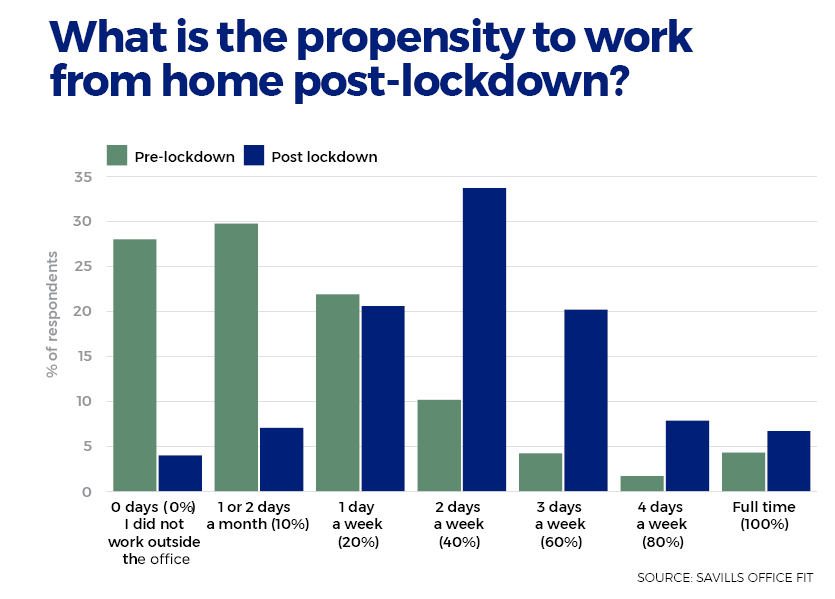 When asked whether the pandemic would result in a long-term impact on the company office, a majority of respondents responded 'yes' where 71% believe that it will cause changes in design while 74% believe that space and size will be affected.
Compared with working from home, the respondents also highlighted what is lacking in the workplace.
The survey results clearly demonstrated that people felt that their fundamental needs, such as cleanliness, natural light and green spaces are better met at home.
Only 1.5% respondents said their offices enabled access to outdoor and green spaces, 5.2% with access to natural light and 3.4% to good air quality.
"Future design solutions will have to deliver skylights, large windows, operable fresh air opportunities, rooftop terraces, vegetation, balconies and courtyards. These have been more prevalent in building design in recent years but we need more," said Savills in the survey report.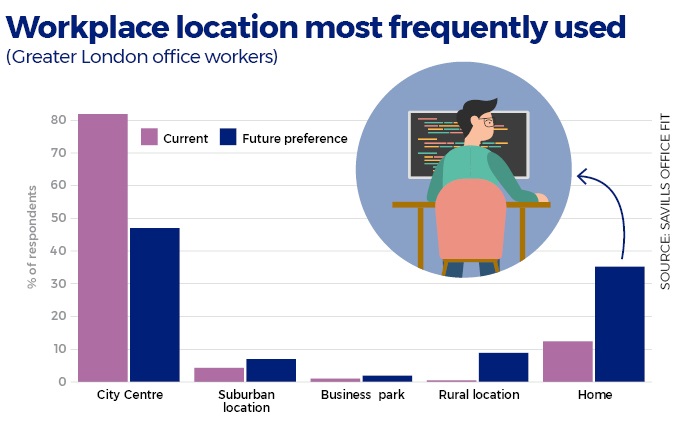 Whereas at home, many felt that there was no appropriate ergonomic furniture and equipment to meet their occupational health needs. "This is a factor to be addressed by organisations in the future if home-working is to be more widely adopted," the research consultancy said.
For an office space to support a mobile workforce, the right facilities and setting would be needed. Based on the survey, small meeting rooms with video and audio facilities scored highest in importance at 96% with only 60% saying these are currently supported.
Other office design factors or facilities that are regarded highly include full team meeting spaces (91%), large meeting rooms with audio and video call facilities (90%) and social breakout areas.
The widest gap between importance and support was seen in dedicated quiet zones with only 27% feeling that this was currently supported against 81% who rated it as important.
Impact on work location preference
The survey has indicated a potential for corporations to rethink their preference towards alternative locations such as suburban locations, business parks and rural areas.
Although a majority of the respondents (82%) are currently working in the city centre, it was found that only 47% favour working in the city centre in the future.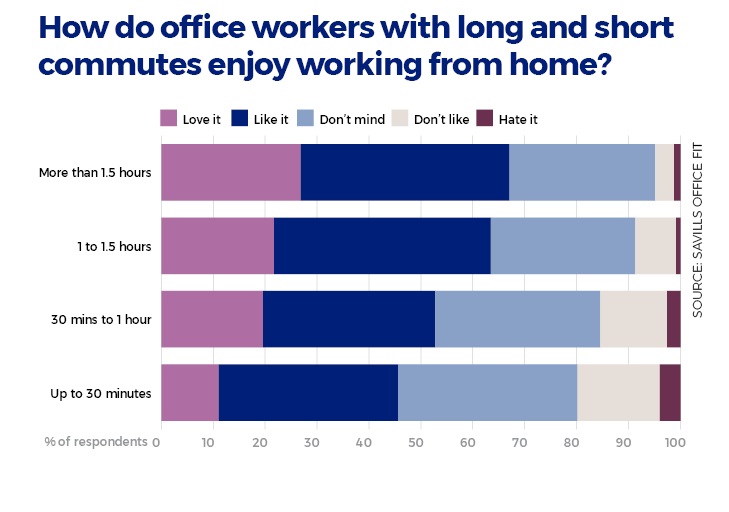 When asked about future preference, close to 10% of Greater London office workers said that they would like to work in rural location (see chart).
"Assuming that workers get what they really want, with this finding, demand for city centre space could be lower at some point in the future," the survey said.
"It seems likely that organisations may move to a 'hub & spoke' model, with a city centre presence but also regional and local office hubs. This potential shift in location strategy does vary by industry and workforce commuting patterns.
"However, this result is likely to be a reflection of sentiment captured during early lockdown and will likely be addressed by future improvements to mobility, employee safety and workplace design," the report said.
Commute time is the key influence to workers' attitude towards work from home. The survey showed that there is a clear correlation between employees' attitudes towards working from home and the length of their commutes.
For those who enjoy a short commute, the number of people who dislike working away from the office (20%) are four times more of those with the longest commute (5%).
"Therefore, there is a suggestion of the strengthening of smaller distributed office locations around the major cities that are more proximate to residential locations," the report offered.
"Despite the respondents being broadly UK and EU-based, we believe the results are instructive for anyone involved in the office sector, regardless of location," Savills said.
What about the office space in Malaysia?
In Malaysia, Savills Malaysia deputy managing director and head of capital markets Kuala Lumpur Nabeel Hussain believes that with many people working from home, the worker density in city centre locations will reduce, as has been seen in KL even during the Recovery Movement Control Order period.
"Traffic conditions, even during peak hours, have been less busy in KL city centre. While it is still too early see any significant changes, a pandemic of this magnitude will no doubt impact the ways we have traditionally worked, but it isn't clear yet exactly what the final solution will look like," he tells EdgeProp.my.
He points out that studies done by KKS Savills have found that the expected space savings from 50% of staff working from home is cancelled out by a two-metre social distancing requirement, which means in this scenario, the space required is still the same.
"Another factor is in materials, as the virus can last longer on certain softer surfaces than on other materials such as metal surfaces, future office designs should look to incorporate these materials into office design, especially at high touch points," he adds.
Plans are for the survey to be repeated in October 2020, to see whether responses have changed materially once the initial novelty of remote working has worn off.
Stay safe. Keep updated on the latest news at www.EdgeProp.my
This story first appeared in the EdgeProp.my e-Pub on July 17, 2020. You can access back issues here.