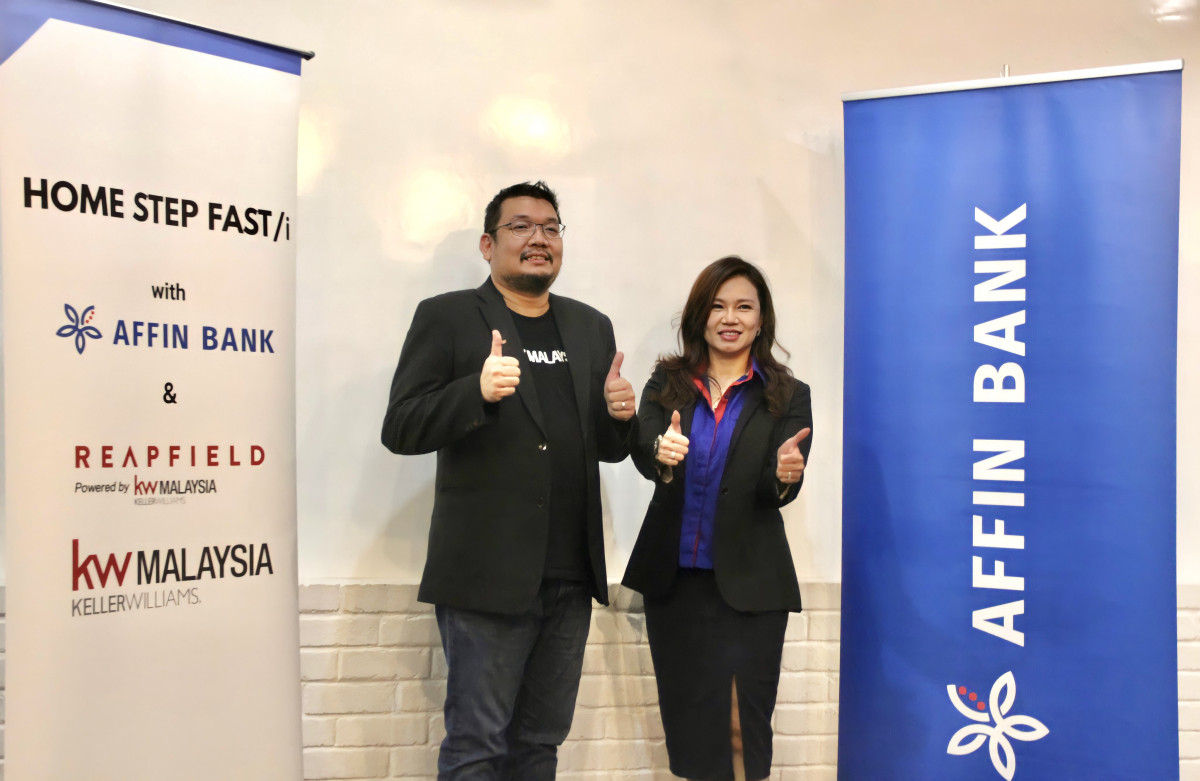 Reapfield-KW Malaysia is the first real estate agency to collaborate with Affin Bank for the latter's Home Step Fast/-i campaign.
Homebuyers can enjoy lower instalment options to finance or refinance residential properties, especially for subsale market.
PETALING JAYA (July 25): Reapfield, powered by KW Malaysia, announced its collaboration with Affin Bank's Home Step Fast/-i campaign on Tuesday (July 20) – the first real estate agency in Malaysia to do so. Previously, Affin Bank partnered with property developers including Sunsuria, Tropicana Corp and UEM Sunrise.
The partnership will enable KW Malaysia's agents to provide more value-added services for their clients by offering homebuyers lower instalment options to finance or refinance their residential properties, especially for the subsale market.
Under the campaign, there are no lock-in period and no early settlement fee, while the conventional or Islamic financing product is applicable to both completed and under- construction participating residential properties. Purchasers can also convert their loans into savings schemes if they need emergency funds.
In a Zoom interview with EdgeProp.my, KW Malaysia group CEO Jonathan Lee said it was a privilege for KW Malaysia to be selected as the inaugural real estate agency to collaborate with Affin Bank on this programme. The group saw this as an opportunity to bring this added value to consumers as a solution to their home financing.
"For the first time ever, in our economic history, we have a situation whereby affordability has become a challenge not only for a certain segment of the market but for the M40s and T20s as well. With the offerings of this new campaign, we can now go out to the market and give buyers opportunities to own homes they may not have been able to previously," Lee said.
He added it was an exciting period to be working closely with Affin Bank, who had taken the effort to come to the ground to understand the current property market scenario to better address the issue of home affordability.
"Not only does this campaign benefit the homebuyers, but also the homeowners in the secondary market who are looking to sell their properties. It benefits the market as a whole," Lee added.
Meanwhile, Affin Bank mortgage business managing director Jessie Wong said Affin had chosen to partner with KW Malaysia because of its stellar performance in the market for 35 years, with award-winning estate agents and negotiators who had proven they could deliver results in the market.
"Some agencies have many negotiators and agents, but the most important aspect is the deliverables and the quality of the talent and leadership at the group level, which KW Malaysia has. Both Affin and KW Malaysia also share similar values and goals, where we invest very much in our human capital and talent to produce a productive and efficient team.
"While we previously had a lot of support from developers who have partnered with us on this programme, we also believe there is another very important segment of clientele in the secondary market which we must not overlook. Teaming up with KW Malaysia will enable us to really leverage its strength in the secondary market property transactions," Wong said.
She added this would kick-start Affin's effort in continuously enhancing its offerings to homebuyers in the market.
The campaign also offers redrawing facilities for excess payments, as well as a comprehensive coverage plan that includes mortgage reducing term assurance (MRTA), fire insurance and householder insurance. It is valid for residential properties under the Housing Development Act 1996 worth RM500,000 and above.