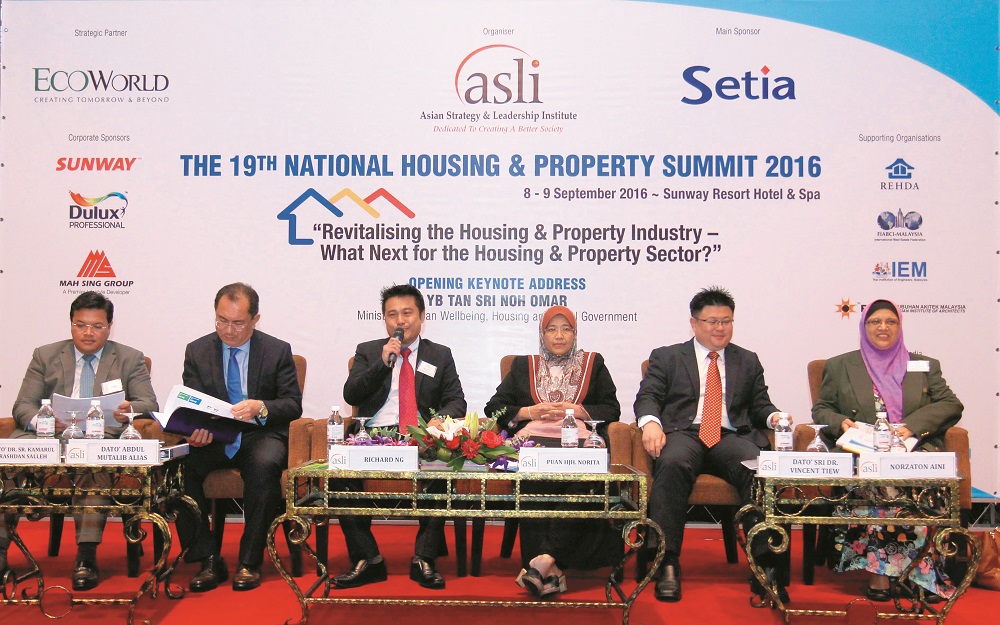 KUALA LUMPUR (Sept 13): Property developers have hit back at the Selangor government for amending policies and imposing surcharges that would increase their costs of business, an issue that becomes all the more critical when the current soft market forces them to compete for the segment that demands affordable homes.
The atmosphere at a discussion on the second day of the 19th National Housing & Property Summit last Friday turned awkward — if not heated — as it centred on challenges for affordable housing.
Datuk Seri Vincent Tiew, the only private developer on the panel, took a shot at the proposed policy by the Selangor Housing and Real Property Board (LPHS) of allowing households earning up to RM15,000 a month to be eligible for affordable units in serviced apartment and boutique office projects.
This compares with the current ceiling of RM8,000 to RM10,000 to be entitled for affordable homes in the state, said the managing director of Andaman Property Management Sdn Bhd.
"Imagine having an apartment unit selling for RM270,000 in Petaling Jaya. It's a really good price for that location. And who is entitled? People whose household incomes earn up to RM15,000. These are people generally in the open market," Tiew told reporters after the panel discussion.
"Selangor should have maintained it (the affordable unit entitlement income bracket) at RM8,000. If you push it up to RM15,000, then you are going to eat into my segment," he said.
Tiew argued that affordable units' prices should vary in different areas, according to the locales respective land values. Petaling Jaya and Sabak Bernam have disparate land values, but the affordable units are capped at the same prices all over Selangor.
Two weeks ago, Selangor State Executive Councillor for Housing, Building Management and Urban Living Datuk Iskandar Abdul Samad said property developers will be required to build affordable units for serviced apartment, small office home office (Soho) and small office/virtual office (Sovo) projects in Selangor under the state's new blueprint for housing development.
Property executives were told by the state government that it was supposed to be implemented this month. The final mechanics will be made official soon.
The prices are fixed at RM270,000 per serviced apartment unit and each of them must be 550 sq ft. Each Soho and Sovo will be sold at RM230,000 with every unit measuring at 450 sq ft.
Under these guidelines, those with household incomes of up to RM15,000 are eligible. This is higher than the existing Rumah Selangorku scheme that caters to households earning RM10,000 or less. Both schemes are for first-time homebuyers only.
Before ending her speech, LPHS executive director Norzaton Aini Mohd Kassim rebutted by saying that the Selangor government wants to ensure that its rakyat have the right to own a property, and conceded that it will need to work together with the private sector. "You kind developers, do follow our procedures. We are forcing you, but in a nice way — with a smile."
Urban dwellers' disposable incomes are shrinking with rising cost of living over the past few years. Perbadanan PR1MA Malaysia chief executive officer (CEO) Datuk Abdul Mutalib Alias said that of the 1.32 million people registered to buy an affordable home under the government agency, 44% of them are living in Kuala Lumpur and Selangor.
64% of the homes built by PR1MA are sold at between RM201,000 and RM300,000, he said. However, it should be noted that this scheme is open to people who already own a home, too.
Allocating a certain portion of housing developments for low-cost or affordable units has been made mandatory by the federal government since at least 1982, with the quota set then at 30%. Over time, various states have imposed their own quotas, thus it is not a new thing for private developers to build affordable homes with prices set by the government.
However, Tiew's bone of contention over Selangor's new guidelines is the higher household income level eligible for the affordable homes, which are actually sold below cost. This means that there will be more people who can snap up the subsidised homes, shrinking the pool of potential buyers of the homebuilders' non-subsidised units.
This adds to the list of criticisms by private developers against the Selangor government. Previously, Real Estate and Housing Developers' Association Malaysia president Datuk Seri F D Iskandar Mohamed Mansor told The Edge Financial Daily that the land conversion fee imposed by some states, including Selangor, has risen by 100% within the past five years.
Want to know the price trends of a development? Click here.
This article first appeared in The Edge Financial Daily, on Sept 13, 2016. Subscribe to The Edge Financial Daily here.