For a very long time, Puncak Alam in Shah Alam North, Selangor, was just rubber and oil palm plantations. In recent years however, it has begun to blossom as new property projects have sprung up, and more amenities introduced.
One of these new developments is Hillpark township by MKH Bhd.
When the 556-acre site for Hillpark was first purchased, the plan was to build bungalows, but the developer thought better of it.
"We decided to change the whole master plan from bungalow development into an affordable housing township because we were confident there would be demand," says group managing director Tan Sri Eddy Chen.
The launch had to be deferred by a year but there were no qualms as the company was confident of the strong demand for affordable housing, especially in the northern parts of Shah Alam such as Bukit Jelutong. Hillpark is about 20km to Sungai Buloh, 30km from the Shah Alam city centre, and adjacent to the upmarket Bukit Jelutong.
"Bukit Jelutong is a mere 10 minutes away. Over there, a bungalow unit sells for RM1.2 million. We can build cheaper units here but the number of buyers who can afford bungalows is limited. Thus, we decided to offer something more affordable, but well-planned and of good quality," says Chen.
The decision has paid off handsomely, with one of the projects at Hillpark — [email protected] — again emerging as one of the two winners of The Edge Malaysia Affordable Urban Housing Excellence Award 2015. MKH was the inaugural recipient of the award in 2014 for its Phase 2A of Pelangi Semenyih 2.
Chen says the company "worked backwards" in planning the development. " We looked at the value of the land and market trend of the surrounding properties in deciding what we should build. We found that the demand for affordable housing was strong and we believe it will continue to be strong." He cites a study that shows Malaysia needs 200,000 to 250,000 affordable homes per year but the industry is only providing about 100,000 units.
That means every year, there is a shortfall of 100,000 to 150,000 affordable houses. "The capacity (to build such housing) is not there," Chen points out.
He believes the majority of households in the country have an income of about RM10,000, and can afford to pay RM2,000 to RM3,000 per month in housing instalments. "We worked backwards from that to plan and design property that everyone can afford," Chen says.
Notable affordable housing projects developed by MKH include Pelangi Semenyih 2, Hillpark Home in Semenyih and the ongoing [email protected] Alam North. All of its projects are benchmarked against the Construction Quality Assessment System (CONQUAS) or Quality Assessment System in Construction (QLASSIC) before they are handed over.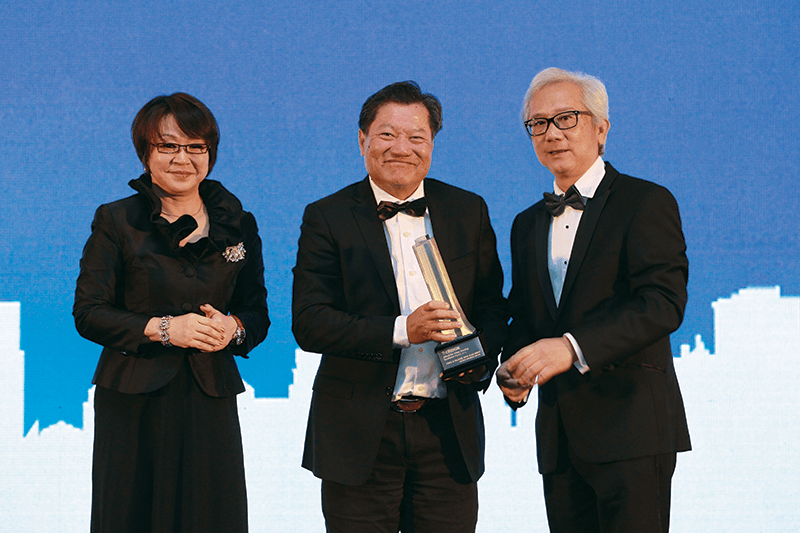 To date, MKH has achieved and maintained an average QLASSIC score of 80% for its completed projects. And it intends to maintain the momentum for the rest of its projects, including Hillpark, says Datuk Kenneth Chen, group deputy property director.
A subsidiary of MKH, Hillpark Resources Sdn Bhd, had in August 2013 acquired Puncak Alam Resources Sdn Bhd, which owned joint venture rights, together with Telekom Malaysia, for the site where [email protected] Alam now sits.
The leasehold land was acquired for RM30.6 million, or RM8 per sq ft, excluding land premium for future phases. This includes converted and unconverted land. As this is a joint venture project, MKH had to pay 10% of the total gross development value of an estimated RM1.5 billion to Telekom.
Hillpark has proved to be a success since its maiden launch, the Pines in 2013. Pines, which sold out within a month, comprises 311 double-storey terraced houses with land sizes of 20ft by 70ft and 22ft by 70ft, and priced from RM368,000. "That made it one of the most affordable landed properties in Greater Kuala Lumpur at that time," says Chen with more than a hint of pride. A unit is worth at least RM500,000 now.
Pines spans 29 acres and has a GDV of RM135.5 million. The GDV for the entire project is RM1.3 billion. Pines was completed and handed over in August this year.
"Pines is a good quality and well-designed terraced house development. All the units are built with a north-south orientation as a passive green design feature to reduce heat from the sun. This effectively reduces the energy required to cool down the house," says Kenneth, who is Chen's nephew.
Subsequent phases, including Cherry I, Cherry II and Olive, have been fully sold while the latest launches — Cherry III, Meranti and commercial project Hillpark Avenue — have been well-received.
Kenneth reveals that there will be high-rise homes within Hillpark in the near future. "That will be another affordable development too, probably selling at RM300 to RM350 psf. The high-rise will probably happen in the next five years."
According to him, Hillpark will deliver 3,900 units of landed and high-rise residences as well as commercial shops by 2019.
Future amenities within the green township include a hotel, a police station, a hospital within Universiti Teknologi Mara (UiTM), the expansion of UiTM, as well as primary and secondary schools.
"We have buyers from Kuala Lumpur, Klang, Shah Alam and even further north. Most have young families and because they are mostly owner-occupiers, you do not have to worry about seeing a lot of empty houses when you move in," Chen says.
To make the township more sustainable and liveable, MKH plans to have comprehensive facilities and amenities such as a commercial area, a lake, recreational areas and a forest park.
"Buying an affordable home doesn't mean you have to live in a jungle, or that you need to drive far for your basic needs," Chen says. "In Hillpark, we have it all. We do not want our residents to miss out on any conveniences. We have over 550 acres here so we are able to create a comprehensive township for 20,000 to 25,000 people," he says.
"Just a few months ago, we sold a piece of land to Urbanfresh supermarket to set up a branch here. If they (Urbanfresh) are not confident about this place, they would not have come in. I believe Urbanfresh can draw more businesses here."
The radial population of Bandar Puncak Alam is about 250,000 while UiTM expects an enrolment of 60,000 students in three to five years. Hence, Chen expects Hillpark to become a vibrant and township within two years.
"We expect to complete this whole development in three years. We can almost see how liveable this place will be in the coming years," he says with a smile.
Forest Park a future attraction
A future highlight of MKH Bhd's [email protected] Alam North will be a 50-acre forest park.
"Yes, we could have built something that we could sell on the 50 acres. Although it is hilly, it could offer nice views. Instead, we decided to do something different and exciting for the people who live here, something that every resident can enjoy," says group managing director Tan Sri Eddy Chen.
The site is undergoing reforestation now. "We don't want an ordinary park with only bushes and trees. We are bringing in landscape designers to see what we can create and make this a unique park," he says.
What the developer has in mind thus far includes an innovative playground and thematic parks such as a sculpture garden and a raintree court. Eddy adds that the park has the potential for outdoor activities such as cycling, rock climbing or trekking.
MKH plans to create a layered ecosystem of forest vegetation with 70% saplings and 30% plants. It plans to use renewable energy, rainwater harvesting and waste recycling to maintain the park while an abundance of trees and flowers will be planted to attract birds, butterflies and bees.
The ultimate aim is to inject a lifestyle element for the residents and to draw more people to Hillpark.
"At the end of the day, it [the forest park] will help us create value for the properties here. Our houses will indirectly see better sales and higher sales value. The benefit might not come in a big way but I believe it can be reaped in many ways, such as branding, sub-sales value, business opportunities, and so on," says Chen.
Upon completion, the park will be handed over to the state government, which means residents will not have to pay for its maintenance. TEPEA 2015
Do not ask your BFF about the value of your home. Click here at The Edge Reference Price to find out.
This article first appeared in City & Country, a pullout of The Edge Malaysia Weekly, on Dec 7, 2015. Subscribe here for your personal copy.