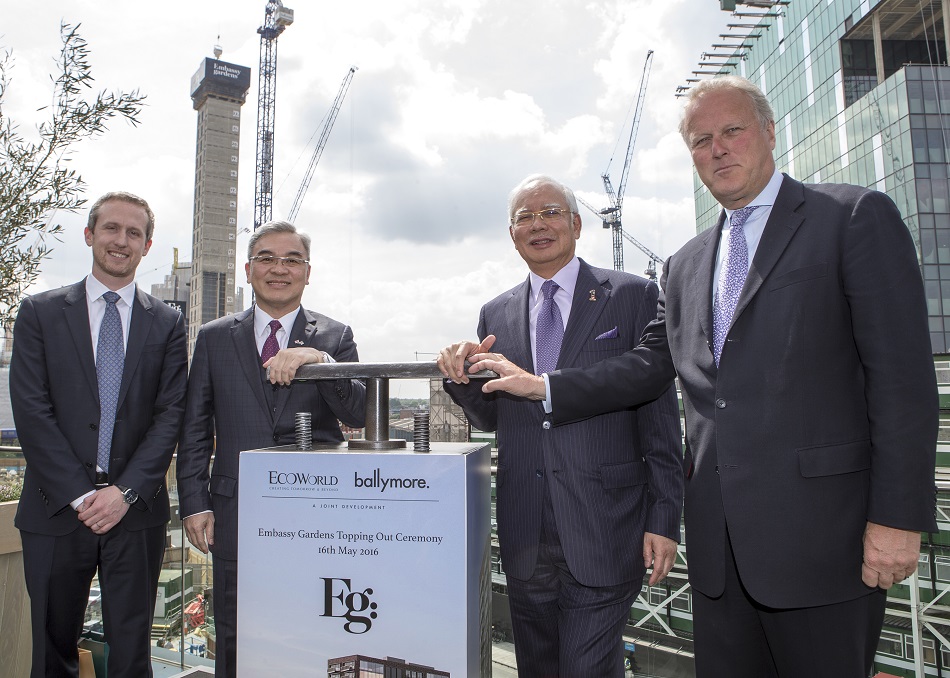 KUALA LUMPUR (May 17): Prime Minister Datuk Seri Najib Tun Razak had yesterday officiated at EcoWorld Ballymore Holding Co Ltd's topping out ceremony for its £957 million (RM5.57 billion) Embassy Gardens Phase 2 property project in London.
In a statement, EcoWorld Ballymore said Embassy Gardens Phase 2 at Nine Elms was expected to comprise residential and commercial portions within a 2.3ha (5.7 acre) tract.
EcoWorld Ballymore chairman Tan Sri Liew Kee Sin, who was also at the event, said: "Since the formation of this JV company in January 2015, we have successfully launched three projects in London, which are London City Island, Embassy Gardens and Wardian London."
Liew said Embassy Gardens Phase 2 recorded £120.8 million worth of sales as at Jan 31 this year, following the project's launch in September last year.
He said construction work for Embassy Gardens Phase 2 started in January 2016, and is expected to be completed in the first half of 2019.
EcoWorld Ballymore is a joint venture between Eco World Investment Co Ltd and Ballymore Group.
Eco World Investment is owned by Eco World International Bhd. -- theedgemarkets.com
Do not ask your gardener about the value of your home. Go to The Edge Reference Price to find out.