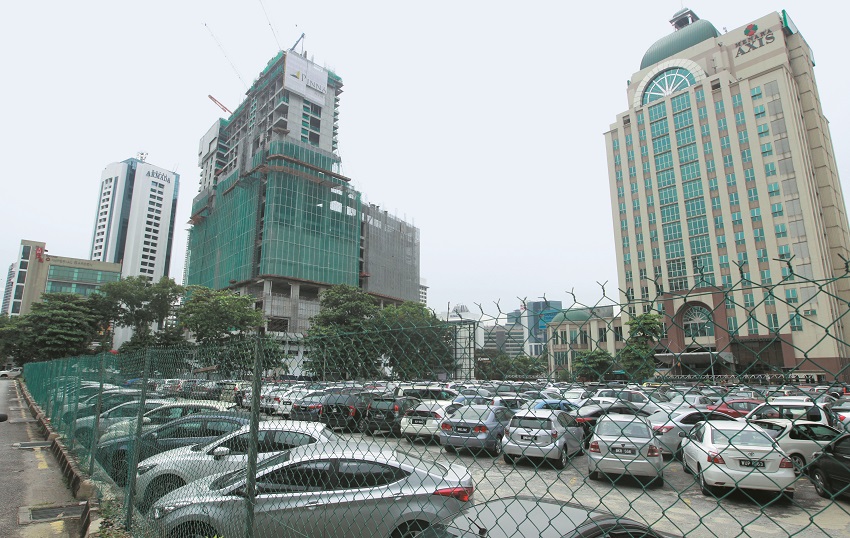 THE Quill Group of Companies is planning a new single-tower mixed development comprising office, hotel and retail components in Jalan Utara in Petaling Jaya, near Menara Axis.
With another two hotels scheduled to open over the next three to five years within a 0.5km radius of The Hilton Petaling Jaya, this new hotel will possibly double the room inventory in the locale.
Quill, whose business ranges from property development to automobiles and retail to healthcare, recently put in a proposal to develop a parcel at the corner of Jalan Utara and Jalan 51A/223 that is currently being used as a parking lot.
The Quill group, which has established a real estate investment trust with Malaysian Resources Corp Bhd (MRCB) called the MRCB-Quill REIT, is helmed by group managing director Datuk Dr Jennifer Low Moi Ing and group executive director Datuk Michael Ong Leng Chun.
Asked to comment on the plans by digitaledge Weekly, Low says she prefers to speak only when the project has been finalised.
digitaledge WEEKLY has learnt that the development will be undertaken by a company called Quill-Stamford Lot 308 Sdn Bhd. On April 15, 2015, Quill-Stamford submitted building plans to construct a 25-storey building, of which six floors have been slated for office space, eight floors for hotel accommodation and two floors for retail. The building will also offer seven floors of parking above ground and two at the basement level. As at June 10, 2015, conditional approval for the project had been obtained from Majlis Bandaraya Petaling Jaya.
A search with the Companies Commission of Malaysia reveals that Quill-Stamford, which describes its nature of business as collecting rent from its land, has a paid-up capital of RM10 million. Low and Ong are listed as directors. Quill-Stamford is wholly owned by Quill Lot 308 Sdn Bhd, in which Low and Ong have equal stakes.
For the financial year ended Dec 31, 2014, Quill-Stamford made a net profit of RM201,496 on the back of RM324,000 in revenue, presumably from the car park business. The company also has an accumulated profit of RM10.15 million. Total liabilities as at Dec 31, 2014, were RM25.29 million of which RM13.29 million is current.
It is not known when Quill-Stamford purchased the land, but a valuer says prices on that side of Petaling Jaya range between RM430 and RM480 psf. A search with the Department of Survey and Mapping Malaysia shows that the land measures 76,996 sq ft. A back-of-the-envelope calculation puts the gross development value of the project at RM150 million.
Based on previous announcements to the stock exchange, Stamford College Bhd (which was delisted in October 2011) had in September 2007 sold a 80% stake in Quill-Stamford to Quill Construction for RM16 million. Stamford College, which held the remaining 20%, said at the time that the disposal was to enable the college to enter into a joint venture to develop a land parcel in Petaling Jaya, registered under the name of Quill, for a profit.
While the exact number of hotel rooms for this project is not known, industry experts reckon that to run a profitable business, it would take between 200 and 250 rooms. It is understood that Quill is considering an international chain hotel operator to manage the hotel.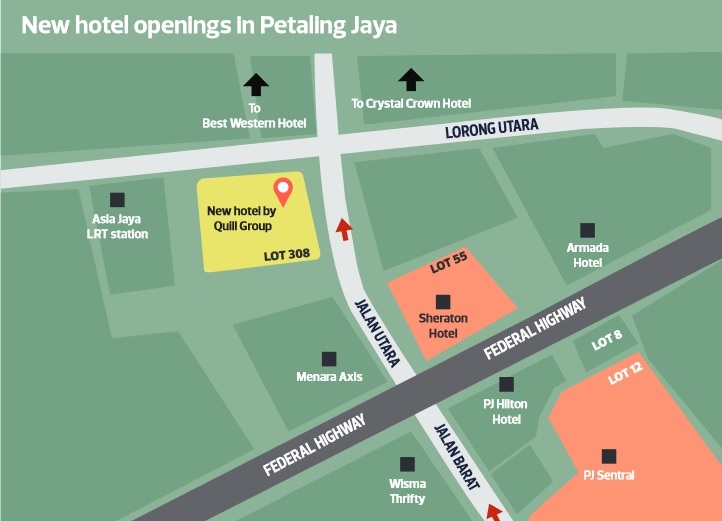 Directly across Jalan Utara from this development, Starwood Hotels and Resorts Worldwide Inc will open its five-star Sheraton brand hotel within a development known as The Pinnacle (see map). Based on Starwood's website, The Sheraton Petaling Jaya Hotel will offer 250 rooms and is scheduled to commence operations on Jan 1, 2017. Terra Mirus Sdn Bhd is undertaking the project, which apart from the hotel, will comprise office and retail components on a 1.73-acre site.
A third hotel expected to emerge in the vicinity is a project by MRCB's PJ Sentral Development Sdn Bhd. This forms part of a RM2 billion gross development value mixed development project called PJ Sentral Garden City, comprising five office blocks and one hotel block.
According to MRCB's 2014 annual report, Phase 1 of PJ Sentral Garden City, comprising Lot 8 and Lot 12, is on course for completion by 3Q2016. Lot 12 measures 9.86 acres while Lot 8 measures 2 acres (see map).
These new hotels will be located near the two other well-known hotels in Petaling Jaya. The upcoming The Sheraton Petaling Jaya is located just a few steps away from the much older, 27-storey Armada Petaling Jaya Hotel with 257 guest rooms. This 19-year old hotel is owned by Lien Ho Corp Bhd and is located on a 2.44-acre parcel.
One of the most prominent landmarks in Petaling Jaya is the 31-year old The Hilton Petaling Jaya. The hotel, owned by Tradewinds Corp Bhd, has 546 rooms. The hotel was originally the Jaya Puri Hotel and came under Hilton's management in 1982. The hotel, which had 398 rooms in 1984, later expanded the number of rooms.
Will it be a case of one too many hotels within a short distance of one another? Assuming each of the three new hotels offers a minimum of 250 keys, this would bring the total of new rooms to 750.
Director of consultancy firm Motavi Sdn Bhd Ivo Nekvapil tells digitaledge WEEKLY that an additional 750 new rooms would be more viable in the next 5 to 10 years, rather than in the next three to five years.
Nekvapil, who has 51 years of experience in the hotel industry and 33 years in Malaysia, says this is because there are already two other prominent hotels in the area — the 300-room Crystal Crown Hotel in Jalan Utara and newly opened 344-room Best Western Petaling Jaya in Centerstage in Jalan 13/1. Best Western is just a four-minute drive from The Hilton Petaling Jaya.
This article first appeared in the digitaledge WEEKLY on Sept 21, 2015. Subscribe here.