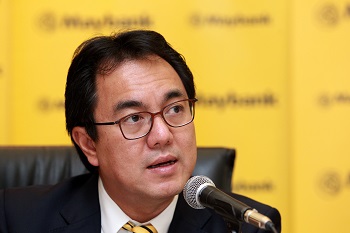 KUALA LUMPUR (April 8): Malayan Banking Bhd (Maybank) president and chief executive officer Datuk Abdul Farid Alias (pictured), who is also chairman of the Association of Banks Malaysia (ABM), refuted claims that the rejection rate of housing loans has soared above 50% among the banks.
Abdul Farid also dismissed concerns that Malaysian banks' asset quality may fall back to the 1997 financial crisis level.
"This situation to us is very unlikely. Bank Negara [Malaysia] has initiated prudential guidelines, that's why I think asset quality in Malaysia is still holding up," he told the media after Maybank's annual general meeting yesterday.
According to responses of 13 banks to the ABM, housing loan applications last year totalled 456,853, and the total number rejected was 93,159, which translated into a rejection rate of 20.39%.
"Indeed, the trend in 2015 was not much different from 2014, and the latest statistics showed that it had not gone up substantially.
"It may go up slightly [going forward] because of the cycle that we have seen; some banks are focusing on certain segments where the credit risk is better," he commented.
The rate was at 20.6% in the period of January to February.
Loans, which the principal sum is over RM3 million, have the highest rejection rate of 36.08%, while the rejection rate for loans, which principal sum is equal or less than RM500,000, was 19.86%, Abdul Farid explained.
For loans which principal sum is between RM500,000 and RM1 million, the rejection rate was 20.71%; for over RM1 million and less than or equal to RM3 million, the rejection rate was 25.25%.
Abdul Farid pointed out that the reasons for loan rejection included applications that exceed the debt service ratio, failure in the Central Credit Reference Information System assessment, banks change their targeted loan segments and insufficient income repayment capability.
Last month, the Real Estate and Housing Developers Association Malaysia said the rejection rate for affordable housing loan applications was above 50%, and that strict lending rules had hurt the property market and denied many first-time homebuyers a chance to purchase property.
Do not ask your taxi driver about the value of your home. Go to The Edge Reference Price to find out.
This article first appeared in The Edge Financial Daily, on April 8, 2016. Subscribe to The Edge Financial Daily here.